About the program
During May and June 2021, CommBank donated over $384,000 to organisations within local communities across Australia. Every CommBank branch and customer-facing team was given $500 to donate to an organisation of their choice. Here are some of our 2021 recipients and the amazing work they do. 
Cycling Without Age Canning
Riverton Branch – Western Australia
Cycling Without Age is a not-for-profit charity that provides a community service by connecting those no longer able to ride for themselves with their community and the outdoors by giving them free rides on trishaw ebikes, piloted by volunteer cyclists.
The Riverton Branch were delighted to make a donation to the Canning group, which they plan to put towards providing volunteers with training and uniforms, and to continue the great work they are doing in the Canning community.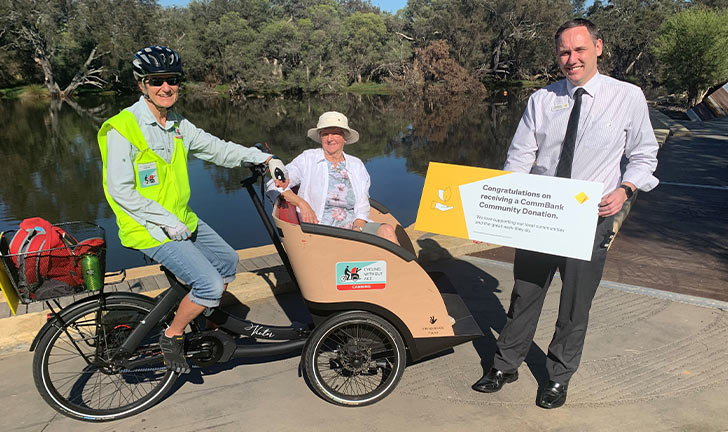 Parkmore Junior Football Club
Noble Park Branch - Victoria
Parkmore Junior Football Club is located in the south eastern suburbs of Melbourne and caters  for all ages from Auskick through to Under 17's. The club is going to use the funds to purchase new equipment for its Auskickers. The program is for both boys and girls and all abilities are catered for. The program is held on a Friday night and Saturday mornings to assist in scheduling. For those budding AFL stars they can even go to both!
Portland Riding for the Disabled
Portland Branch –Victoria
People with disabilities enjoy huge therapeutic benefits from their association with horses. The therapeutic programs change the lives of people with disabilities, unleashing real benefits across the board, even when the participants are simply in the company of horses. Portland branch selected this organisation to ensure that local equestrian activities with therapeutic, sporting and recreational benefits for the disabled could be provided. The funds will be used to purchase food and equipment for the horses.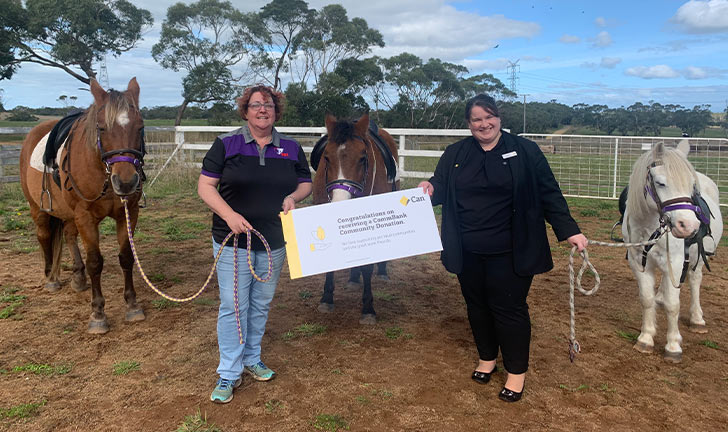 Jack's Butterflies
Stafford Branch – Queensland
Jack's Butterflies' Vision is to ensure that no family feels alone in their daily struggles to care for a child with a life limiting rare disease. Their goal is to provide Rare Disease Parents with assistance, education, training and support to empower their decision making.  They aim to enrich the lives of families through various events throughout the year, thereby providing opportunities to meet other families in similar circumstances whilst building on their support networks.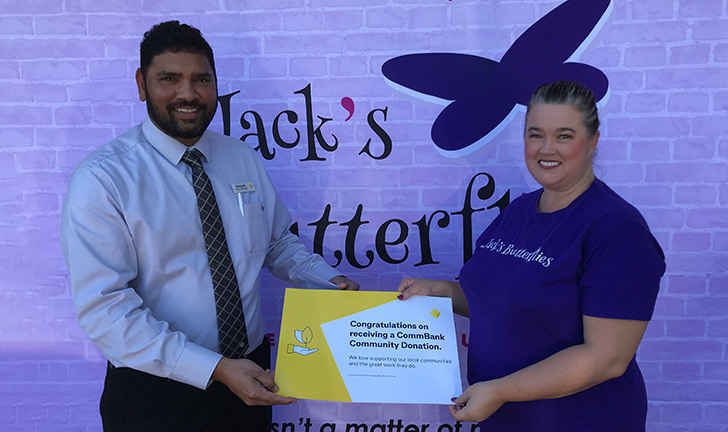 Corindi Pony Club
Woolgoolga Branch – New South Wales
The Woolgoolga branch elected to donate to the Corindi Pony Club. On 26 February 2021, the first of a major series of floods hit the small community of Corindi Beach. The Corindi Pony Club swung into action immediately, offering help to those that needed to get livestock (not just horses) to dry ground and transported them to their grounds at a local reserve, using their own personal horse floats, feeding livestock with their own reserves and more. The Pony Club also organised to feed the 39 families that were directly impacted and prepared 158 meals from mostly donated goods (which they also organised). This selfless volunteering allowed their shell-shocked community to begin to come to grips with the devastation and get over the initial hump.  The Woolgoolga Team wanted to give back to the Pony Club community as a thank you for their efforts and allow them to upgrade some of their own facilities. Most likely, the funds will go towards a new padded practice ring for junior riders.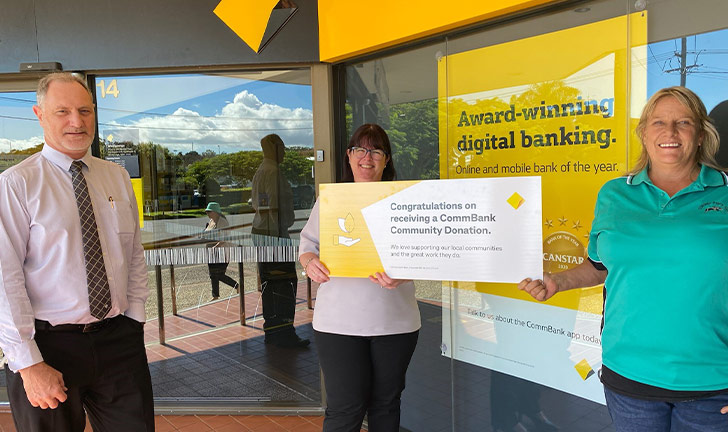 The Staples Bag
Campsie Branch – New South Wales
Campsie Branch had the privilege of presenting a Community Donation of $500 to The Staples Bag at Campsie.  The Charity provides low cost and high quality food staples for our community's low income earners. Also provides unemployed people with hands- on work experience and life skills. The funds will go towards a 'Pay it Forward Scheme' supporting people unable to pay for their food.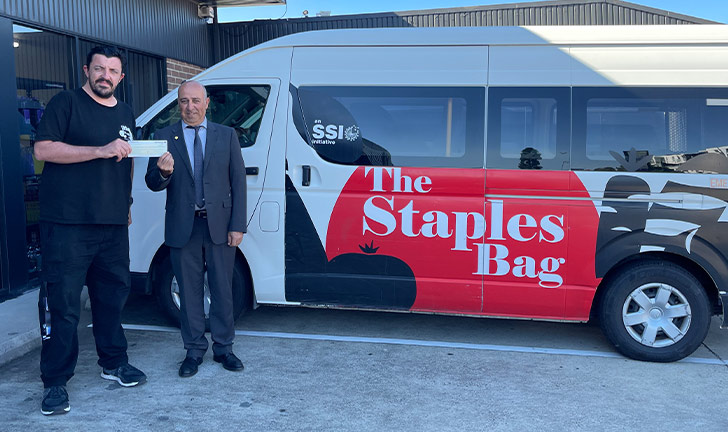 Remote Laundries
Palmerston Branch – Northern Territory
The Remote Laundries Project improves the health and quality of life for people in remote communities and provides sustainable Indigenous employment opportunities.  They have supported an average of 71 washes per week since commencing in September 2019 and provide a weekly bus pick to increase laundry access for vulnerable community members.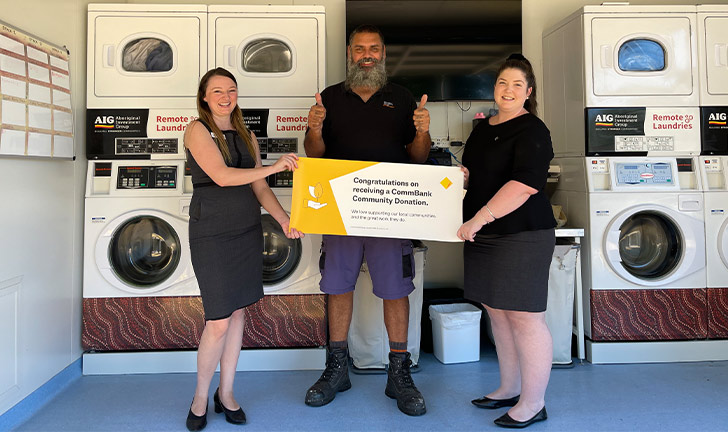 Community Grants
Since 1917, CommBank employees have been supporting Australian communities through our workplace giving program. Learn about how the
Community Grants
supports communities and sectors across Australia.
View our current Community Grants recipients
ACT
Capital Region Community Services
Migrant & Refugee Settlement Services
Cystic Fibrosis Association ACT
Stella Bella Little Stars Foundation
Vinnies Gungahlin
Duo Services Australia
Legacy Canberra
Canteen Australia
NSW 
14 Stars Children Foundation
3 Bridges Youth Zone
Abbotsford Juniors Football Club
Aid Foundation of Australia
Albion Park Youth & Community Care 
Allira House Op Shop Belmont
Amitayus Home Hospice Service
Anglicare
Anna Bay Rural Fire Brigade
Ariah Park Preschool
Armidale Care for Seniors 
Arts Gunnedah
Australian Health Humanitarian Aid
Australian Marine Conservation
Avalon Beach Surf Life Saving Club
Baabayn Aboriginal Corporation
Ballar
Ballina Community Men's Shed
Bankstown Community Resource Group
Bankstown Men's Shed
Batemans Bay Mens Shed
Batlow View Club
Bega Men's Shed
Bega Valley Can Assist
Bellinger River Agricultural Society
Best Friends For Ever Rescue
Birchgrove Public School
Blacktown Area Community Centres
Blacktown Women's & Girls Health Centre
Blayney District Netball Association
Blowfly Cricket Association
Blue Mountains Aboriginal Culture & Resource Centre
Bonnie Support Services Ltd
Bowel Cancer Australia 
Brewarrina Cultural Museum
Bridge the Gap Nepal
Burdekin Association
Cameron Park Rural Fire Brigade
Campbelltown Family Support Service
Care 4 Kids Ltd
Carrie's Place
Central Coast Animal Care Facility
Cessnock District Rescue Squad
Challenge Southern Highlands 
Children's Hospital Education Research Inst
Christian Community Aid
Clarence Dargan Rural Fire Brigade
Clarence River U3A Men's Shed
Cobar Girl Guides Association
Condobolin Pastoral Agricultural
Coogee Surf Life Saving Club
Coonabarabran Men's Shed
Coonamble Neighbourhood Centre
Cootamundra Community Kitchen
Corindi Pony Club
Cornucopia
Cowra Eiesteddfod Society 
Creek to Creek Queens Lake Trail 
Crisis Youth Refuge Illawarra
Cromehurst School
Crookwell Men's Shed
Cure Cancer  
CWA Keiraville
CWA Maclean Branch
CWA Umina Beach 
Daffodil Cottage Wig Library
Dapto Rotary Club
Dunera Museum
Earlwood Caring for Kids Inc.
Engadine Community Services
Eurella
Fair Fight Foundation
Fight Duchenne Foundation
Football 4 All 
Forbes Wiradjuri Dreaming Centre
Foundation for National Parks & Wildlife
Foxg1.org.au
Fragile X Association of Australia
Friends of the Parkes Hospital
Gateway Family Services
Gilgandra Primary School P&C
Glen Innes Men's Shed
Global Concern
Gloucester Shire SES
Grafton U3A Men's Shed 
Griffith Community Centre Caravan
Gulgong Community & Fitness Centre
Hardi Aged Care Guildford
Harman Foundation 
HART Services
HeadSpace Chatswood 
Headspace Gosford
Headspace Kempsey
Headspace Liverpool
Hills Community Aid 
Hillston Hospital Auxiliary
Home in Queanbeyan
Homebush West Public School
Homestead of Hope Kiama
Hope and Care
Hope in a Suitcase Illawarra 
Humans Unite
Humpty Dumpty Foundation
Huntingdon Rural Fire Brigade
IC Care Picton
Imagine Eden
Inner West Meals on Wheels 
Inverell East Rotary
Jarrah House 
John Hunter Children's Hospital 
Junee Senior Citizens Club
Kids like Brett 
Kids With Cancer Foundation Australia
Kogarah Community Centre
Kurbingui Youth Development
Kurranulla Aboriginal Corporation
Lake Trail Horse Riders Club
Leeton Shire Men's Shed
Lets Get Going
Lidcombe Public School
Lifeline 
Lifeline Northern Beaches
Lions Club of Chittaway Bay 
Lions Club of Coffs Harbour
Lismore Mens & Community Shed
Liverpool Art Society Inc
Lou's Place 
Marine Rescue Forster Tuncurry
Marrickville PCYC
Mascot Drive Community Garden
Meals on Wheels
Meals on Wheels - Jervis Bay & Districts
Meals on Wheels Charlestown
Menai Project Youth Centre
Mid Coast Outreach Incorporated
Minerva School
Miracle Babies Foundation 
Molong Advancement Group
Monty's Place 
Moree Care
Mosman Community Care
Mother Hubbard's Cupboard in Camden
Multicultural Neighbourhood Centre
Murrumburran Harden Show Society
Murrurundi Men's Shed
Muswellbrook Amateur Basketball
NAPCAN
Narrabeen Beach Surf Life Saver Club
Narrabri Women & Children's Refuge
Narrandera Public School
Narromine Soccer Club
National Breast Cancer Foundation 
National Centre for Childhood Grief
Newhaven Farm
NextSense
Northern Beaches Street Mission
NSW SES – Penrith 
NSW State Emergency Service Hornsby
Nyngan Can Assist
Oberon High School P&C
Our Big Kitchen
OzHarvest
Padstow Community Care
Parramatta Holroyd Family Support
Parramatta Mission
PCYC Bourke
PCYC Morisset
PCYC North Sydney 
Peggy's Promise 
Phoenix House Youth Services
Police Citizens Youth Clubs – Belmore
Powerful Empowered Women
Presbyterian Aged Care
Punchbowl Community Centre 
Quirindi Canter
Raymond Terrace Men's Shed
RDA Deniliquin
ReachOut Australia
Redfern Youth Connect
Riverwood Community Centre
Rosa Co-ordinated Care
RuffTrack
Ryde Family Services 
Safe Waters Community Care 
Shoretrack Ltd
Silverlea Early Childhood Services
Snowy Mountains Care & Early Learning Centre
Soaring Eagles Youth
St Clair District Mens Shed
St John's Ambulance
St Patrick College
Stepping Out Program
Story Dogs
Street Heart
StreetWork
Stroke Recovery Association
Sunnyfield Disability Services
Supported Accommodation & Homelessness Services
Swansea District Baptist Church
Sydney Childrens Hospital Foundation
Sylanvale Foundation Limited
Sylvania Heights Community & Youth Club
Taldumande Youth Services 
Ted Noffs Foundation
Teensafe
Telegraph Point Public School P&C
Tenterfield Junior Soccer
The Childrens Hospital at Westmead
The Deli Women and Children Centre 
The Food War Inc
The Haymarket Foundation
The Hill's Women's Shelter 
The Kids' Cancer Project
The Next Step Foundation 
The Salvation Army
The Shepherd Centre
The Staples Bag
The Storehouse Thornleigh
The Story Factory
The Twenty-Ten Association
Tiki Animal Rescue
Toormina Community Preschool 
Toys Change Lives
Tweed Heads Men Shed
Tweed Palliative Support
Unisson
Variety The Children's Charity
Vaucluse Public School
Veritas House
Vinnies Bonnyrigg
Walgett Historical Society 
Warren Museum & Gallery
Wayside Chappel
Wedgetail Retreat
Wellington Men's Shed
Wesley Community Services
West Cumberland Mens Shed
West Wyalong Men's Shed
WestCare Community Services 
Western Sydney Woodturners
Wilay Cafe 
Wildlife Aid Incorporated
Wingap Foundation
Women of Colour Australia
Womens and Girls Emergency Centre
Wyong Men's Shed
Yass Valley Can Assist
You Choose Youth Road Safety
Young Men's Shed
Youth off the Streets
Youth Solutions
YWAM Byron Bay 
Zonta Club of Goulburn
NT
Katherine Community Radio
Northern Australian Aboriginal Trust
Riding for the Disabled
Saltbush Social Enterprises
Save the Children NT
QLD

 
Abundance College
Action 6 Soccer
AEIOU Camira
Anglicare Southern Queensland
Animal Welfare Cairns
Animal Welfare League QLD
Animals In Need Brisbane
Ashgrove-The Gap Mens Shed
Audrey's Angels of Hope
Base Services
Bayside United Sports & Recreation
Beaudesert Community Kindergarten
Beyond Barriers
Boots For One & All
Bootstraps
Bowen Mens Shed
Branches Lifestyle Support
Bravery Box
Bribie Island Community Kindergarten
Brisbane Area Rescue Network
Brisbane Youth Services
Broken to Brilliant
Buaraba QCWA
Bulimba Community Centre
Bundaberg Hockey Association
Burdekin Community Association
C&K Murgon Community Kindergarten
Caloundra Mens Shed
Carina Meals On Wheels
Cathay Community Association
Chameleon Youth Housing
Chances Cafe
Charleville Hospital Auxiliary
Childers Rural Fire Brigade
Chinchilla Meals On Wheels
Communify Queensland
Community Friends
Coomera Crushers Rugby Union
Days For Girls Mareeba
Dig In
Diggers Rest
Domestic Animal Rescue & Education
Domestic Violence Action Centre
Dorrington Mens Shed
Fauna Rescue Whitsundays
Food Relief NQ
Gladstone Hospital Auxilliary
Gold Coast Project for Homeless Youth
Gold Coast Youth Services
Goodna Street Life
Graceville Amateur Swimming Club
Granite Belt Community Assist
Guide Dogs Queensland
Healing Hooves
Hendra State School
Hervey Bay Neighbourhood Centre
Hoofbeats Sanctuary
Inala Community House
Innisfail Youth & Family Care
Institute for Urban Indigenous Health
Ipswich State High School
Jack Beasley Fund
Jack's Butterflies
Kids Reunited
Kingaroy Chamber of Commerce
Kurbingui Youth Development
Longreach Meals On Wheels
Love and Hope Redlands
Maroochy Neighbourhood Centre
Maryborough & District Animal Refuge
Mens Shed Labrador
Merciful Servants Brisbane
Mercy Community Services
MIRAA House
Mount Isa Special School
No More Fake Smiles
NQ Wildlife Inc
Pay A Sack Forward
PCYC Biloela
PCYC Emerald
Pioneer Valley Mens Shed
Prospect Community Services
Pyjama Foundation
QCWA Brookfield
QCWA St George
Rainforest Reserves Australia
Red Nose - Sands Australia
Redlands Community Centre
Refocus
Rizeup Australia
Rockhampton Mens Shed
Rosies - Friends on the Street
Rosies Youth Mission
Rotary Club of Mt Morgan
Rotary Club of Roma
Sea Turtle Foundation
Sewing for Charity
Show Whitsunday
Small Steps 4 Hannah
Springwood Pumas Junior AFL
Story Dogs
Sunshine Coast Animal Refuge
Sunshine Coast Riding for the Disabled
Tannum Sands Kindergarten
Tewantin Noosa Meals On Wheels
The Help Charity
The Pyjama Project
The Vietnamese Seniors Association
Tie Up The Black Dog
Toowoomba City Mens Shed
Top Livin
Trinity Centre Pantry
Tully Support Centre
U3A Dalby
Volunteer Marine Rescue Brisbane
Wesley Kids
Wilston State School P&C
Wishlist Coffee House Gympie
World Wellness Group
Yeppoon Surf Life Saving Club
Young Diggers Limited
Youth Housing Project
Yumba-Meta
Zig Zag Young Womens Resource Centre
SA
Orange Sky Australia
Salvation Army Berri
Minton Farm Animal Rescue
RSL Bordertown
MumKind Ltd
Deafblind Association of SA
Treasure Boxes Inc
CanDo4Kids Colonnades
The Playford Women's Shed
Dementia Australia
Zahra Foundation Australia
U Care Gawler Inc
The Gold Foundation
Kickstart for Kids
Adelaide Day Centre for Homeless 
Guardian Angel Animal Rescue SA 
Talk out Loud
Salvation Army Copper Coast
Womens Safety Services SA 
Puddle Jumpers Inc
Hope Springs Eternal Dog Rescue
Backpacks 4 SA Kids 
St Vincent de Pauls Society SA
Rotary Club of Murray Bridge
Naracoorte South Primary School
Little Heroes Foundation Inc
Cat Adoption Foundation 
Nuriootpa Swimming Pool Works
North Haven Coast Guard
Suicide Intervention & Prevention
United We Made It
Uniting Country SA
Reynella Neighbourhood Centre 
Cafe Outside the Square Ltd
Bhutanese Australian Association 
Rotary Club Seaford
Sammy D Foundation
Unley Italian Community Association
Yankalilla Mens Shed
Friends of One & All Sailing Ship 
Whyalla Suicide Preventions Network
TAS
Campbell Town Bicentenary
Circular Head Aboriginal Co
Claremont Men's Shed
Deloraine Junior Football Club
Dorset Suicide Prevention 
East Tamar Primary School
Glenhaven Family Care
Grow, Gather, Give
Headspace Devonport 
Headspace Launceston
Huonville DV Service
Illoura Animal Refuge 
John Opie House
Kingston Men's Shed
Lady Gowrie Tasmania
Neighbours Longford
Orange Sky Laundry
She Shreds Australia
Shelter Tasmania
Sorell Men's Shed
St Helens RSL Womens Auxiliary 
Strike it Out
The Caring Network
The Fairy Godmothers
Tunbridge Community Hall
West Coast Community Hub
Youth, Family & Community Connect
VIC
 Eaglehawk Community House
1st Corryong Scout Group
300 Blankets 
4EK
Alamein Neighbourhood & Centre
Albury Wodonga Foodshare
Alexandra Community Shed
Alkira Box Hill
Altona RSL 
Anam Cara House Colac
Anchor Inc
Angliss Neigbourhood House
Animal Protection Society 
Antonine Sisters Aged Care 
Apollo Bay Scouts Group
Arrabri Community House
Asylum Seeker Resource Centre
Avalon Centre
Backpacks 4 Vic Kids
Bairnsdale Theatre Company
Ballan Pre School
Banksia Community Gardens
Beaconsfield Fire Brigade
Belgrave Men's Shed
Berry Street
Berwick Neighbourhood Centre
BestChance
Big Group Hug
Birchip Historical Society
Boroondara Community Outreach
Braybrook Neighbourhood House 
CAFS
Caladenia Dementia Care
Camcare
Camperdown FNC
Careworks Sunranges Inc
Caroline Chisholm Society
Castlemaine Lions Club 
Centre Against Violence
Charlton Public Cemetery Trust
Christian Emergency Food Centre
Cire Services Community Hub
Clayton Cricket Club
Cobram Horse & Pony Club
Comfort Care Foundation
Community Support Frankston
Cornerstone Contact Centre
Cranbourne Info & Support Service
CREATE Foundation
Daylesford Community Op Shop
Deaf Children Australia
Deer Park Football Club
Diamond Valley Community Support
Djirra
Docklands Primary School
Dogs For Kids
Donald Men's Shed
Doncare
DVRC Victoria
East Coburg Cricket Club
Echuca Moama Men's Shed
Euroa Arboretum
EX-MED Cancer 
Extended Families
Father Bob Maguire Foundation
Fawkner Kindergarten
Feed Me Bellarine
Feed Me Surf Coast
Focus on Gardening
Foodbank Victoria
Foodfilled
Foster Primary School
Fusion Australia
Gateway Beet
Geelong Mums
Geelong West Toy Library
George Gray Centre
Gisborne SES
Glen Ordon Football Club
Glenroy Lions Football Club
Grampians Community Health 
Greater Shepparton Winter Shelter
Gum Nut Gully Pre School
Habitat Uniting Church
Headspace Elsternwick
Headspace Frankston
Headspace Hawthorn
Healesville Senior Citizens Club
Horsham SAFV Centre
IDV
Inverloch Men's Shed
Jirrahlinga Koala & Wildlife Sanct
JS Grey Kindergarten
Kaya's Mission
Keilor Wolves Soccer Club
Kerang Girl Guides
Kids First Australia
Kids Thrive
Kiewa Valley Community Radio
Kilmore & District Men's Shed
Knox Infolink Boronia
Koala Kids Foundation
Kyabram Community House
Lakes Entrance Men's Shed
Latitude Directions 
Launch Housing Limited
Leongatha Town Cricket Club
Lions Club Boroondara Central
Lions Club of Lara
Lions Club of Sebastopol 
Lorne Football Netball Club
Lort Smith Animal Hospital
Macedon Ranges Suicide Prevention
Maryborough Lions Club
Men's Shed Numurkah
Merriang Development School
Mindful Aus 
Moe Neighbourhood House
Mont Albert Primary School
Moongala Women Community House
Morwell Neighbourhood House
Myrtleford Historical Society
Nagambie Cricket Club
Next Steps Australia
Nhill Lions Club
Oakleigh Community Support Service
Orbost Bowls Club
Parkmore Junior Football Club
Pets of the Homeless
Phillip Island Community & Learning
Project Underdog Rescue 
Puppy Tales Rescue & Rehoming
Quercus Beechworth
Reach Out Wildlife Australia
Red Dust Role Models
Rescue Rehabilitate Release
Reservoir Preston Little Aths
Riding for the Disabled 
Rosewall Neighbourhood Centre
Rotary Club of Knox 
Rotary Club of Laverton
Roxburgh Park Utd Soccer Club
RSPCA Victoria
Sakhi Saheli 
Sale Neighbourhood House
Salvation Army Hampton Park
Scope
Second Bite 
Second Chance Animal Rescue 
SecondBite
Seddon Cricket Club
Shepparton Youth Foyer
Somerville Community House
South Croydon Cricket Club
South Gippsland Animal Aid
Southern Peninsula Food For All
Span Community House
Springvale Learning & Activites
St Albans Community Youth Club
St Arnaud Men's Shed
St Kilda Mums
St Mary's College of the Deaf
St Vincent de Paul
Standing Tall in Hamilton
Standing Tall in Warrnambool
Sunraysia Cancer Resources
Sunshine Bendigo
Survivors of Torture Foundation
Swan Hill L2P Program
Swan Hill Neighbourhood House
The Abbeyfield Society
The Animal Doors Pakenham
The Farmhouse
The Gap on Graham
The Homeless Project
Timboon Men's Shed
Tullamarine Community House
Tullamarine Football Club
U3A
Uniting Care - Prahran Mission
Uniting Prahran
Upper Yarra Valley Wildlife Rescue
Very Special Kids
Victorian Bar Foundation
Volunteering Geelong
Waminda Community House
Western Port Men's Shed
Whittlesea Community House
Wildlife Rescue Emergency Service
Windarring
Wombat Housing Support Services
Wombat's Wish
WRISC Family Violence Support
Yarraimbiack Animal Rescue
Yarrawonga/Mulwala Toy Library
WA
All Stars for Autism Inc.
Amanda Young Foundation
Baldivis Childrens Forest
Bayswater SES
Broken Crayons Still Colour Foundation
Bull Creek Leeming Parkinson's Support Group
Bunbury Men's Shed
Busselton Community Garden
Canning Vale Junior Football Club
Central Midlands SHS P&C Assoc.
Claremont Bowling Club
Cycling Without Age Canning
Disabled Children's Foundation
Donor Mate Australia
East Manjimup Primary School P&C
Esperance Crisis Accommodation Service
Feed It Forward Inc.
Forget Me Not Dementia Support 
Geraldton Volunteer Fire & Rescue
Girls Without Limits
Girrawheen Community Garden
Hamersley Habitat Community Garden
Helpful Hampers
Homelessness We Care Perth
Ignite Mentoring Inc.
Jacaranda Community Centre
Kangaroo Haven Incorporated
Kanyana Wildlife
Karrinyup Community Men's Shed
Little Grove Primary School P&C
Melville Woodturners Association
Merredin College P&C Association
Mind the Change Inc.
Narrogin BMX Restoration Community Project
Nollamara Turf Cricket Club
Northam BMX Club
Operation Sunshine WA
Paint Me a Rainbow Autisim Awareness WA
Perth Homeless Support Group Inc.
Quinns Rocks Junior Cricket Club
Reach Us Pilbara Inc.
Rebound WA Inc.
RFDS Western Operations
Riding for the Disabled WA Oakford
River Angels Inc.
Rockingham Beach Primary School P&C
Saba Rose Button Foundation
SAFE Carnarvon
SAFE Goldfields
SAFE Hedland Inc.
Saint Benedicts Homeless Foundation
Senior Citizens Autumn Club
SOUL Inc.
St Patricks Primary School P&F Assoc.
Swan Districts Senior Citizens
The Dementia Support Network of WA
Victoria Park Carlisle Bowling Club
Warnbro Swans Football Club
Westaus Crisis & Welfare Services