Keep track. Together.
Making your day-to-day easier
Whether it's a joint Everyday account or savings account, merging your money can help you to:
Have better visibility of your collective spending and saving
Manage bills and expenses
Reach savings and financial goals together
Save time - no need to transfer money between separate bank accounts
Making it work
First, agree on the basics:
How much and how often you'll each contribute into your joint account
What you'll use the account for e.g. paying bills or covering rent, as an emergency fund or saving for a goal like a joint holiday
If you need to set a spending limit each month
How you want to use your joint account e.g. one person or both to sign to approve transactions
Whether you'll each keep separate bank accounts too
Wondering if a joint account is right for you? This article may help you to decide
Two Debit Mastercards
Our Smart Access account can come with two Debit Mastercards – one for each of you. Making it easy to shop, pay bills, withdraw cash and transfer money to and from your linked savings account at an ATM plus more.
Pay no monthly account fee
The monthly account fee for the Smart Access account will be waived if you deposit at least $2,000 per month. The waiver will also apply if you're on Student Options, under 25 or you meet other criteria.1
These are fee-free
Purchasing items in Australia using your Debit Mastercard
Transfers between accounts
BPAY and other electronic payments including PayID payments
Withdrawals from CommBank ATMs
How to apply for a joint everyday Smart Access account
You can apply if you're both:
14 or over
Opening the joint account in your personal names (no Company, Trading or Trust accounts)
Have an Australian residential address
Neither of you bank with us?
We recommend having at least one of the following ID handy – Medicare card, Driver's licence, Passport, Birth certificate
Apply online – make sure your info matches what's on your ID
Complete online ID check 
Download the CommBank app to use Cardless Cash while you both wait for your Debit Mastercards to arrive (takes up to 5 business days)
Already bank with us?
If one or both of you bank with us
Apply online in NetBank or the CommBank app
Use Cardless Cash while you both wait for your Debit Mastercards to arrive (takes up to 5 business days)
Support to keep your spending on track
Know exactly how much money is in your account, what's going out and when.
Australia's #1 banking app helps you keep track.2
Spend Tracker: Automatically categorises your transactions so you know what you're spending your money on and where you can cut back. 
Transaction Notifications: Turn them on to receive an instant alert when you pay from, or get paid to, your joint everyday account. 
Lock, Block, Alert: Choose to lock online, contactless or in-store international payments on your Debit Mastercard (no impact to your joint account holder's card), if you're not regularly shopping online or travelling overseas. Securely lock & unlock your Debit Mastercard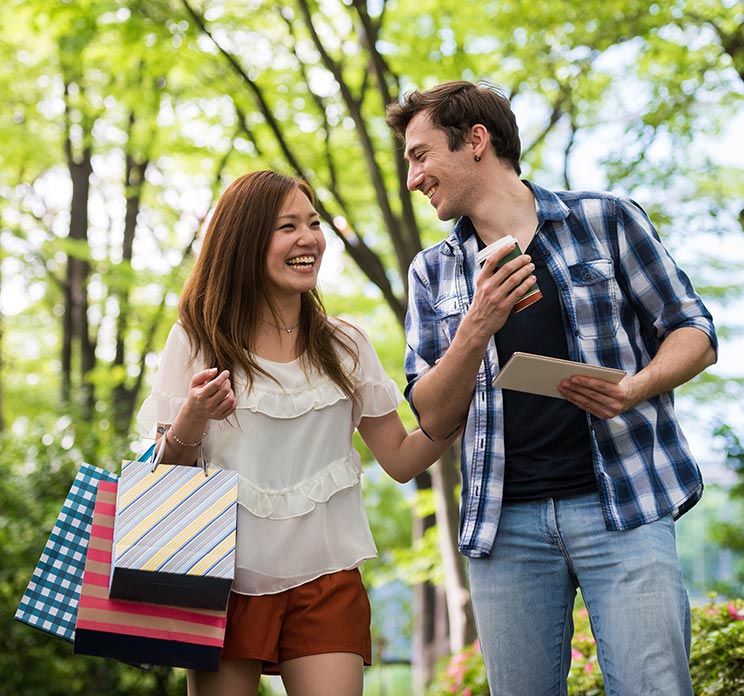 Start saving together too
Whether you're saving for a holiday, car or a new home, combining your savings can make sense.
You can open any of our savings accounts with someone else, as long as you have an existing joint account together with us. 
NetBank Saver: An online savings account with the flexibility to move money in and out of your linked Smart Access account using NetBank or the CommBank app
GoalSaver: A savings account that rewards you with variable bonus interest when you grow your savings balance (excluding interest and bank-initiated transactions)
Term Deposits: Savings you lock away at a fixed rate, for a set period of time
To open a joint account for the first time or with someone new please visit your nearest branch together. 
If the unexpected happens
The end of a partnership can be tough, and handling the financial matters might be challenging. Here's some info that may help you if you're faced with this situation. 
Things you should know
1 Monthly account fee waived for accounts with at least $2,000 deposited each calendar month (excludes Bank initiated transactions). A monthly account fee waiver will also apply if you're under 25 years of age, or you're a full-time or part-time tertiary student at an Australian educational institution or undertaking an Australian Apprenticeship on Student Options. You may also be eligible for a different monthly account fee exemption if you have an aged, disability or war veterans' pension deposited in your account, have a balance of $50,000 or more in eligible contributing accounts, are reliant on over the counter services because of a disability or have an eligible home loan. Find out more about rates and fees.
2 The Forrester Digital Experience ReviewTM: Australian Mobile Banking Apps, Q3, 2020. Forrester Research does not endorse any company included in any Digital Experience ReviewTM report.
The target market for these products will be found within the product's Target Market Determination, available here.
The advice on this website has been prepared without considering your objectives, financial situation or needs. Because of that, you should, before acting on the advice, consider its appropriateness to your circumstances. Please view our Financial Services Guide (PDF 68KB). Full terms and conditions for the transaction and savings accounts (PDF | 660KB) mentioned and Electronic Banking are available here or from any branch of the Commonwealth Bank. Fees may apply.