Getting started
Find out if your school is participating in School Banking when you apply online, or ask at your school office.

When you open a Youthsaver account, your child will receive a Dollarmites deposit wallet to use for School Banking. If they have an existing Youthsaver account, contact us or visit your nearest branch to receive your Dollarmites wallet.
With a Youthsaver, you can earn bonus interest on balances up to $50,000 when you grow your savings balance each calendar month (this excludes interest and bank-initiated transactions).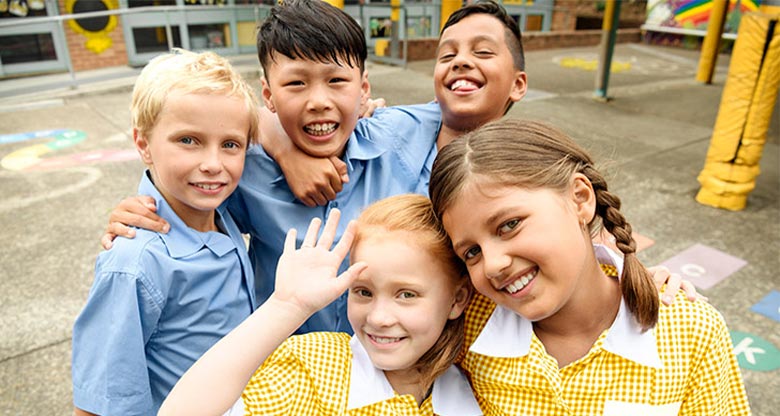 How School Banking works:
It's easy as 1,2,3:
Bring your deposit to school in your Dollarmites deposit wallet on your weekly 'School Banking Day' to collect a silver Dollarmites token
Once you collect 10 tokens (if receiving physical tokens – maximum 1 token per week), you can choose a reward by placing the redemption slip

 and 10 tokens in your Dollarmites deposit wallet and bringing it in on School Banking Day

Kids can track their savings progress in the CommBank Youth app
You can download a copy of our Parent Guide to School Banking.
Enhance the School Banking experience with the CommBank Youth app
The CommBank Youth# app is a fun, secure way for your child to learn digital money skills. They can:
Check their Youthsaver account balance
View their School Banking deposits in their transaction history
Track how many Dollarmites tokens they've earned
Set savings goals and track progress
Create a list of chores/jobs they can do to earn pocket money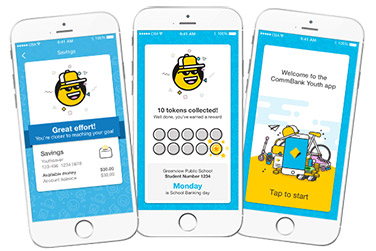 Related initiatives
The Beanstalk
A one-stop resource that helps you bring money to life for children. Browse tips and advice and download fun activities such as colouring-in sheets, puzzles and budget and chore trackers. 
Dollarmites
Designed for children under 12 years of age, Dollarmites makes money fun, with online activities and tips to help children save for the things they want sooner.
Our response to the Victoria Government's recent decision on school banking
We're surprised and disappointed with the decision by the Victorian Government to stop banks from delivering school banking programs in government schools from 2021. This will have an impact on the thousands of children, families, school communities and volunteers that currently participate in our program.
The Australian Securities and Investments Commission (ASIC) has been conducting an industry-wide review into school banking programs, and we've been engaging constructively with them throughout. We have refined our program to incorporate or address the regulator's initial findings, and submissions from communities, schools and individuals right across the country show significant support for our School Banking program.
Of course, we're supporting our impacted teams and school partners across Victoria, and determining what this means for them going forward.
In Victoria, this decision will mean the loss of around $4 million in financial literacy programs and school contributions, provided by School Banking and Start Smart – our curriculum-aligned financial capability program. These programs support the financial literacy of more than 100,000 Victorian students across more than 500 schools that volunteer to participate annually.
We understand the ban only impacts Victorian Government schools, and we will continue to engage with other state and territory governments and offer our programs in other states.
Recognising the changing needs of youth financial education, we will continue working with ASIC and gaining inputs from academics, behavioural scientists, education experts, parents, students and school communities to evolve our program to focus on supporting youth financial literacy, consistent with the school curriculum. 
If you have any questions, please contact our School Banking Helpdesk on 1800 674 496, Monday to Friday 9am to 5pm (AEDST).
You can still access your Youthsaver account
You can continue to make deposits into your Youthsaver account through online transfer or at any CommBank branch.
If you need further information, please phone 132 221, or visit your local CommBank branch.
Things you should know
1 Parents of children participating in CommBank's School Banking program (n=523), School Banking Research, conducted by Fiftyfive5, May-June 2018.
2 Parents of Australian primary school children (n=1144), School Banking Research, conducted by Fiftyfive5, May-June 2018.
The target market for this product will be found within the product's Target Market Determination, available here.
Apple, the Apple logo & iPhone are trademarks of Apple Inc, registered in the U.S. and other countries. App Store is a service mark of Apple Inc.
# The CommBank Youth app is available to download from the App Store on any iOS 9+ device. Your child will need a NetBank client number and password to log on. You can set this up when applying for a new account. Existing customers simply visit a CommBank branch with identification for you and your child's birth certificate, or if you can see your child's account in your NetBank or CommBank app, you can set this up online. The CommBank Youth app is free to download, however your mobile netbank provider may charge you for accessing data on your phone.
The Victorian Government has announced that banks and financial institutions will no longer be welcome to deliver programs to government schools in Victoria from 2021. This decision affects both Start Smart and our School Banking program. We will continue to offer these programs to schools in other states and territories, and non-government schools in Victoria.