Managing employees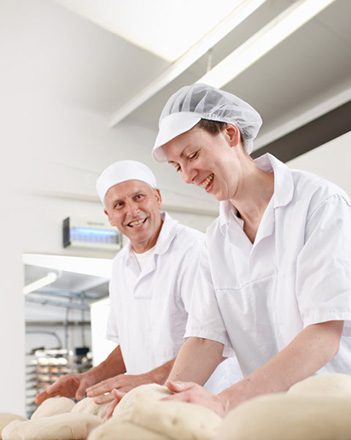 Creating a great team is essential to increasing profitability. The goal is to make yourself redundant by building a business that works without you.
Train people so you'll have a back-up if you're sick or need time off
Let key staff build skills and gain an understanding of operations so they can share responsibilities
Your management skills or knowledge benefits the business
Make the effort to share knowledge with key staff
Establish systems to make it easy for knowledge to be shared
Give others a chance to share the responsibility of running your business
As you train up others, you are building up your assets, which helps achieve your goals and boost profitability
Once you've trained key staff, involve them in decision making
Employees will see your business from a different perspective, and will feel more valued which is great for staff retention.
Create bonds between team members and establish goals or beliefs to keep them focused on your business objectives and targets
Motivate staff so they want to achieve the business goals
Pay competitive salaries and reward staff
A relatively small rise can be enough to keep someone happy which is a good investment considering the costs of recruiting, retraining and lost productivity when an experienced staff member leaves
Register for PAYG withholding before you withhold any amounts
Withhold PAYG from amounts you pay to employees, including wages, commission, hourly rates. The ATO provides tables telling you how much to withhold
Report and pay those withheld amounts when you submit your activity statement
Give annual payment summaries to your employees and the ATO

You don't have to withhold amounts unless the contractor specifically asks you to
To create a voluntary agreement, the contractor must have an ABN and you must both complete a voluntary agreement form
If you don't withhold tax, the contractor must manage his or her own tax liability

Contribute 9.5% of an eligible employee's earnings base to a complying super fund or retirement savings account, regardless of your business structure. This generally applies to employees aged 18 and over, whose monthly pay is $450 or more (before tax). Employees who are under 18 years old must also work at least 30 hours per week.


You may have to make super guarantee contributions for contractors depending on the terms of their engagement.

If you are a sole trader or partner, the super guarantee obligations do not apply. Instead you can claim a deduction for contributions you make to a fund
Important information

This information may include general advice but does not take into account your individual objectives, financial situation or needs. Colonial First State Investments Limited ABN 98 002 348 352, AFS Licence 232468 (Colonial First State) is the issuer of interests in FirstChoice Employer Super offered from the Colonial First State FirstChoice Superannuation Trust ABN 26 458 298 557. It is also the Trustee and issuer of interests in Commonwealth Essential Super ABN 56 601 925 435. Colonial First State is a wholly owned subsidiary of Commonwealth Bank of Australia ABN 48 123 123 124 ('the Bank'). An investment in FirstChoice Employer Super or Essential Super is not an investment in, deposit with or other liability of the Bank or its subsidiaries and they do not guarantee the performance of either fund. Your investment is subject to risk, loss of income and capital invested. All other products mentioned on this web page are issued by the Bank. View the Bank's Financial Services Guide (PDF 59kb).