Some recent developments
Since our March communication, the broader market has continued on its path away from LIBOR and towards adopting risk-free rates (RFRs). 
A glossary of terms is located at the end of this page.

Adoption of RFRs is progressing at different speeds in different jurisdictions and is most advanced in the Sterling market. Globally, some regulators have expressed concerns that continued reliance on LIBOR poses significant risks and may result in disruptions to the stability and integrity of the financial system. They have also said that firms themselves may face financial, conduct, litigation, and operational risks associated with inadequate preparation.
The Financial Stability Board (FSB) stated on 2 June 2021 "Clear timelines for the cessation of all LIBOR panels have now been confirmed and all new use of these benchmarks and others derived from them should cease as soon as practicable, and no later than the timelines set out by home authorities and/or national working groups in the relevant currencies". The FSB has also published a global transition roadmap for LIBOR that summarises  various milestones and sets out a timetable of actions for financial and non-financial sector firms to take in order to ensure a smooth LIBOR transition by end-2021. 
Australian regulators have stated the importance of a timely transition away from LIBOR and the expectation that no new LIBOR-referencing contracts be entered into after 31 December 2021. The Australian Securities and Investment Commission (ASIC), Australian Prudential Regulation Authority (APRA) and the Reserve Bank of Australia (RBA), support the guidance and expectations set by the FSB  and the US Banking Supervisors.
ASIC Commissioner Cathie Armour said, "firms should, as soon as practicable, stop the sale and issuance of LIBOR-referenced contracts that expire after their relevant cessation dates and most importantly, stop offering new LIBOR products after the end of 2021".
The Working Group on Sterling Risk-Free Reference Rates (RFRWG) and UK authorities co-operated on recommending a series of industry milestones to build liquidity in the Sterling Overnight Indexed Average (SONIA). From the end of March this year, issuing of new Sterling LIBOR-referencing contracts has largely ceased.
In the US, the Alternative Reference Rates Committee's (ARRC) stated best practice is for the entering into of new USD LIBOR-referencing loans and derivatives to cease by 30 June 2021.  US regulators have also stated their expectations that no LIBOR-referencing contracts be entered into after 31 December 2021. Whilst most USD LIBOR tenors will continue to be published until 30 June 2023, the US Federal Reserve has stated that these quotes will only be available for legacy contracts. 
In Singapore, where the Swap Offer Rate (SOR) relies on USD LIBOR in its computation methodology, SOR will be replaced by the Singapore Overnight Rate Average (SORA). The Steering Committee for SOR & SIBOR Transition to SORA has set milestones to cease issuing SOR-referencing loans and derivatives from 30 April 2021 and 30 September 2021 respectively.
These transition milestones are intended to provide a clear roadmap and to facilitate a smooth transition from LIBOR to RFRs.

The table below sets out some expectations for ceasing new IBOR-referencing contracts and is sourced from the websites of various supervisors and working groups in relation to LIBOR transition. Some exceptions to this may apply.
IBOR transition timeline
Supervisory/Working Group Expectations for ceasing new IBOR-referencing contracts expiring after 31 December 2021.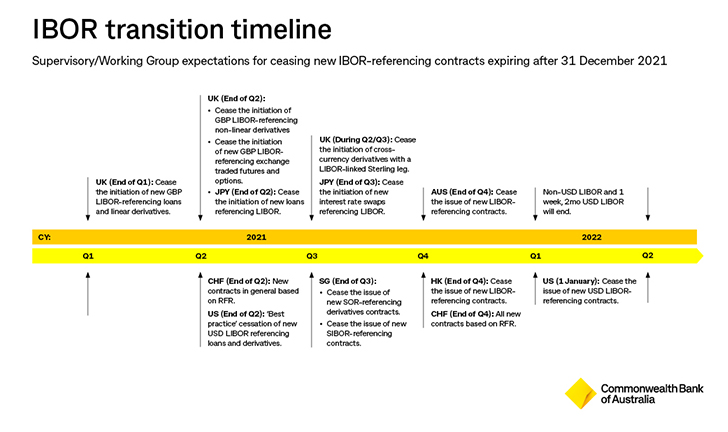 Whilst the actual cessation dates of LIBOR have now been fixed, uncertainties remain. For example, the liquidity in LIBOR-referencing contracts may decline prior to LIBOR's discontinuance. This may limit your ability to execute LIBOR-referencing transactions.
Authorities in some jurisdictions have drawn attention to the difficulty of amending some particular LIBOR-referencing contracts ahead of the LIBOR cessation dates. These are a subset of existing 'legacy' LIBOR contracts and are commonly referred to as 'tough legacy' contracts. The FCA has stated that it may publish what is sometimes known as a 'synthetic LIBOR' rate that would help limit market disruption resulting from 'tough legacy'. However, the FCA has also stated that any publication of 'synthetic LIBOR' will no longer be a representative rate for the purposes of the UK Benchmarks Regulation and is not intended for use in new contracts. Its use in legacy contracts will also be limited to certain circumstances, which are yet to be confirmed. Additionally, amendments to the European Benchmark Regulation and the New York General Obligations Law have established mechanisms that allow certain authorities to choose to mandate the use of a replacement benchmark for covered LIBOR-referencing contracts that cannot actively transition ahead of cessation.
Furthermore, some LIBOR jurisdictions are developing forward looking, or 'term RFRs'. Such term rates are being published in the USD market, and are available in the Sterling market and the Yen market. Whilst such a term rate may provide a suitable solution for some contracts, its use may be limited. The FSB has stated that in many markets, notably the largest part of the interest rate derivative markets, transition to the new overnight RFRs, rather than to these types of term rates, remains particularly important. Further, the RFRWG has recommended term SONIA not be used in the derivatives or the institutional loan market.

As highlighted above, not all components of the future state of interest rate benchmarks are completely clear at this point. However, what is clear is that LIBOR as a benchmark rate has an announced end-date. Regulators have been consistent in their guidance not to delay the transition of your exposures. We strongly encourage you to consider your transition options carefully and take independent advice.
Below, we consider LIBOR transition in loan markets and derivatives markets respectively. As stated in our prior communication, the FCA had announced that the USD LIBOR tenors (other than 1 week and 2 months which will cease on 31 December 2021) will continue to be published until 30 June 2023. In the section referenced below, you can access more information about USD LIBOR.
For further information please follow the links below:
Some matters to consider
There are a range of matters which could be relevant to you in relation to LIBOR transition. These matters will depend on your circumstances, including your portfolio of existing transactions and their contractual terms. For example, the implications for you of the cessation of LIBOR or it becoming non-representative may be unclear if your contractual terms do not currently adequately address these circumstances. To manage your LIBOR exposures some of the matters that you may wish to consider include:
Adhering to a contractual fall-back solution adopted industry-wide, such as the ISDA 2020 IBOR Fallbacks Protocol (ISDA Protocol) for derivatives transactions, or entering into a bilateral amendment agreement
Restructuring your portfolio to reference RFRs instead of LIBOR
Relying on the fallbacks or other provisions within your existing documentation, if suitable; or
A combination of these and other actions.
We encourage you to do your own due diligence regarding your LIBOR exposure and to ensure that any additional LIBOR exposure is carefully justified. You should consider areas in your business that are impacted, including systems, documentation, risk management and accounting. Even if you have no balance sheet exposure to LIBOR, you may still be exposed to other risks in connection with LIBOR cessation or LIBOR becoming non-representative including operational, legal and financial challenges. For example, you may need to change your pricing and valuation systems if a LIBOR rate is a key input.

Additionally we encourage you to seek independent advice regarding any legal, commercial or regulatory implications which LIBOR cessation or LIBOR becoming non-representative may have on your financial arrangements or which may arise through implementing different transition options, including but not limited to, derivatives transaction reporting rules, margining and collateral requirements or clearing obligations. Please also refer to your relevant authorities and independent advisors in relation to any accounting and tax implications of transition. These requirements may apply to you and us differently in different jurisdictions.
We encourage you to remain up-to-date on industry developments related to LIBOR and to contact your CommBank representative directly should you require further assistance. We continue to update our LIBOR Information Hub, which also includes our previous communications. 
What if you have more questions? 
If you have any further questions regarding benchmark reform, please contact your CommBank representative or the Interest Rate Benchmark Reform Program directly on IRBR@cba.com.au.
Glossary of terms
APLMA: Asia Pacific Loan Market Association.
APRA: Australian Prudential Regulation Authority.
ARRC: Alternative Reference Rates Committee. It is established by the Federal Reserve Board and the Federal Reserve Bank of New York to help ensure a successful transition away from USD LIBOR across the markets that have historically used it.
ASIC: Australian Securities and Investments Commission.
BBSW: Bank Bill Swap Rates, administered by the Australian Securities Exchange.
CCP: Central Counterparty Clearing House.
EURIBOR: Euro Interbank Offered Rate, administered by the European Money Markets Institute.
FCA: Financial Conduct Authority is the regulator of LIBOR in the UK.
FSB: Financial Stability Board is an international body that monitors and makes recommendations about the global financial system. It plays a coordinating role in benchmark reform globally.
FALLBACK: In the context of LIBOR a fallback is typically a contractual clause that provides an alternative way of determining the rate as and when LIBOR ceases to be published, or becomes unrepresentative. For example, a fall-back to a risk-free rate with an adjusted margin.
IBA: ICE Benchmark Administration. Administrator of LIBOR.
IBORs: Interbank Offered Rates are based on the rates at which certain banks could borrow in the market for unsecured institutional borrowing, which range in tenors from overnight to 12 months. The rates reflect the credit risk involved in lending money to banks. In this document, LIBOR, EURIBOR, TIBOR, BBSW, CDOR and HIBOR are collectively known as the IBORs.
ISDA: International Swaps and Derivatives Association.
ISDA Protocol: ISDA 2020 IBOR Fallbacks Protocol.
LIBOR: London Interbank Offered Rate, administered by IBA.
LMA: Loan Markets Association.
LSTA: Loan Syndications and Trading Association.
RBA: Reserve Bank of Australia.
RFRs: Risk-free rates are rates that are overnight rates. Some are secured and some are unsecured rates. Because of their nature and short tenor they are considered 'risk free'. Examples of RFRs include SONIA, TONA, SARON, SOFR, the RBA cash rate, €STR, CORRA and HONIA.
SARON: Swiss Average Rate Overnight, administered by SIX Exchange.
SIBOR: Singapore Interbank Offered Rate, administered by ABS Benchmarks Administration Co Pte Ltd (ABS Co.).
SOFR: Secured Overnight Financing Rate, administered by the Federal Reserve Bank of New York.
SONIA: Sterling Overnight Index Average, administered by the Bank of England.
SOR: Swap Offer Rate, administered by ABS Benchmarks Administration Co Pty Ltd which is a fully owned subsidiary of the Association of Banks in Singapore. 
SORA: Singapore Overnight Rate Average, published by the Monetary Authority of Singapore.
RFRWG: Sterling Risk-Free Reference Rates Working Group.
TERM RATE: A forward-looking rate. Term rates can be for different periods. LIBORs are term rates. An RFR term rate would reflect expectations of the RFR throughout the period of the relevant term.
TONA: Tokyo Overnight Average Rate, administered by the Bank of Japan.
Things you should know
As nothing in this document should be taken to be advice, we encourage you to seek independent advice on these matters and you should reach your own conclusions and decisions, in consultation with your own advisors. The information in this document might change and we are not undertaking to update it.
This information is published solely for information purposes. It is not to be construed as a solicitation, an offer or recommendation by the Commonwealth Bank of Australia (CommBank). As this information has been prepared without considering your objectives, financial situation or needs, you should before acting on the information, consider its appropriateness to your circumstances. It must not be relied upon as investment research. CommBank believes that the information is correct and any opinions, conclusions or recommendations are reasonably held or made, based on the information available at the time of its compilation, but no representation or warranty, either expressed or implied, is made or provided as to accuracy, reliability or completeness of any statement made. Commonwealth Bank of Australia ABN 4‌8 1‌23 1‌23 1‌24. AFSL and Australian Credit Licence 234945.