What's this guide for?
Creating maintenance requests to add one or more asset finance arrangements to your CommBiz service.
Why you'd do this
Adding asset finance arrangements to your CommBiz service allows you to view asset finance arrangement details in one place.
What you'll need
CommBiz service administrator permissions
An asset finance arrangement number. Ask your relationship manager if you don't know yours
An arrangement holder type for each arrangement
How to set up an Arrangement
Step 1
Open CommBiz and log on. Don't forget your token password
Click Admin in the top menu bar, then Maintenance requests
Click Add arrangement(s) in the menu on the left. A new page for you to choose the arrangement type will appear. Choose Asset finance loan, then click Next.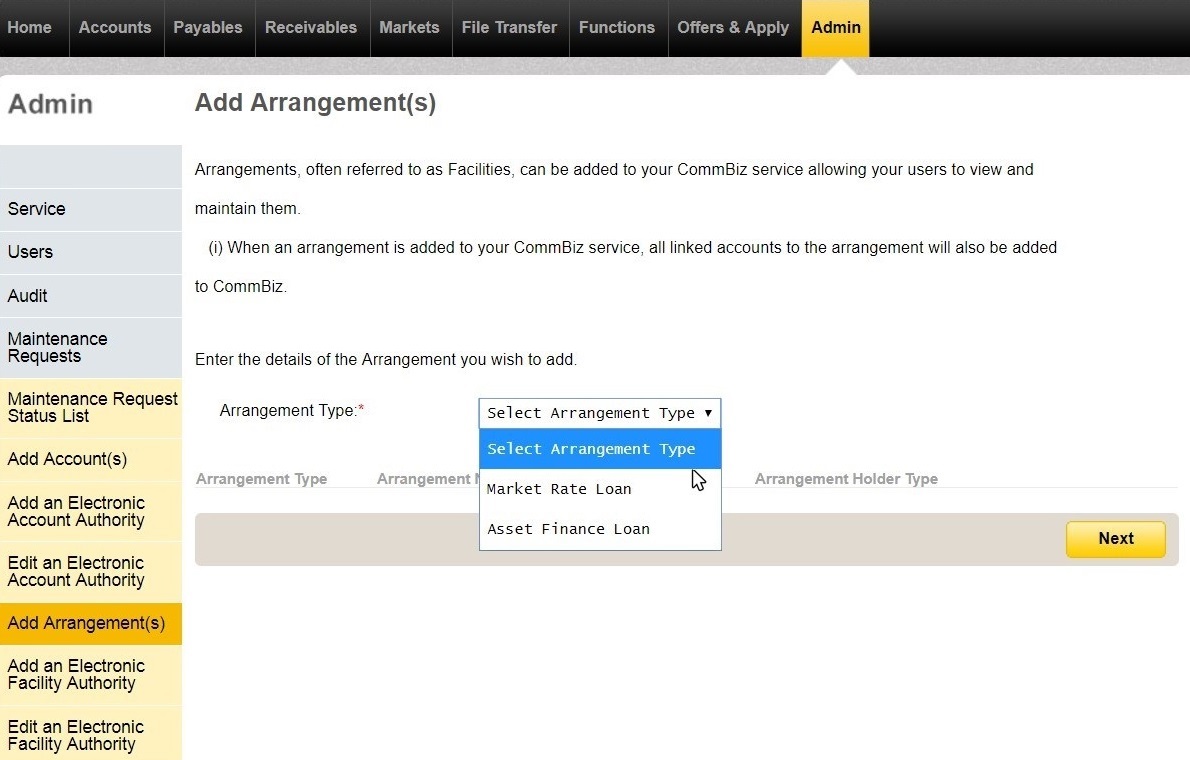 Step 2
Enter the arrangement number and choose the arrangement holder type from the drop-down menu, then click Add. If you don't know the asset finance arrangement number ask your relationship manager
Once you click Add, you'll see any arrangements you've added. You can edit or delete them from that screen. If you'd like to add more, repeat the previous steps
From that page, click Next to generate the arrangement summary page to review the details of the maintenance request you've created.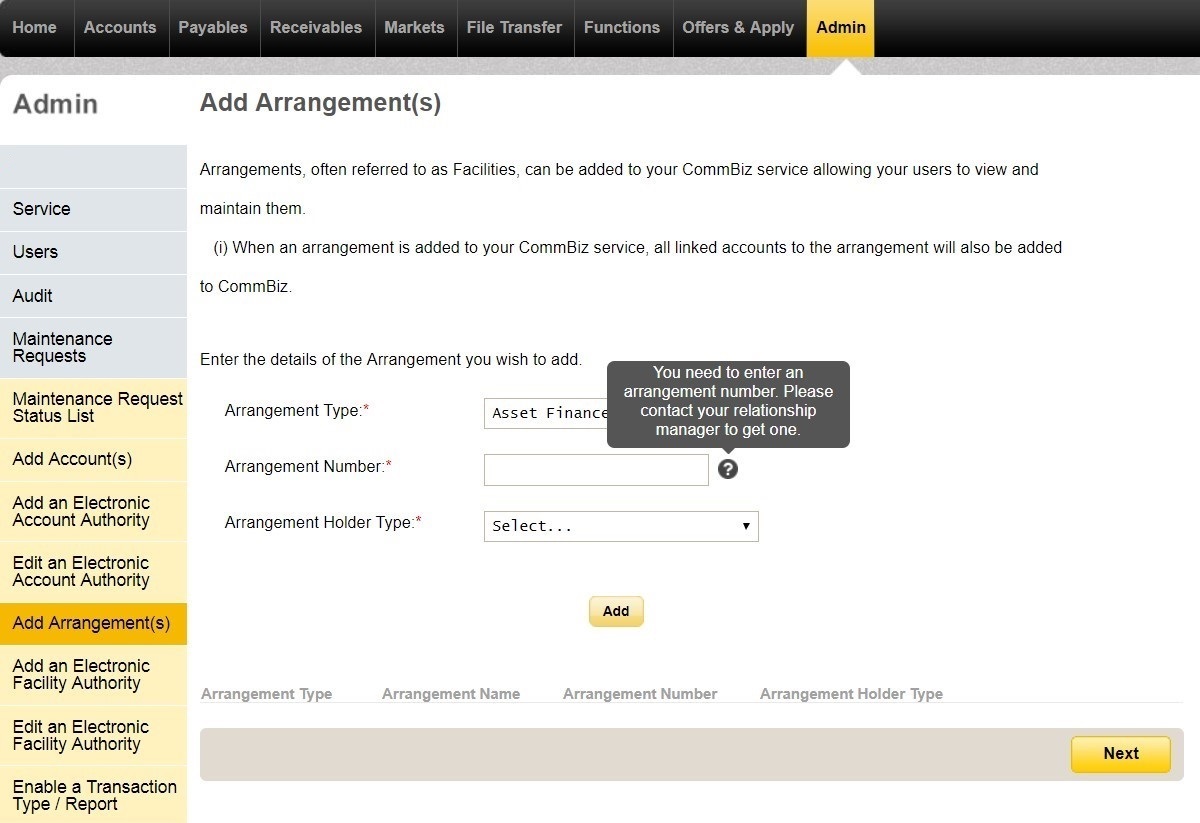 Step 3
From the Arrangement summary page, you can confirm the request. This needs to be done before you submit it. Tick the box for the asset finance arrangement type you'd like, then click Next.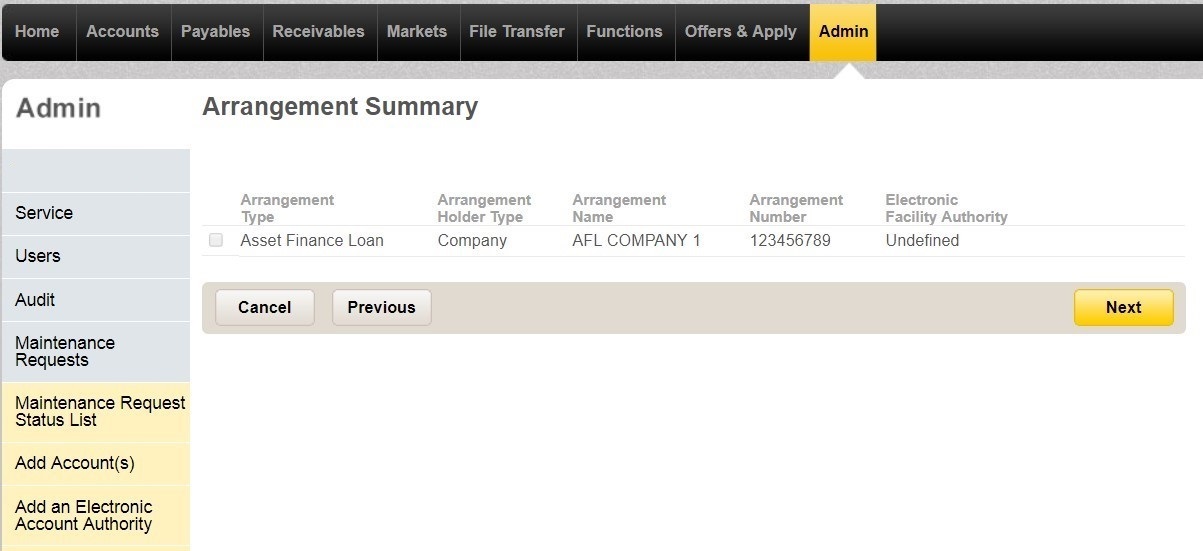 Step 4
From here, you can edit your arrangements with the Modify button, or click Confirm to submit the request.
Step 5
On the confirmation page, you'll find details of the maintenance request and a link to download the forms you need to send to the Bank.
Tick the acknowledgement box to confirm you've saved or printed the maintenance request forms. To print it, click the Electronic facility authority form link.
Click OK to go to the find maintenance request page where you can find all your recent requests.
Now print, sign and send the forms to us.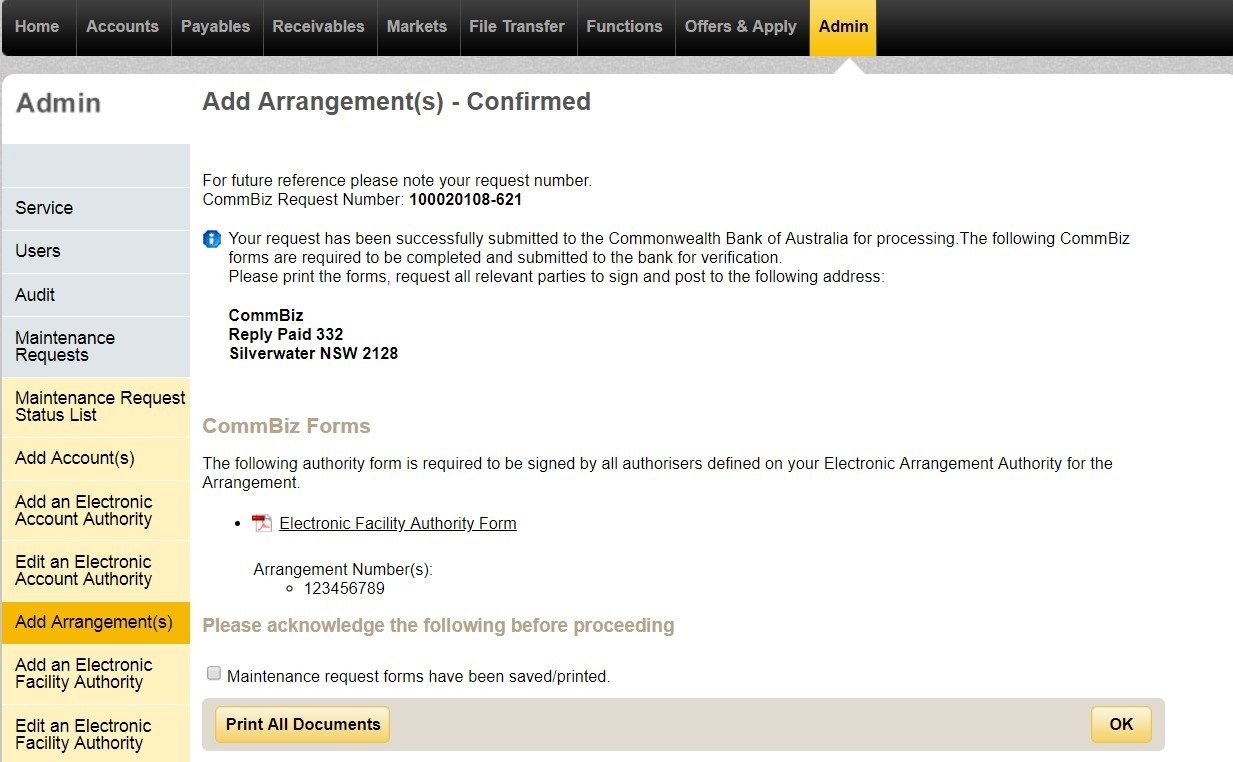 Where to find your Arrangements
From the Find arrangement page, you can search by the arrangement IDs you know, or see the ones you've added listed. To see more details of each asset finance arrangement, click the Arrangement ID number.
To find this page again, log on to CommBiz, click Accounts from the top menu bar and Arrangements in the yellow menu.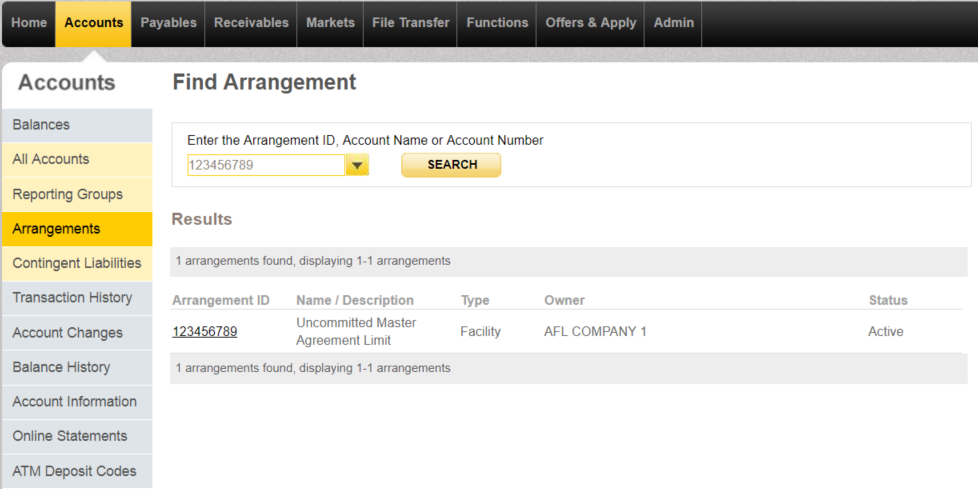 What you'll see if you view an Arrangement
In the View arrangement page, you'll be able to see the whole value of the loan ('master agreement limit'), what's left and what you've used.
Click any asset finance arrangement accounts listed to see details like items bought, instalments and value.