Coronavirus has dramatically impacted the way we live, work and socialise. This can be seen in how spending has changed from a year ago.
CommBank's credit and debit card spending data shows that spending fell over the week ending 27 March 2020 compared with a year earlier
Strong rises in spending on food and alcohol, as well as on household furnishings and equipment weren't enough to offset the fall in spending in other categories
Spending was down sharply on clothing, transport, recreation and personal care
CommBank's analysis of CBA credit and debit card spending shows how household spending decisions are being affected by the enforced lockdown. It captures a lot of the big falls in some spending categories that are ahead, and the rises in others. The falls may be significantly larger than the rises and so overall household expenditure may contract materially.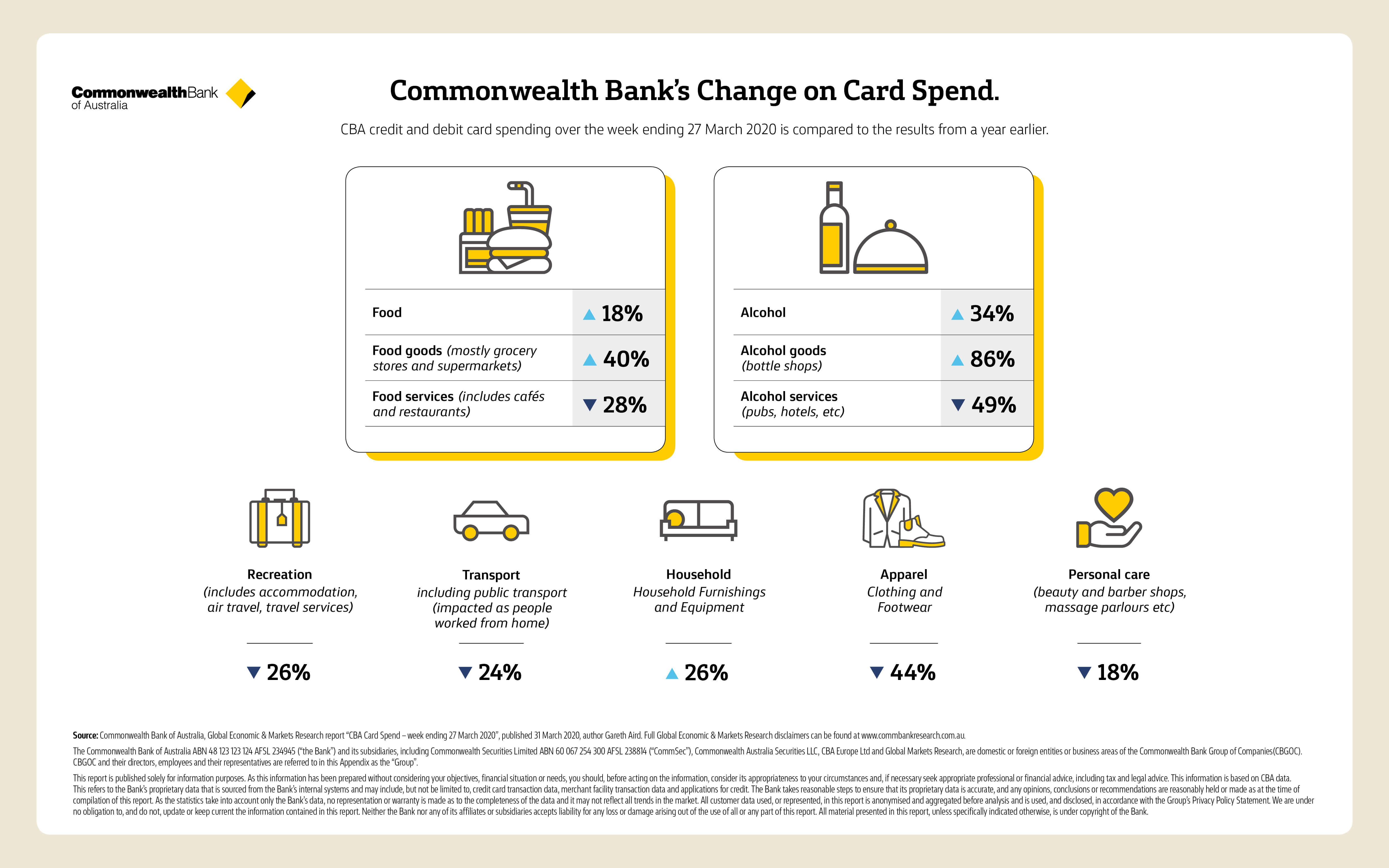 Change in spending on cards in the week ended 27 March 2020 from a year ago
Category
% change
Food
+18

Food goods (mostly grocery stores and supermarkets)

Thsi is expected to ease in coming weeks as stockpiling abates but it will remain elevated due to the substitution between supermarkets, say, and cafes and restaurants.

+40

Food services (includes cafes and restaurants)

To put into context, spending in this category was averaging around +20% year-on-year before Coronavirus struck.

-28%
Alcohol
+34%

Alcohol goods (bottle shops)

This confirms anecdotes that households have been stockpiling beer, wine and spirits.

+86%
Alcohol services (pubs, hotels, etc)
-49%

Household furnishings and equipment

It appears households are planning DIY work, maintenance and repairs over the enforced shutdown period.

+26%

Clothing and footwear

The falls are expected to continue given how many clothing retailers have closed and greatly reduced household appetite to spend.

-44%
Recreation (including accomodation, air travel and travel services)
-26%
Personal care (beauty and barber shops, massage parlours, etc)
-18%

Transport (including public transport)

Due to large numbers of workers working from home, the reduction in activity and the movement of people generally

-24%
Why is this information helpful?
CommBank's weekly CBA credit and debit card spend data gives you an up-to-date picture of what people are spending their money on and how this is changing as Coronavirus impacts our world and the economy. We will be providing further updates to help you understand the impact that the virus is having on businesses and the broader economy.
Note: Weekly CBA credit & debit card spend data is derived from transaction authorisations to give a near real-time view. This means that cancelled authorisations, refunds, reversals, etc will not be included.
Source: CBA credit and debit card spending, and Commonwealth Bank of Australia, Global Economic & Markets Research report "CBA Card Spend – week ending 27 March 2020", published 31 March 2020, author Gareth Aird. Full Global Economic & Markets Research disclaimers can be found at www.commbankresearch.com.au.