Household spending continues to recover from the mid-April low point, although spending in NSW, the ACT and Victoria remains below last year's levels.
CommBank credit and debit card spend data for the week ending 15 May 2020 indicates household spending is around 2% below a year ago, a similar reading to last week and much improved from the weakest readings in mid-April.
Spending is weakest in NSW, Victoria and the ACT, with relatively tight restrictions in Victoria being one factor affecting spending in that state.
Spending in-store is down 5% compared with the same week last year, while spending online is up 8% on the year.
A number of factors explain the relative improvement:
The coronavirus has been relatively well controlled in Australia compared with offshore, and lockdown restrictions are beginning to be lifted.
The JobKeeper payments are hitting people's bank accounts.
Both these factors will be lifting spirits and providing reassurance that it's OK to spend again.
On the other hand, Australian spending was up around 7% over the year in January 2020 before the pandemic arrived. This is the context in which this week's 2% year-on-year fall should be viewed.
A greater share of transactions is likely to be captured by card given many businesses have stopped accepting cash payments. So that may be inflating card spending to a degree.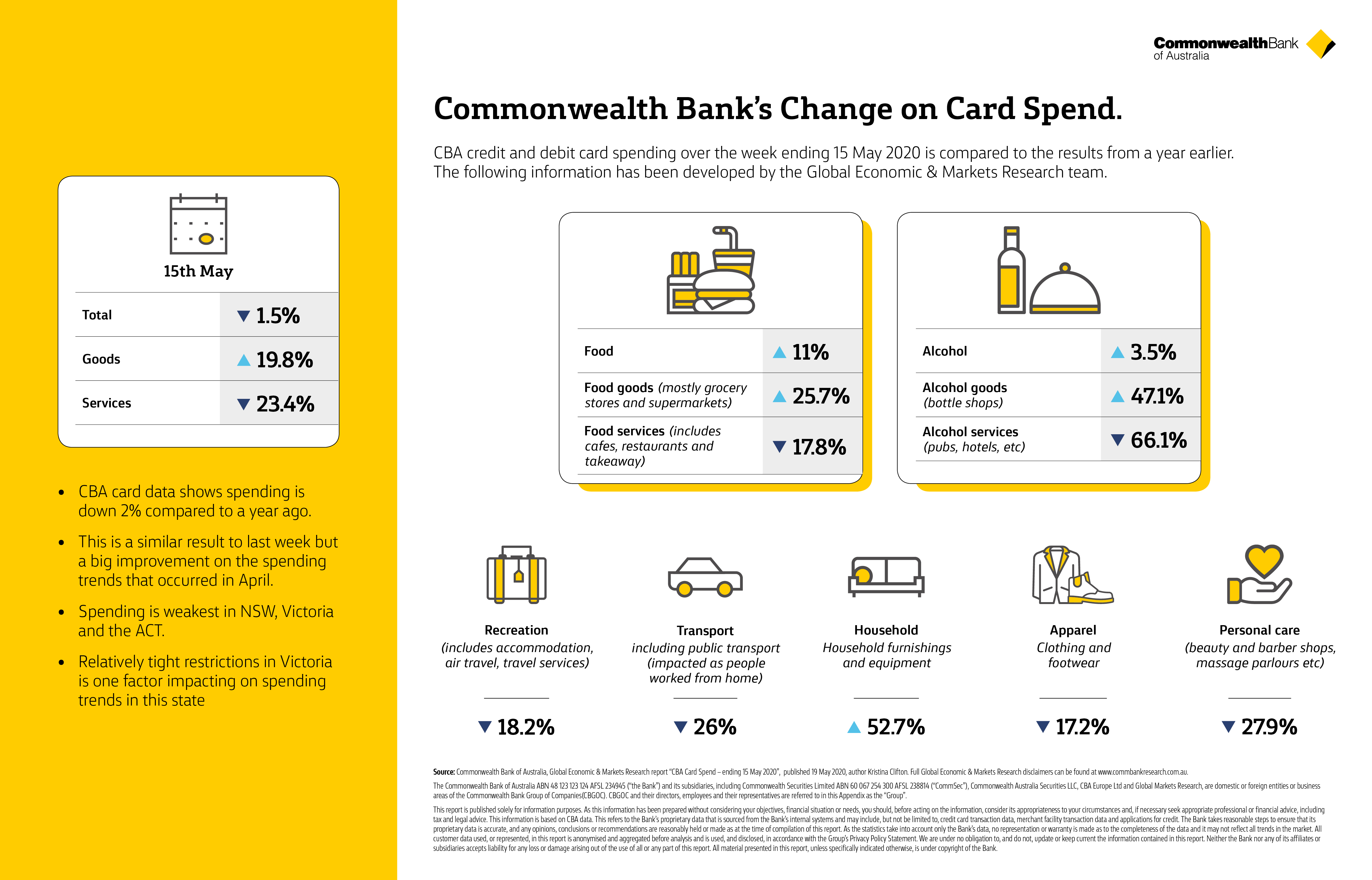 Spending in selected categories in the week ending 15 May 2020
Spending on clothing and footwear is staging a noticeable recovery. It is down 17% from a year earlier versus the 60% drop recorded in April. An improvement in sentiment around the economy, the start of cooler weather and an easing of restrictions allowing some people to return to work and school may be encouraging clothing and footwear purchases.
Spending on personal care (haircuts, massages, etc) is showing a similar trend but to a lesser extent.
Spending on household furnishings and equipment remains the strongest category – up 53% from the same week a year ago – as households continue to spend on DIY and other home maintenance projects.
Spending by state
There has been an improvement in spending in all states and territories. However, spending in NSW, Victoria and the ACT is still down from a year ago.
Why is this information helpful?
CommBank's weekly credit and debit card spend data gives you an up-to-date picture of what people are spending their money on and how this is changing as the coronavirus impacts our world and the economy.
We will be providing further updates to help you understand the impact that the virus is having on businesses and the broader economy.
Source: Commonwealth Bank of Australia, Global Economic & Markets Research report "CBA Card Spend – ending 15 May 2020", published 19 May 2020, author Kristina Clifton. Full Global Economic & Markets Research disclaimers can be found at www.commbankresearch.com.au.