Household spending hasn't responded immediately to the gradual easing of restrictions in the past week or so.
CommBank's credit and debit card spend data for the week ending 29 May 2020 indicates spending sits 3% higher than a year ago, compared with a 4% improvement in the week that ended 22 May.
Spending is still running below where it was in early January before coronavirus hit.
New data on household cash withdrawals shows the demand for cash in April was 35% below last year's levels.
Analysis from CommBank's credit and debit card spend data to 29 May 2020 shows the improvement in spending seen in May has levelled out, so the easing of restrictions in the past week or so hasn't yet driven further momentum in spending.
Restrictions were eased again as of 1 June, so the next two weeks of data warrant close watching to see if households are confident moving around more by eating out, going to beauty salons and spending more on recreation items. Spending growth continues to run below the levels in early January before coronavirus hit.
Sharp fall in demand for cash
We previously explained that the annual growth rate in credit/debit card spending was being enhanced by the fact many stores are no longer accepting cash due to coronavirus. Additionally, shutdown and social distancing measures also affect the ability to use cash.
Analysis of household cash withdrawals from CBA personal accounts – cash withdrawals made at ATMs, EFTPOS cash outs and branch withdrawals under $2,000 – show the annual change in the value of withdrawals fell in March and again in April, to sit 35% below last year's levels.
Spending on goods versus services
Momentum on goods spending slipped slightly in the week ending 29 May, while services spend improved a little as the easing of restrictions helped the services economy a little more. For example, some states are slowly lifting restrictions on dining in, beauty salons are operational in NSW and Victoria, and Queensland permits intrastate travel.
The services component (eating out) of food spending has continued to improve but remains below last year's levels. Spending on alcohol consumed outside the home isn't showing much improvement yet and may take time to recover given the slow easing of restrictions on the number of patrons allowed in pubs and licensed clubs. It also depends on how many people feel comfortable returning to these venues.
Spending in selected categories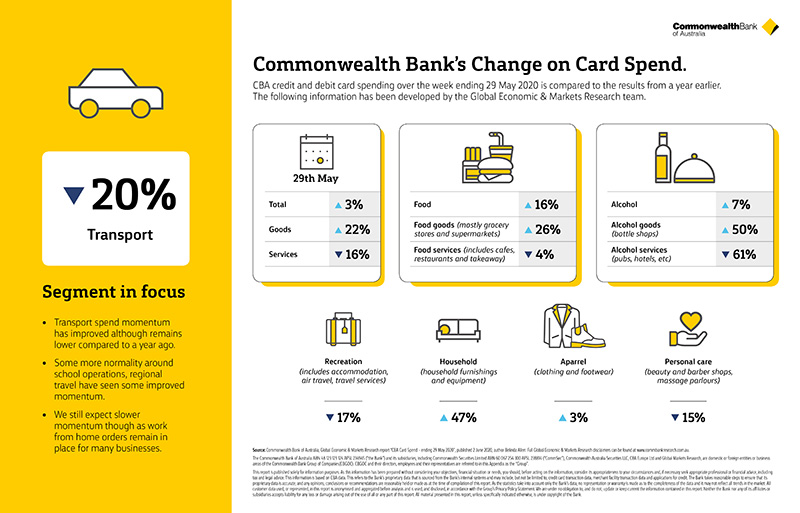 Elective surgery has resumed which will support the recovery in spending on medical care. Fear of not catching the virus will also help people seek normal medical care and returning to doctors' surgeries should see more normal consumption of medical care compared with mid-April.
With schools returning to more normal operations, the numbers on public transport are rising. However, transport spending may take a little longer to return to more normal levels due to government social distancing orders and work from home measures remaining in place.
Household furnishings and equipment spend has started to ease from its elevated levels.
Why is this information helpful?
CommBank's weekly credit and debit card spend data gives you an up-to-date picture of what people are spending their money on and how this is changing as coronavirus continues to impact our world and the economy.
We'll be providing further updates to help you understand the impact that the virus is having on businesses and the broader economy.
Note: Weekly CBA household credit and debit card spend data is derived from transaction authorisations to give a near real-time view. This means that cancelled authorisations, refunds, reversals, etc. will not be included. Data has not been adjusted for effects of consumers substituting between cash and card payments.
Source: Commonwealth Bank of Australia, Global Economic & Markets Research report "CBA Card Spend – ending 29 May 2020", published 2 June 2020, author Belinda Allen. Full Global Economic & Markets Research disclaimers can be found at www.commbankresearch.com.au.