An easing of the lockdown restrictions has led to a slow increase in spending, rather than a rapid lift.
CommBank credit and debit card spend data for the week ending 5 June shows a small lift in spending momentum.
Over the past three weeks, card spend growth compared to a year ago has hovered between 3% and 5%.
A still-weak labour market should restrain spending in coming months.
Analysis of CommBank credit and debit card spend data to 5 June shows momentum in spending improved slightly. Spending sits 5% higher than a year ago, compared with 3% in the week ended 29 May.
Momentum on goods spending slipped slightly, while services spend improved a little with the easing of restrictions helping the services economy a little more.
Spending by category
The largest lift in spending momentum was seen in the personal care category as restrictions for beauty salons were eased in the largest states, and pent-up demand was satisfied after three months of closures. Annual growth was up 12% on the same week last year, compared with down 15% in the week ending 29 May and the low of -61% in the week ending 10 April.
The services component (eating out) of food spending has continued to improve, with spending now higher than a year ago.
Spending on alcohol consumed at home (goods) continues to be growing at a decent pace compared with last year. Spending on alcohol consumed outside the home (services) has recovered slightly but remains well down from a year earlier. Restrictions on the number of people allowed at a venue, as well as lingering fears of catching the virus, could limit the upswing from here.
The resumption of almost normal school activities has seen spend on transport rise, although remains well down on last year and spend on medical care and health has also recovered.
Spending on household furnishings and equipment continues to remain at elevated levels.
The reopening of bricks and mortar stores has seen a transition from online spend to in-store spend.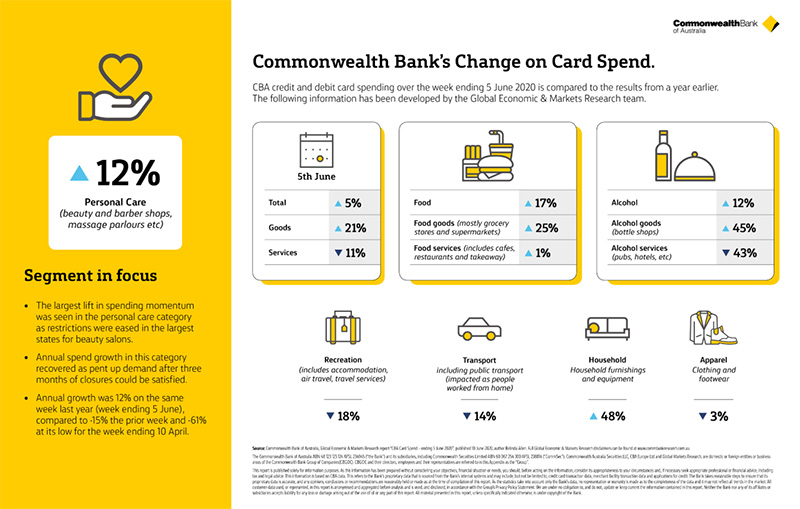 Uncertainty remains for consumers
The JobKeeper package, currently supporting around 3.3 million workers, is currently under review. It is due to end in September. JobSeeker will also continue at its elevated state until September. It is currently supporting around 1.6 million Australians. The expected end, or perhaps tapering, of these programs, combined with the still fragile employment situation and lingering fear of the virus, could constrain an improvement in spending.
The labour market is still expected to weaken from here. In April, 594,000 jobs were lost. The number would have been higher without the JobKeeper package. The unemployment rate rose from 5.2% to 6.2%. The unemployment rate would have been higher but for the collapse in the participation rate from 66% to 63.5%.
May employment numbers are due on 18 June. We expect employment to fall a further 100,000, the unemployment rate to rise to 7.7% and the participation rate to lift to 64% as people start to look for work as the worst of the pandemic is past.
Why is this information helpful?
CommBank weekly credit and debit card spend data gives you an up-to-date picture of what people are spending their money on and how this is changing as coronavirus continues to impact our world and the economy.
We will be providing further updates to help you understand the impact that the virus is having on businesses and the broader economy.
Note: Weekly CBA household credit & debit card spend data is derived from transaction authorisations to give a near real-time view. This means that cancelled authorisations, refunds, reversals, etc will not be included. Data has not been adjusted for effects of consumers substituting between cash and card payments.
Commonwealth Bank of Australia, Global Economic & Markets Research report "CBA Card Spend – ending 5 June 2020", published 10 June 2020, author Belinda Allen. Full Global Economic & Markets Research disclaimers can be found at www.commbankresearch.com.au.