Total annual spending growth in the fortnight ending 9 October lifted from 4% to 7%. Spending lifted in all jurisdictions except the Northern Territory.
The annual rate of growth in CommBank household credit and debit card spending over the fortnight ending 9 October lifted to 7% from 4%. This result was an improvement from the 4-5% annual growth rate recorded during September.
Annual spending growth in all jurisdictions except the Northern Territory lifted, with New South Wales and Victoria rising more than Western Australia and Queensland.
Annual spending growth in recreation, clothing & footwear, and medical care & health noticeably lifted.
In the fortnight that ended Friday 9 October spending on both goods and services improved. Spending on goods was up 17% from the same period last year, while spending on services was down 3%. We don't expect a material recovery in services until the shutdown measures in Victoria are withdrawn.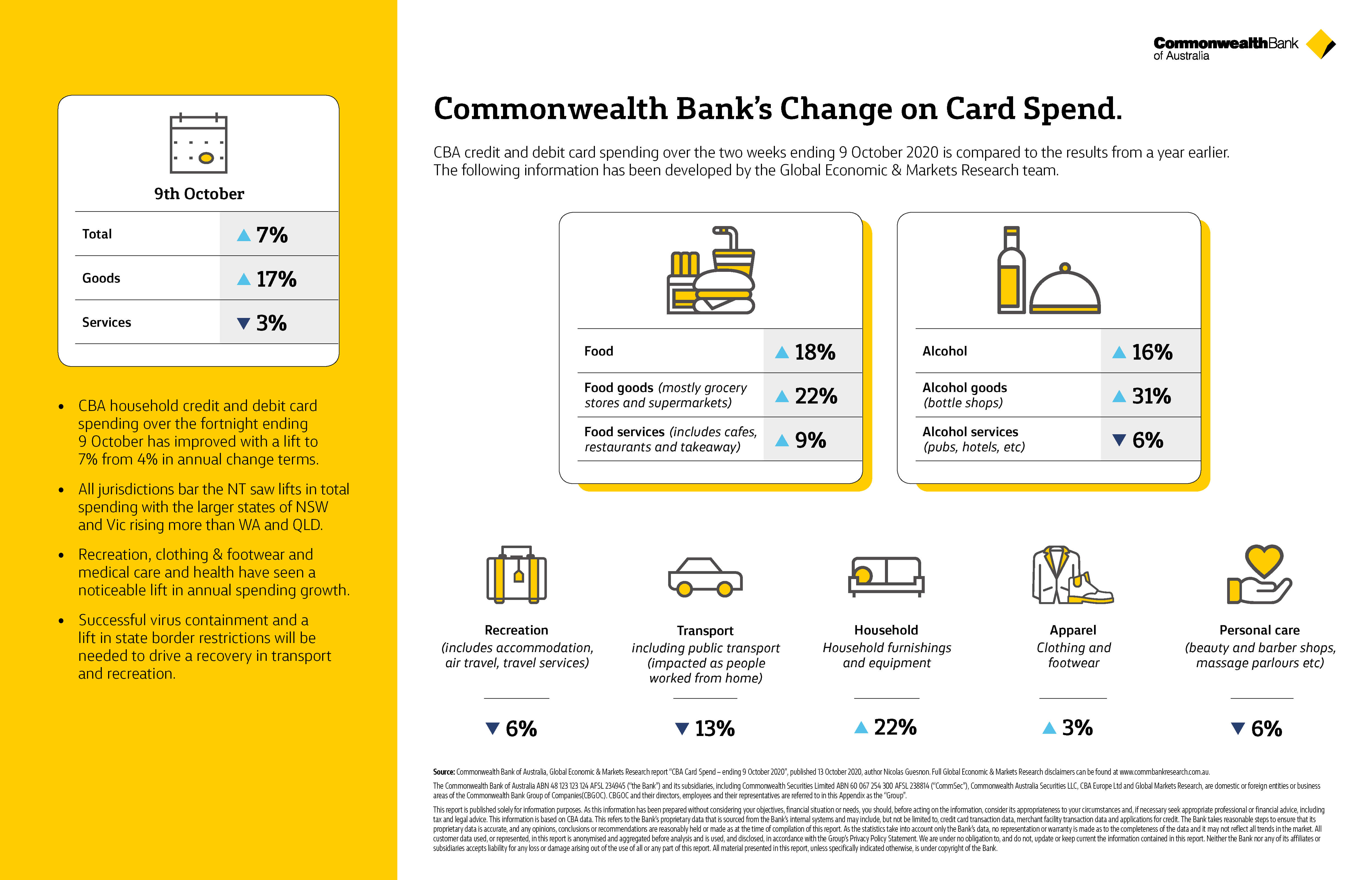 Spending by channel
Online spending supported the lift, while in-store spending was flat over the year. The uptick in online spending was across the states, with spending on recreation the key driver.
Spending by state
Annual spending growth has lifted in Victoria, New South Wales and Queensland over the past fortnight. We expect spending in Victoria to continue to lift as restrictions are wound back.
The smaller jurisdictions were mixed, with the annual rate of spending in the Northern Territory easing slightly, and the ACT rising the most as online spending moved decisively higher.
Spending by categories
Eating and drinking out spend is on the mend. Spending on food services was up 9% from the same fortnight a year ago while spending on alcohol services was down 6% from last year's levels. The easing in shutdown restrictions in Metropolitan Melbourne has been only gradual to date. A material recovery will rely upon suppressing the virus and easing restrictions in this state.
Household furnishing and equipment spend is making a gradual descent from the elevated level it has been bouncing around since the pandemic arrived. Spending in this category was up 22% from the same fortnight a year ago.
However spending in other categories is lifting. Spending on clothing & footwear is up 3% from last year's levels. Spending on medical care & health also lifted.
Spending on personal care (beauty and barber shops, massage, etc) and transport (including public transport) remain below where they were a year ago, at -6% and -13% respectively. A combination of border closures, shutdown restrictions and virus concerns are likely holding back a recovery in these categories.
Spending on recreation (includes accommodation, air travel, cruises and entertainment) across the four major states lifted decisively but is still weak in many jurisdictions so that recreation spending across the nation was 6% below the same period last year. The reopening of state borders would enable the recreation industry to make a more complete recovery.
Why is this information helpful?
CommBank's credit and debit card spend data gives you an up-to-date picture of what people are spending their money on and how this is changing as the coronavirus continues to impact our lives and the economy.
We will be providing further updates to help you understand the impact that the coronavirus is having on businesses and the broader economy.
Source: Commonwealth Bank of Australia, Global Economic & Markets Research report "CBA Card Spend – ending 9 October 2020", published 13 October 2020, author Nicolas Guesnon. Full Global Economic & Markets Research disclaimers can be found at www.commbankresearch.com.au.