Total annual spending growth remains at 4%, with annual spending growth in all jurisdictions broadly tracking sideways over the past week.
The annual rate of growth in CommBank household credit and debit card spending remains at 4%, unchanged from the previous week. Annual household card spending growth has gently eased from 5% in early September
Annual spending growth in all jurisdictions broadly tracked sideways over the past week
Spending on recreation and transport is weak in Victoria. A partial reopening of state borders will help to lift spending in these categories nationwide
In the week that ended Friday 25 September, spending on goods was up 14% from the same week last year, while spending on services was down 6%. We don't expect services spending to recover until the shutdown measures in Victoria are withdrawn and there is confidence in the control of the spread of the coronavirus.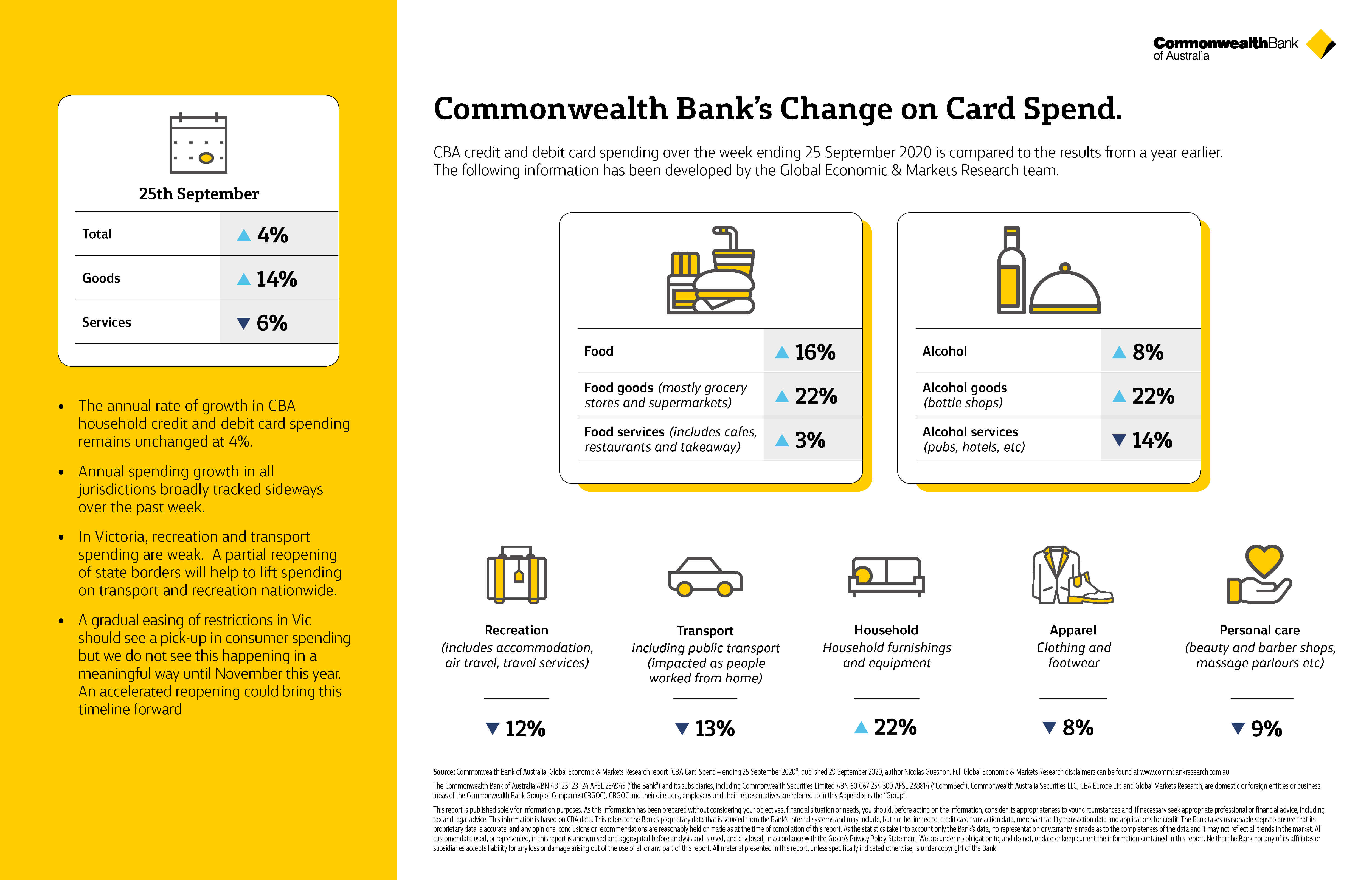 Spending by channel
Household spending on debit and credit cards in-store eased again in the past week, while online spending was supported by a broad-based lift across most states.
In Western Australia, in-store spending continues to outperform. Victoria's in-store spending growth has recovered only a little over September and sits around the previous trough in April. A recovery in in-store spending isn't likely in Victoria until November when restrictions are more fully eased.
In contrast, online spending in Victoria has been the strongest of all the jurisdictions for a sustained period of time.
Spending by state
Annual spending growth across the states has been broadly tracking sideways in September.
Western Australia and Queensland continue to outperform New South Wales, as well as Victoria, which is still lagging behind. A gradual easing of restrictions in Victoria should see a pick-up in consumer spending but we don't see this happening in a meaningful way until November 2020. An accelerated reopening could bring this timeline forward.
South Australia and Tasmania are marginally outperforming the Northern Territory and ACT.
Spending by categories
In Victoria, spending on household furnishings and equipment collapsed in August and remains weak. However, card spend on medical, transport and alcohol services has lifted off low levels.
Spending on food services (eating out in cafes and restaurants, plus take-aways) is broadly tracking sideways in Western Australia, Queensland and New South Wales. The renewed focus on improving facilities for eating outside in some states may help lift spending, especially as summer approaches.
With the exception of Queensland, spending growth on recreation is soft in all major states. The weak result isn't surprising given this category includes accommodation, air travel, cruises and entertainment.
Likewise, the impact of lockdown measures is very clear in spending on personal care (beauty salons, barbers, massage, etc) in Victoria.
Why is this information helpful?
CommBank's weekly credit and debit card spend data gives you an up-to-date picture of what people are spending their money on and how this is changing as the coronavirus continues to impact our lives and the economy.
We will be providing further updates to help you understand the impact that the virus is having on businesses and the broader economy.
Source: Commonwealth Bank of Australia, Global Economic & Markets Research report "CBA Card Spend – ending 25 September 2020", published 29 September 2020, author Nicolas Guesnon. Full Global Economic & Markets Research disclaimers can be found at www.commbankresearch.com.au.