Household card spending eased slightly from the previous week, driven by a softening in in-store spending, and is clearly trending lower again.
CommBank's household credit and debit card spend data for the week ending 14 August eased somewhat to be 4% higher than a year ago. In the previous week, the year-on-year lift was 8%
Online spending is still rising sharply but a fall in in-store spending is driving the easing in total spending growth
Card spending in Victoria is down 15% from a year ago, with in-store spending almost 40% lower than last year's levels amid stage 4 restrictions
Household spending on goods has eased a little but it is still up 15% on year-ago levels, with Victoria and New South Wales weighing on national goods spending. Household spending on services is 7% below the same period last year and we don't expect it to fully recover until all restrictions have been lifted.
Total household card spending on goods and services is 4% higher than a year ago. Annual spending growth is clearly trending lower again.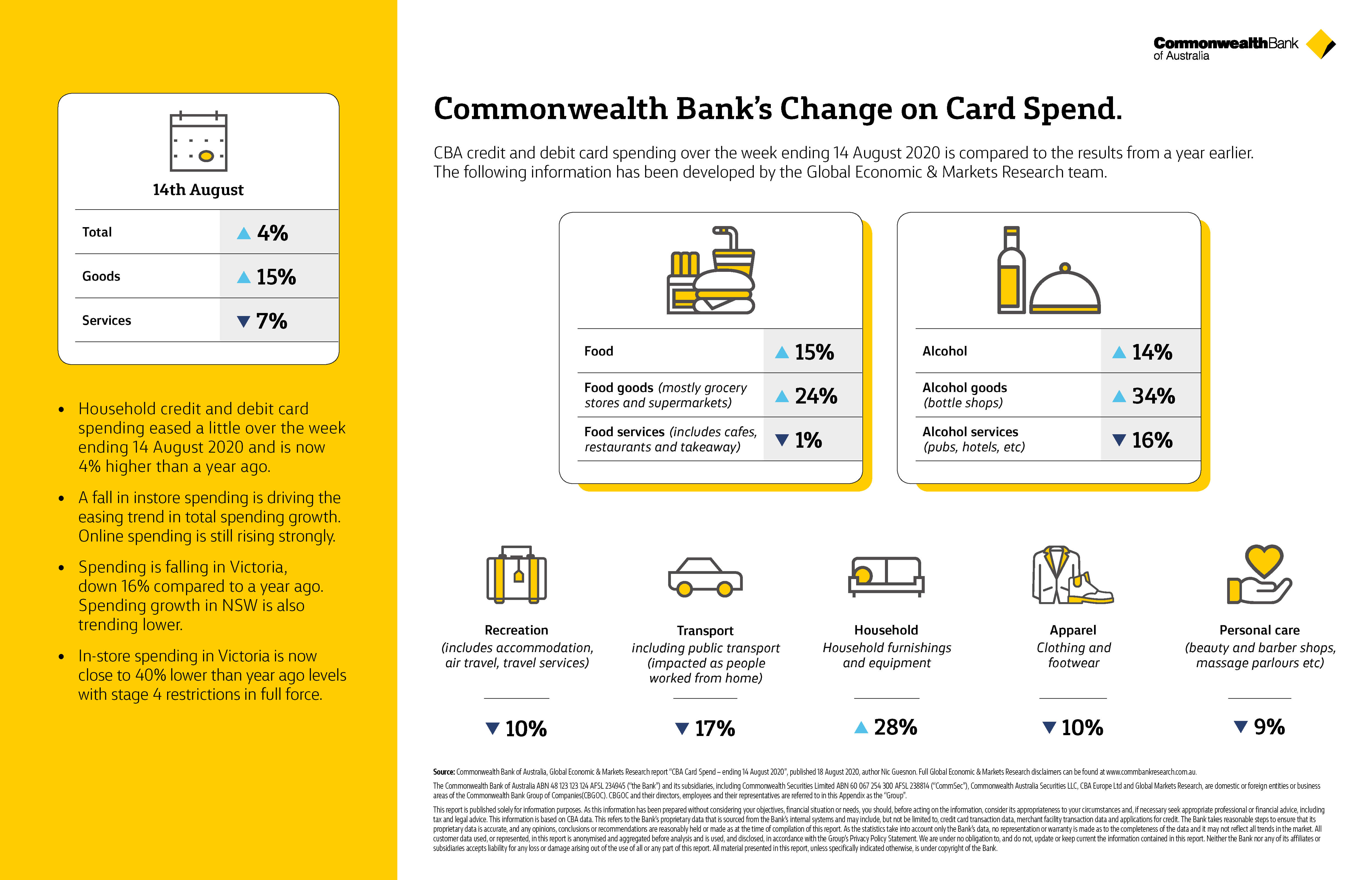 Spending by channel
Online spending ticked higher in the week that ended 14 August to be 21% higher than the same period a year ago. As expected, with Victoria entering Stage 4 lockdown on 2 August, in-store spending continued to soften and has moved back into negative territory.
Spending by state
Over the week, spending in Victoria was 15% down from the same period a year ago reflecting the stage 4 restrictions that were imposed on 2 August. Spending growth in New South Wales has also trended lower.
Tasmania and Western Australia have consistently shown strong spending relative to other jurisdictions over recent weeks.
The volatility in spending in Queensland and the ACT is due to a spike in education spending reflecting a deferral of university semester fee deadlines relative to last year.
In most states and territories, medical care and health spending has held up well despite outbreaks of COVID-19 cases. The exception is Victoria where escalation of shutdown measures immediately weighed on spending in this category.
Spending on household furnishings and equipment has been very strong across the major states throughout the pandemic as households spend more time at home and do DIY projects. But the shutdown is now weighing on furnishing spending in Victoria.
Annual growth in in-store spending in Victoria is down 40% from the same week a year ago, and 5% lower than its previous trough in April. The household furnishings and general retail categories have contributed to in-store spending reaching new lows in Victoria.
Spending by category
| | |
| --- | --- |
| | % change from same period a year ago |
| Food – total | Up 15% |
| Food goods – primarily supermarkets and grocery stores | Up 24% |
| Food services – cafes, restaurants, takeaway, etc | Down 1% |
| Alcohol – total | Up 14% |
| Alcohol goods – bottle shops | Up 34% |
| Alcohol services – drinking at hotels, pubs and clubs | Down 16% |
| Household furnishings & equipment | Up 28% |
| Clothing & footwear | Down 10% |
| Personal care – hairdressers, barbers, beauty salons, etc | Down 9% |
| Transport – including public transport | Down 17% |
| Recreation – including accommodation, air travel and travel services | Down 10% |
Why is this information helpful?
CommBank's weekly credit and debit card spend data gives you an up-to-date picture of what people are spending their money on and how this is changing as COVID-19 continues to impact our lives and the economy.
We will be providing further updates to help you understand the impact that the virus is having on businesses and the broader economy.
Note: Weekly CBA household credit & debit card spend data is derived from transaction authorisations to give a near real-time view. This means that cancelled authorisations, refunds, reversals, etc will not be included. Data has not been adjusted for effects of consumers substituting between cash and card payments. CBA merchant facility spend data is derived from the Merchant Acquiring System which includes net sales from both CBA and Other Financial Institution (OFI) domestic and international cards
Source: Commonwealth Bank of Australia, Global Economic & Markets Research report "CBA Card Spend – ending 14 August 2020", published 18 August 2020, author Nic Guesnon. Full Global Economic & Markets Research disclaimers can be found at www.commbankresearch.com.au.