Annual spending growth fell in all states and territories in the week that ended 28 August 2020.
CommBank household credit and debit card spend data for the week ending 28 August was up 1% from the same period a year ago. In the previous week, the year-on-year lift was 5%
Weak spending in Victoria may be spilling over to other jurisdictions
Online spending is still strong, up 20% over the year, while in-store spending continued to ease and is down about 5.5% from the same time last year
In the week that ended 28 August, spending on goods was up 12% from the same week last year, while spending on services was down 9%.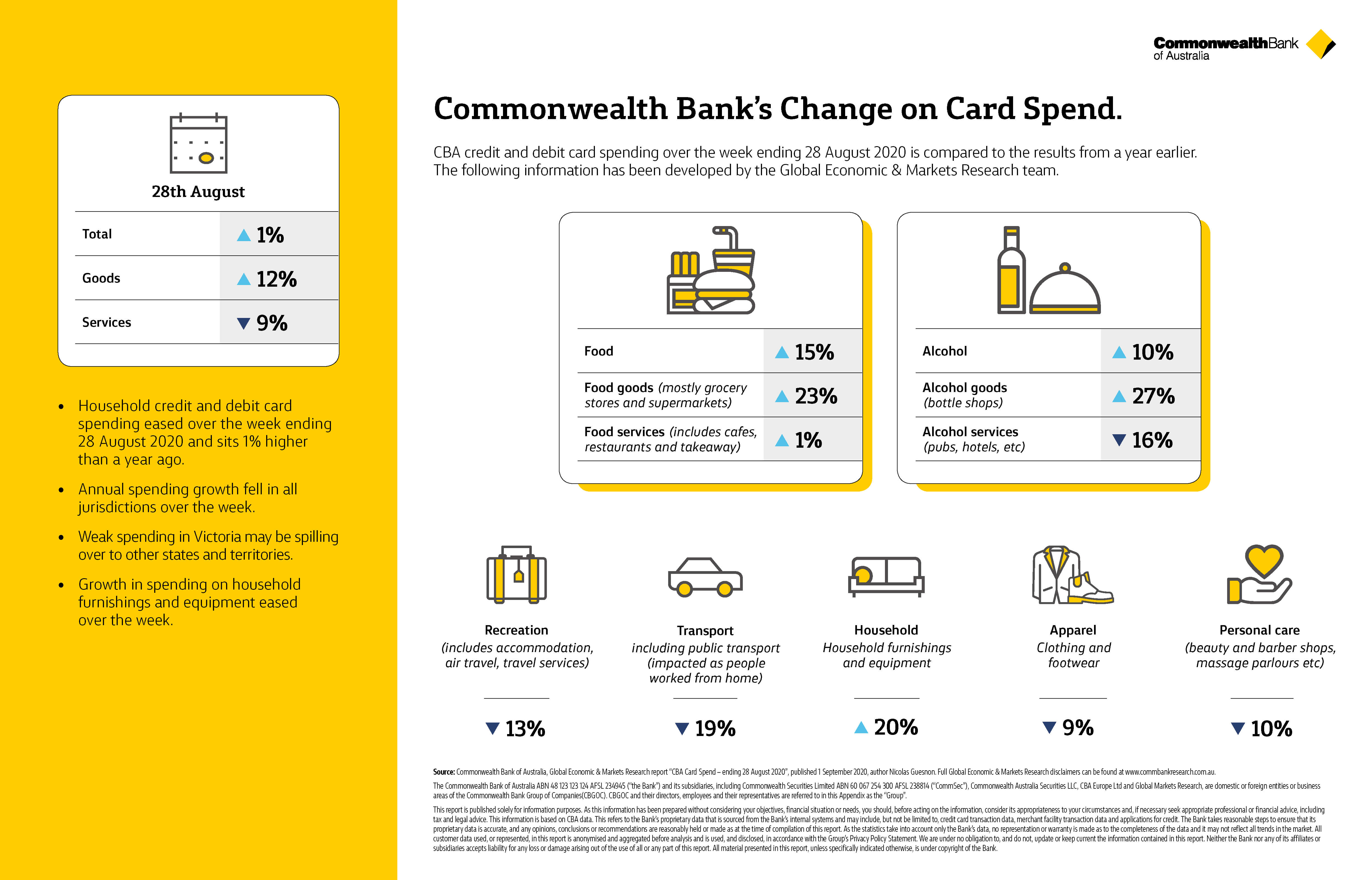 Spending by channel
Online spending eased from the previous week's record high. There continues to be considerable volatility caused by online education payments and changed semester dates in some states and territories.
In-store spending remains lower over the year. CommBank in-store merchant facility terminals and card spend data are tracking tightly. Combined, they indicate that in-store spending is down about 5 ½% on the same time last year.
Spending by state
Annual spending growth eased across all states and territories.
State spending growth in Victoria and New South Wales were tracking tightly until Victoria's second wave of new coronavirus cases arrived. Victoria's lockdown restrictions in July and August have caused spending outcomes between the two states diverge markedly.
Spending by categories
To date, consumer spending on household furnishings and equipment has been strongly boosted during the pandemic. However, spending growth in this category is starting to ease.
We will be watching closely to see to what extent households shift their discretionary expenditure from home improvements back to services like travel, personal care, recreation and eating and drinking out once restrictions are lifted.
The disparity across states is very clear in the drinking out (alcohol services) category. Spending at venues like bars, pubs and clubs appears to be strongly affected by state success in controlling coronavirus outbreaks, as well as the level of restrictions.
Why is this information helpful?
CommBank's weekly credit and debit card spend data gives you an up-to-date picture of what people are spending their money on and how this is changing as the coronavirus continues to impact our lives and the economy.
We will be providing further updates to help you understand the impact that the virus is having on businesses and the broader economy.
Source: Commonwealth Bank of Australia, Global Economic & Markets Research report "CBA Card Spend – ending 28 August 2020", published 1 September 2020, author Nic Guesnon. Full Global Economic & Markets Research disclaimers can be found at www.commbankresearch.com.au.