CommBank household credit and debit card spend data for the week ending 4 September was up 5% from the same period a year ago. In the previous week, the year-on-year lift was 1%
A bounce in household spending on furnishings and equipment, transport and other miscellaneous goods and services contributed most to the uplift in spending
Spending lifted across all states and territories, with the uplift most marked in Tasmania and South Australia, however consumer spending in Victoria is unlikely to rebound meaningfully until November
In the week that ended Friday 4 September, spending on goods was up 18% from the same week last year, while spending on services was down 7%. Total annual spending growth has been bouncing around 5% since late July.
The restrictions in Victoria are predominantly weighing on the services division of the state economy, namely eating and drinking out, and personal care. As a consequence, spending on clothing and footwear is also very weak.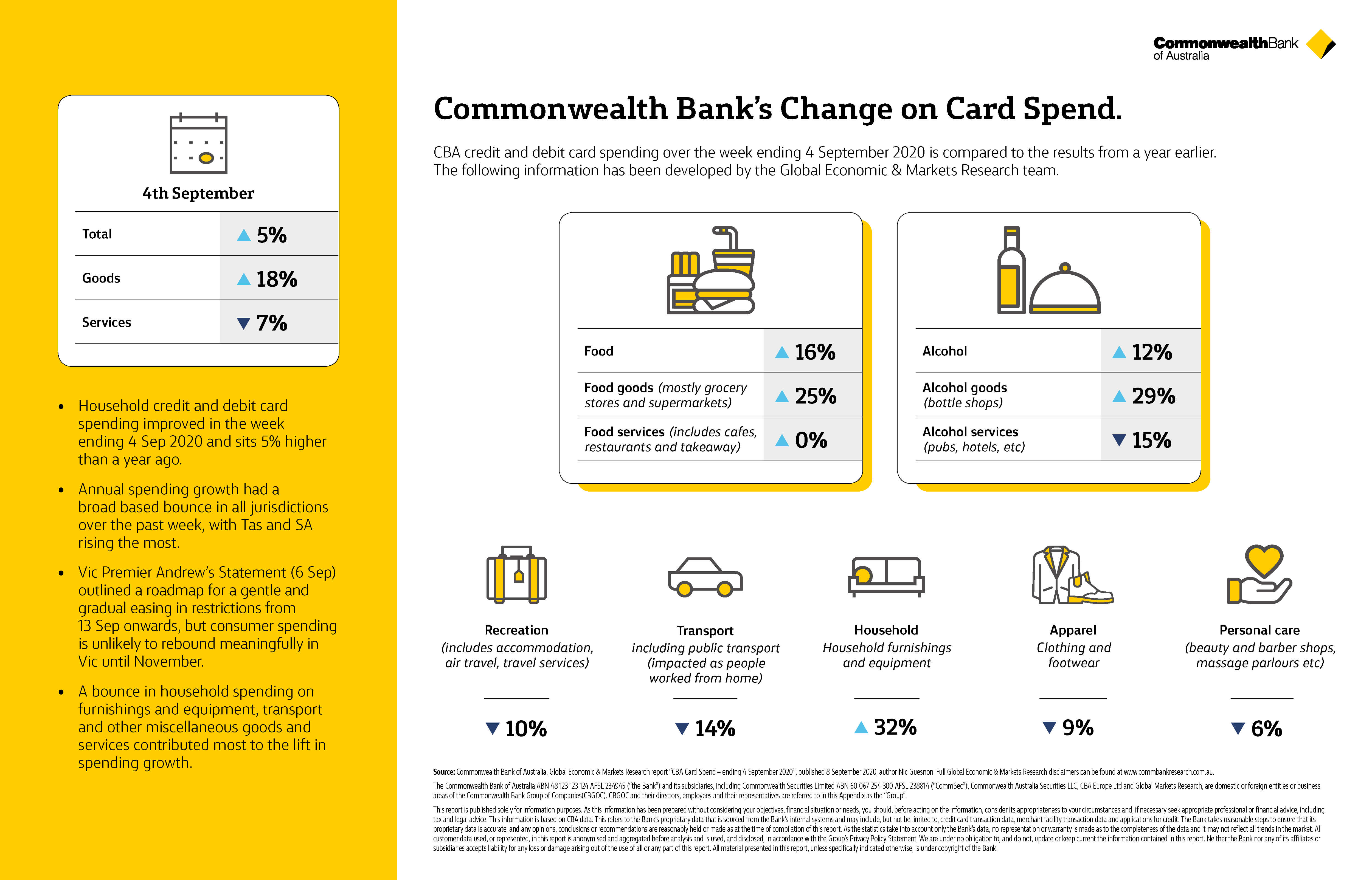 Spending by channel
Card spending, both in-store and online improved over the week. Combined, our merchant facility and credit and debit card data suggest that in-store spending may have reached a gentle turning point.
Spending by state
Annual spending growth rose across all states and territories.
Annual spending growth lifted by between 3% and 4% across the major states of New South Wales, Victoria, Queensland and Western Australia. The escalation of restrictions in Victoria in July and August has led to spending outcomes diverging from New South Wales by around 20%. We expect the difference in spending outcomes to continue for coming months as restrictions are due to be eased only very gradually.
In Tasmania and South Australia annual spending growth was up by around 8% and 7%, respectively over the week. Spending in the ACT and Northern Territory rose by around 2%.
Spending by categories
Household furnishings and equipment has so far been one of the components of consumer spending that has benefited most from changing spending habits due to COVID-19. Spending growth in this category rebounded sharply during the week that ended 4 September.
One category worth watching is spending on eating out. There remains a clear divergence between Western Australia and Queensland where there is low or no community transmission, New South Wales, where some community transmission and social distancing requirements remain, and Victoria where a stage 4 lockdown continues.
Why is this information helpful?
CommBank weekly credit and debit card spend data gives you an up-to-date picture of what people are spending their money on and how this is changing as the coronavirus continues to impact our lives and the economy.
We will be providing further updates to help you understand the impact that the virus is having on businesses and the broader economy.
Source: Commonwealth Bank of Australia, Global Economic & Markets Research report "CBA Card Spend – ending 4 September 2020", published 8 September 2020, author Nic Guesnon. Full Global Economic & Markets Research disclaimers can be found at www.commbankresearch.com.au.