Strategies to help you save
Saving money doesn't always come naturally. But the good news is, not only can we learn to change our spending habits, we can turn instinctive behaviours to our advantage, using a few simple psychological tricks. It all comes down to choosing the right savings strategy, and sticking with it.
We all work better when we have a clear goal to aim for. By setting a savings goal then measuring your progress, you'll feel more motivated to save and more rewarded when you do.
Small changes every day really add up. So it's important that you get into good savings habits including:

Keep your budget up to date: Monitoring and measuring your progress is key to success.
Sweat the small stuff: Often, it's the little things that undo our careful budgeting plans. Be it bus tickets, your daily chocolate fix or Friday work lunches - these seemingly small items can add up and eat into our savings.
Pay yourself first every payday: It's wise to make sure that you put money straight into your savings account. Read our guide on how to set up a regular savings plan.
Let technology give you a helping hand: With NetBank and the CommBank app, you can keep an eye on your accounts and see what you're spending your money on.
Save any unexpected windfalls: If you get a windfall – such as a bonus or a tax rebate, make sure you bank it before you spend it.
Watch our video - The importance of developing good savings habits.
If you love to spend, try limiting access to your money so you can't give in to the urge to splurge:

Hide your savings account in NetBank so you won't be tempted to raid it when you're short of funds. Simply click 'More', then 'Hide accounts'.
Swap your credit card for a Debit MasterCard®. You'll still be able to shop online or in person, but you'll be using your own money, rather than running up debt that could eat into your savings.
Don't claim the tax-free threshold from your employer. They'll deduct a little extra tax from your pay each week, which you can claim back when you lodge your tax return, giving you a lump sum you can put towards your savings goals.
One of the biggest obstacles to better saving is our very human tendency to focus on the present instead of the future, enjoying the instant gratification spending can give. But you can turn that present focus to your advantage, by rewarding yourself every time you reach a savings milestone.
Start by setting small, achievable targets that build up gradually. Then give yourself a treat when you reach each milestone. Before you know it, you'll have changed your saving habits for the better — without sacrificing your lifestyle today.
Completing your tax return can seem intimidating, but it must be done. Our top tip is to start your preparation now – don't wait until tax time. The good news is NetBank makes things much easier. You can flag tax related transactions throughout the financial year, simply by hitting the 'Tax' icon next to the transaction in your 'view transactions' screen. Use this to ensure you don't miss out claiming possible tax deductions – for example charitable donations. When it comes to tax time, you can search for specific transactions and export transactions to your budgeting software or a simple spreadsheet.

Our Savings Specialists can perform a Financial Health Check for you – it's a great way to understand your financial position. This allows us to identify any trouble spots and possible solutions, as well as areas for growth that you might not have considered. Visit your local branch to arrange a Financial Health Check.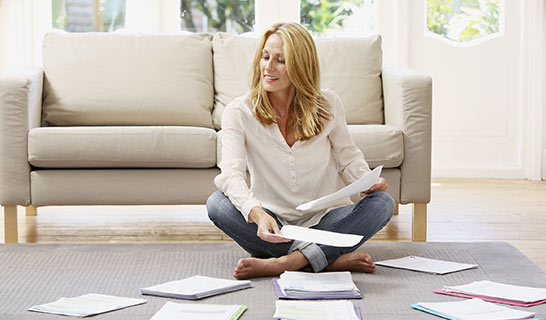 Things you should know
This article is intended to provide general information of an educational nature only. It does not have regard to the financial situation or needs of any reader and must not be relied upon as financial product advice.
All information in this article, including any information on taxation, is of a general nature only and is based on the continuation of present laws, rulings and their interpretation. As individual circumstances differ, you should seek appropriate professional advice.