Saving for a home deposit
Congratulations – you've decided you're ready and willing to commit to buying a home or investment property. But how do you clear one of the biggest, financial hurdles in your property-buying journey – saving a deposit for your home loan?
The first step is to work out what you can truly afford to spend. So get out your calculator and ask yourself:

How much do you and your partner have in your bank accounts right now?
How much can you put aside each month until the big day?
Do you have any windfalls coming, like a bonus or tax return, which you can use?
Are your parents or other family members ready to chip in?
Once you know how much you've got to spend, you can work out how to use it to your advantage.
First, establish how much you can afford to spend on a new home. Our home loan calculator can give you an idea of how much you might be able to borrow and what your repayments will be. Once you have an idea of how much you can spend on a property, don't forget to budget for other costs:

Up-front costs such as stamp duty, legal fees and building and pest inspections, and potentially removalists and re-decorating costs.
On-going costs such as utility bills, strata fees for apartment owners, council rates, home insurance and contents insurance.
Learn more about the costs of buying a home.
In general, the more you can save the better. That way you'll take out a smaller loan (mortgage) and pay back less interest over time. Some banks and other lenders may lend up to 95% of the total value of a property (what's known as the 'loan-to-value ratio (LVR'), but ideally you should look to have at least 10% of the value of the property saved as your deposit. Saving 20% is even better, as by doing so you're likely to avoid paying Lender's Mortgage Insurance (LMI).

Saving a bigger deposit will also show you're capable of effective long-term saving and managing your personal finances, which potential lenders will be looking for.
The best way to kick-start your savings journey is by creating a budget and sticking to it. It's a great way to understand your full financial position and see how much you may be able to save towards your deposit. If you need help with creating a budget, a Savings Specialist can get you started with a free Financial Healthcheck. Speak to your local branch to arrange one.

Once you know how much you can put aside, open a savings account (separate from your Everyday transaction account) and set up a regular savings plan. You'll soon start to see your balance grow, and it's also good practice before you get a mortgage. Keeping your savings separate from your spending account will also help you avoid the temptation to spend, and you may get a better interest rate too.
Having debt can hold you back from saving effectively – and it could compromise your chances of being approved for a home loan. While you're saving, try to pay off any outstanding debt as a priority. Learn more about consolidating your debt.
It may not sound appealing, but if this is a valid option for you, you're more likely to hit your savings targets sooner if you have less rent to pay. And don't worry – if you do move back home (or stay at home) to save for a home loan deposit you're not alone. In 2011, around 29% of adults aged 18-34 lived with one or both of their parents compared with 21% in 1976, according to the Australian Bureau of Statistics.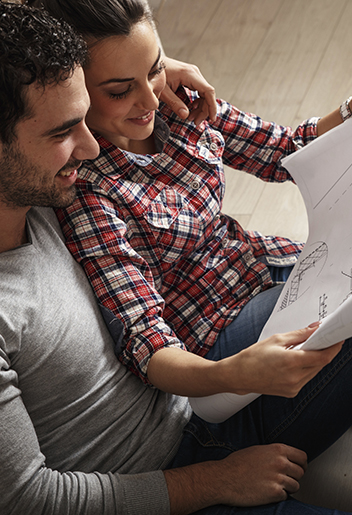 Things to know before you Can: This article is intended to provide general information of an educational nature only. It does not have regard to the financial situation or needs of any reader and must not be relied upon as financial product advice.