Budgeting for children of any age
When it comes to money management, budgeting is one of the best skills a child can learn. It's good to engrain this skill from an early age so that when your child grows up and begins to manage bigger sums of money, budgeting feels like second nature.
Here are three budget plans your child can use as they grow older and financially wiser – ranging from the super simple for young ones starting out to the more involved for teenagers.
At a pre-school level, the key money principles your child should understand are that money is needed to buy things, and that saving for items they want may take time.
When setting up their budget plan, consider the following:
Keep it simple: there are only three things that need to be factored into the plan - the cost of the item they're saving for, how much pocket money they can contribute each week and how many weeks it will take to reach the goal.
Make it visual: kids at this age will be more engaged if budgeting looks like fun. Get them to stick pictures of their goal on the plan so they remember the exciting end point.
The budget plan can be as simple as a colouring in task. You can get them to make their own, or just print out our piggy bank budget plan activity sheet.
If your kids are in primary school, they may have basic maths skills. So, while you can help them set the budget plan up, encourage them to have a go at filling out the various fields themselves, factoring in their weekly pocket money income, any spending or sharing costs, and how much is left over for saving towards their goal.
Set up the plan within a table, such as this:
BUDGET PLAN: $30 FOOTBALL
Number of weeks until $30 goal is reached: 5
By the time your child reaches their teenage years they may have other sources of income such as a casual job, as well as expenses like their mobile phone bill. Therefore, budget plans for teens should be more involved to account for these additional factors.
With your guidance, let your teenager have a go at mapping out all of their sources of income and all outgoing costs within a table, so they can see how much they can afford to set aside for a savings goal. You can use the below table as a guide.
| | |
| --- | --- |
| | |
| | |
| | |
| Additional household jobs 
(e.g. gardening) | |
| | |
| | |
| | |
| | |
| General spending / entertainment | |
| | |
| Total amount left over for savings | |
| SAVINGS GOAL: Magazine subscription | |
| Total cost of subscription | |
| Savings contribution per week | |
| Number of weeks until goal is reached | |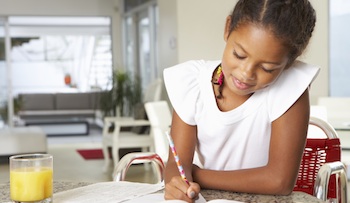 Setting motivating savings goals with your kids
How to teach your kids to save
Things to know before you Can: This advice has been prepared without considering your objectives, financial situation or needs. Because of that, you should, before acting on the advice, consider its appropriateness to your circumstances. Terms and conditions for transaction and savings accounts mentioned are available here (PDF 660KB). Please read our Financial Services Guide (PDF 60KB).