Played all three games? Enter the prize draw now.
Future Savers app: start an amazing augmented reality adventure
Are you ready to snap pictures of colourful butterflies all around you? To bring hover basketball into your room? How about fly a drone through a futuristic city? These three fun games will be unlocked weekly and teach you useful money lessons along the journey.
Download and play the Future Savers app from Monday 16 October 2017.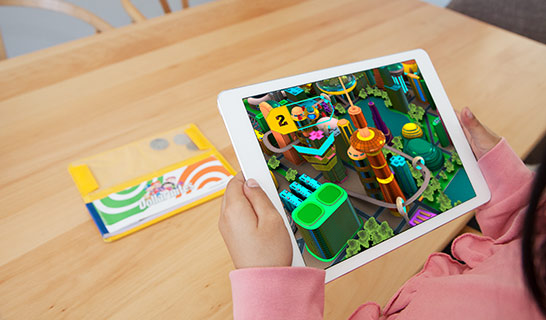 How to enter
The Future Games competition starts on Monday 14 August 2017 and ends on Friday 10 November 2017. There are two prize draws to enter. View full competition terms and conditions.
To automatically be in the running for the High Tech Prizes – hundreds of racing robots, activity trackers and 3D pen sets – School Bankers must simply complete the first step below. For a chance to also win a Game Master Prize – a Nintendo Switch Neon Console Pack – complete all three steps below.

Make three or more School Banking deposits between 14 August 2017 and 10 November 2017.

Download the Future Savers app from 16 October 2017 on a smartphone or tablet running iOS or Android, and play all three games (unlocked weekly).

Complete the online entry form between 30 October 2017 and 10 November 2017 to enter the competition.
Prizes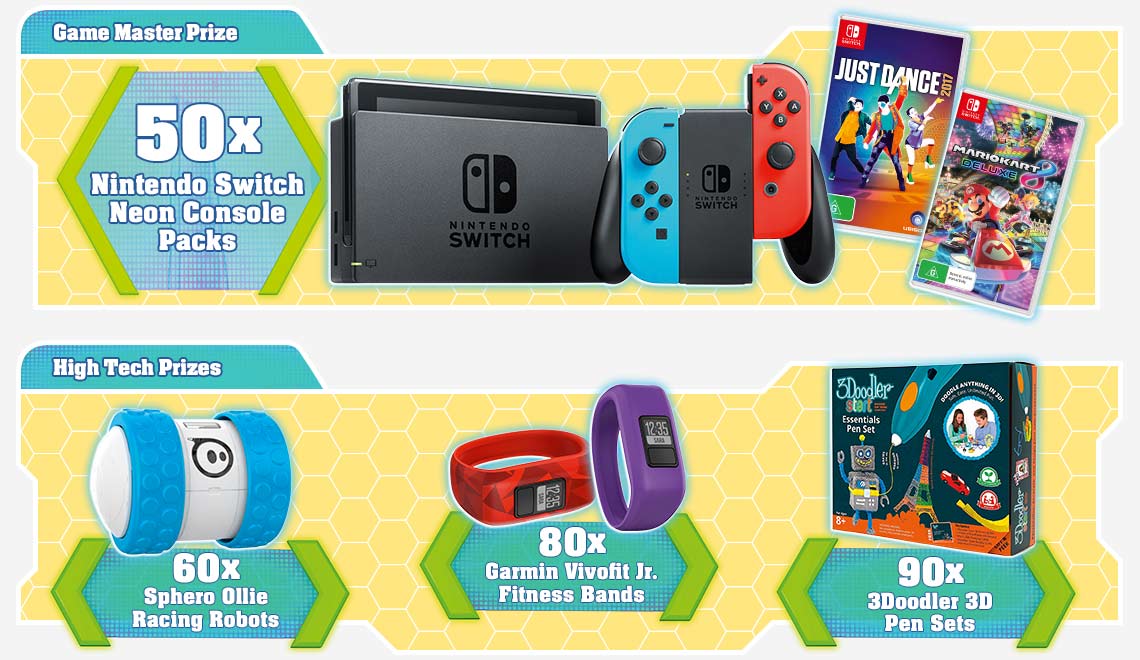 Future Savers app FAQs
You will need a marker and a compatible iOS or Android smartphone or tablet. Our marker is the Dollarmites deposit book which you will find inside your yellow Dollarmites deposit wallet. If you don't have one, you can also use a new design $5 note. TIP: the side with the queen works best! Find a suitable table in a well-lit room, place your marker flat on it and point your device to the marker from above, as prompted in the app. Try to keep it in view of the camera as you move around to explore different angles.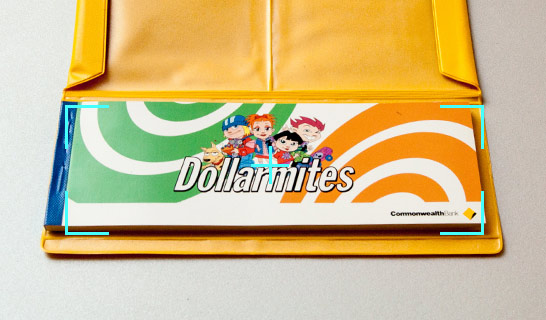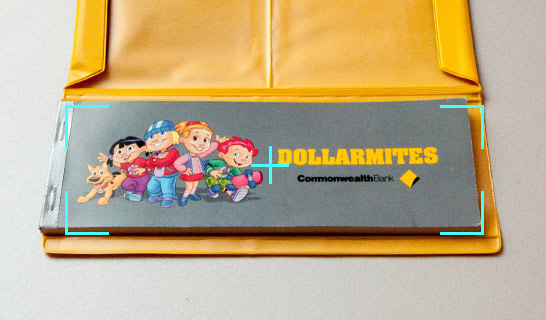 Keep pointing your device's camera to the marker. Whether it's the Dollarmites deposit book or a new design $5 note, your marker should lay flat, without folds or crinkles, and not faded. You can also print a marker using the link below on A4 paper in colour or black/white.
The Future Savers app is compatible with selected iOS and Android devices. iPads or tablets provide the most immersive experience.
Operating System: iOS 9.3.2 or later

Compatible iPads: iPad Air 2 or later

Compatible iPhones: iPhone 5s or later

To find the iOS version installed on your device, go to Settings > General > About.
Future Savers app troubleshooting
If you are unable to play the app, you will still be able to answer the questions in the entry form if you read the Future Savers Money Lessons story below. It describes the Dollarmites' adventure of learning smart money lessons in a futuristic city, as experienced in the app.
Make three or more School Banking deposits during the competition period + read the story + complete the online entry form before Friday 10 November 2017 for your chance to win.
Make sure you are using one of the recommended markers (Dollarmites deposit book, flat new design $5 note, or the printed PDF marker) to point to.
Try moving closer to and/or directly above the deposit book or other item you may be using. Once the city or characters appear, you can move your device around to view them.
If the room is dark, try moving to a room with more light.
If none of those work:
Check that your device is within the compatible devices list – see 'Device Requirements' in FAQs.
Make sure your device's camera is uncovered and working properly.
Restart the app (How to restart an app on iOS / How to restart an app on Android)
Things you should know
Conditions apply, see commbank.com.au/futuregames Promotion starts 9am AEST on 14/8/17 and ends 11.59pm AEDT on10/11/17. Entry is open to Australian residents aged between 5-13 years with parental/guardian consent who open or hold an active CommBank Youthsaver account until 11.59pm AEDT 21/11/17, and participate in CommBank's School Banking program via the entrant's school of enrolment. Max. 1 entry per person per draw. Two types of draws conducted: Game Master Draw and High Tech Draw, each with different entry criteria. Entries divided into State/Territory groups (for each draw): NSW/ACT, VIC, TAS, SA/NT, QLD & WA. The draw will take place at: L3, 11 Harbour St, Sydney NSW 2000 at 12pm AEDT on 21/11/17. The winners' names will be published at commbank.com.au/futuregames from 28/11/17. SA/NT winners (prizes over $250) in The Australian 28/11/17. Game Master Draw Prize: Nintendo Switch Neon Console Pack valued at $627 (16xNSW/ACT, 13xQLD, 10xVIC, 3xSA/NT, 5xWA, 3xTAS). High Tech Draw Prizes (awarded in descending order of value): Ollie by Sphero valued at $159 (18xNSW/ACT, 15xQLD, 12xVIC, 4xSA/NT, 7xWA, 4xTAS). Garmin vivofit jr valued at $99 (26xNSW/ACT, 20xQLD, 15xVIC, 5xSA/NT, 9xWA, 5xTAS). 3Doodler 3D Pen Set valued at $76 (29xNSW/ACT, 23xQLD, 18xVIC, 5xSA/NT, 10xWA, 5xTAS). Promoter: Commonwealth Bank of Australia, ABN 48 123 123 124, of L3, 11 Harbour St, Sydney NSW 2000. Permits: NSW Permit No. LTPS/17/14677; ACT Permit No. TP17/01038; SA Permit No. T17/971.