An educational storybook and virtual reality experience for parents and kids to enjoy together.
Changing the way young people learn about finance
Start Smart is an award-winning free financial education program, offered to over 550,000 school children and young adults across Australia each year. By making money management interactive, engaging and fun, our world-class facilitators have given students from over 4,400 schools the confidence and competence to make smart decisions about money.
In 2016, we're piloting an educational storybook and virtual reality experience called The Teleporter Adventures, as a new way for children to engage with the program.
An educational storybook and virtual reality experience for kids and parents to enjoy together.
A beginner's guide to Teleporting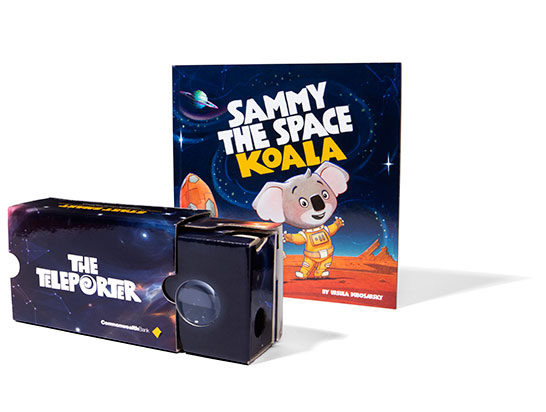 If you have received a Teleporter Adventures kit through your child's school, you will need a smartphone (iPhone 5 (iOS 8) and above or as Android 4.4.3 (Android) and above) to download the app called 'The Teleporter Adventures' to use with 'The Teleporter' virtual reality headset.
The Teleporter and storybook have been designed to work together to teach your child the difference between a 'need' and a 'want'. The content has been adapted from our Start Smart Year 1 in-school program, as a fun way for you and your child to learn together at home.
Teleportation is not for everyone. If your child feels unwell at any stage during Teleportation, please stop use immediately. The app in in virtual reality mode is not suitable for children with epilepsy, or under the age of 5. Please stay seated while using the app. Parental supervision during Teleportation is recommended. For full instructions and safety information on Teleporting, please download our Safety & Instructions PDF.


As The Teleporter Adventures is a pilot experience, we encourage all feedback.
Complete our survey

Introducing Sammy the Space Koala
Sammy wasn't always a Space Koala, but with the need to find Grandma a unique present, and a moneybox containing 8 coins, she set her sights on the wider galaxy!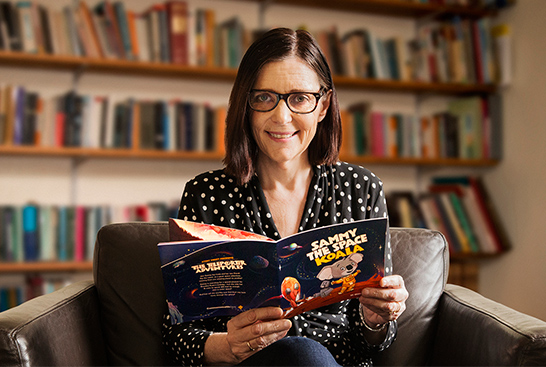 Ursula Dubosarsky is one of Australia's most loved and awarded children's authors. Her other works include classics such as The Terrible Plop and Too many elephants in this house. Sammy the Space Koala is her 50th book.
Things you should know:
"The Teleporter Adventures" app (the app) is only compatible with the following smartphones: iPhone 5 (iOS 8) and above, Android 4.4.3 (Android) and above. Parental supervision required. Not recommended for children under five. Download the app over a secure Wi-Fi network to avoid data charges. Remain seated at all times, be careful smartphone doesn't slip out of headset, and do not use for more than 5 minutes at a time. Do not use the app if you have epilepsy, and stop using immediately if you feel nauseous. If you're in doubt about any of the above or continue to experience nausea or discomfort, please consult your GP. Apple and the Apple logo are trademarks of Apple Inc., registered in the US and other countries. App Store is a service mark of Apple Inc. Android and Google Play are trademarks of Google Inc. Commonwealth Bank of Australia ABN 48 123 123 124 Australian credit licence 234945.