What this guide's for
Learn how to disable and remove accounts on your CommBiz service.
Why you'd do this
To disable or remove an account that you mightn't need or use.
What you'll need
Administrator permission
What's disabling an account?
Disabling an account keeps it on your service, but means no one can access or use it until it's re-enabled again.
Step 1
Log on to CommBiz, go to Admin then Service
You'll see the View service accounts screen with all enabled accounts that have been added
Select the Edit button at the bottom of the page.
Step 2
Tick the boxes of the accounts that you no longer wish to be displayed on the service and click Save
You can search by account name or account number to highlight the account you'd like to disable.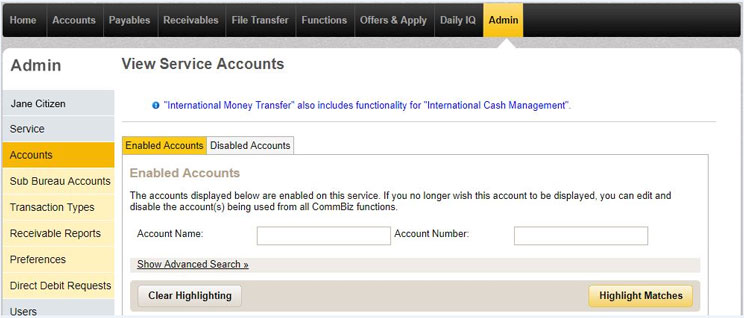 Step 3
Check the details of the accounts you're disabling and click Confirm
If the details aren't right Modify to return to the previous page
Once you've confirmed the details, click OK and you'll return to View service accounts where you can see enabled accounts
To check if it worked:
Click Disabled accounts and search for the account using the account name or number
Accounts will stay disabled until they're removed from the service or re-enabled
Keep reading to find out how to re-enable an account
Removing an account
What's removing an account?
Removing an account completely removes it from your CommBiz service.
Step 1
Go to Admin click Service
From View service accounts choose the Disabled accounts tab
Click the Edit button at the bottom of the page
You need to disable an account before removing it from the service
You can search for account names or numbers to pick the account you'd like to remove.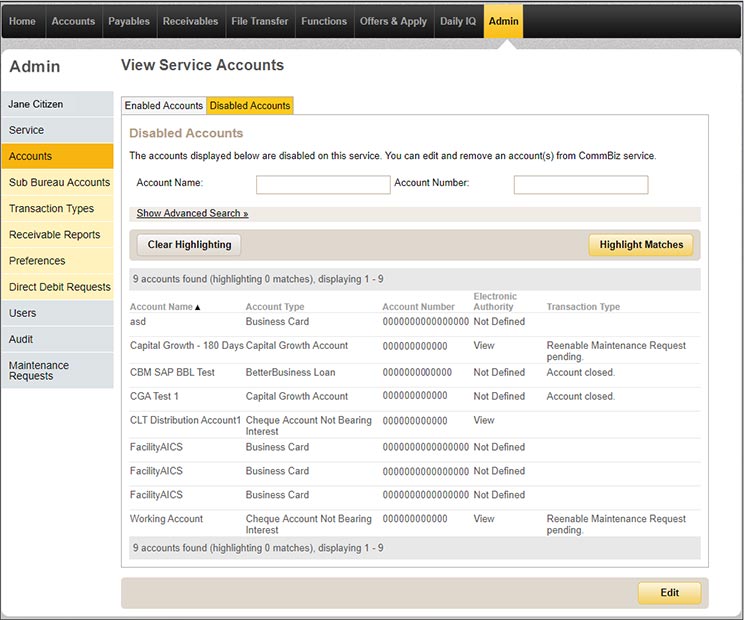 Step 2
Choose accounts you'd like to remove. Click Save
Check the details of the account(s) you're removing. Click Confirm
If the account details aren't right, click Modify to make changes
Click OK to go back to View service accounts and see accounts you've removed.
Once an account's been removed, you need to add it again with a link account maintenance request.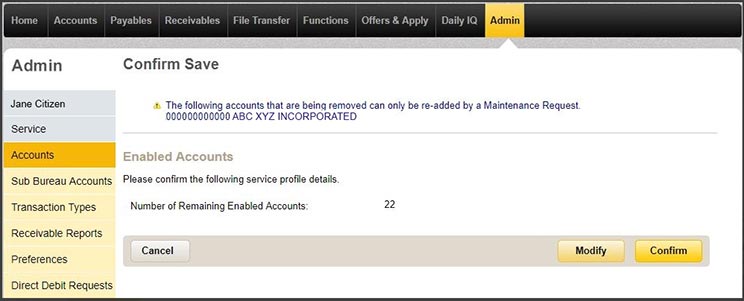 Re-enabling an account
What's re-enabling an account?
Re-enabling an account means you can manage and transact on it again.
Step 1
Go to Admin, Maintenance Requests then Add Accounts
Select Add Accounts on the right
Step 2
Choose Re-enable account. Click Next.
On the next screen, choose the account you'd like to re-enable from the drop down. Click Next.

Step 3
Accounts you're enabling will appear. Review the details and click Confirm to re-enable the account.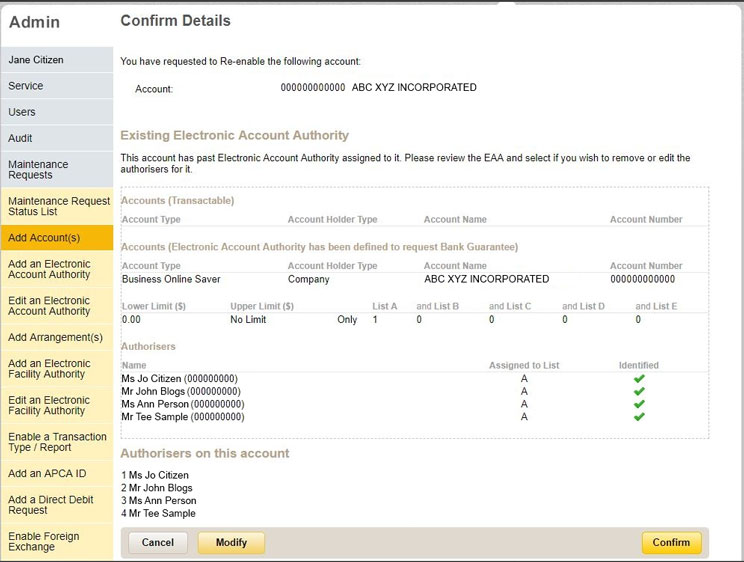 Step 4
CommBiz Client Maintenance
Level 1, 31 Birnie Avenue
Lidcombe, NSW 2148
Tick the box confirming that you've saved or printed the Maintenance request forms. Click OK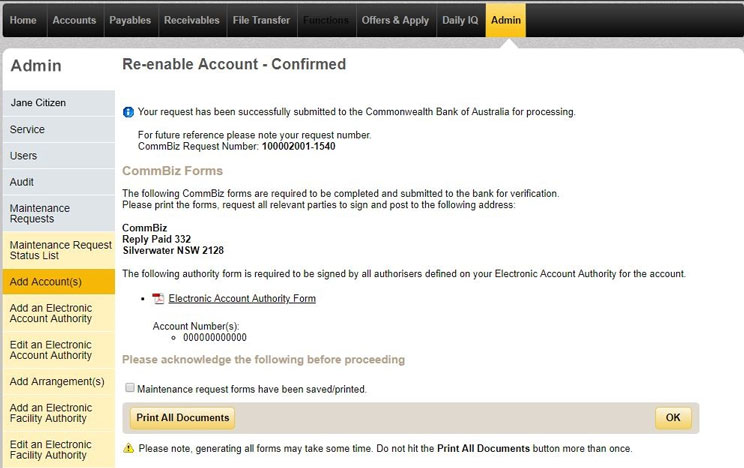 Things you should know
This guide is published solely for information purposes. As this guide has been prepared without considering your objectives, financial situation or needs, you should consider its appropriateness to your circumstances and if necessary seek the appropriate financial advice before acting on information in this guide. Commonwealth Bank of Australia ABN 48 123 123 1234. Call 13 2221 or view our terms and conditions.