What this guide's for
Learn how to create a maintenance request to add one or more Market Rate Loan arrangements to your service.
Why you'd do this
To view and manage your Market Rate Loan arrangement.
What you'll need
Administrator permissions
Market Rate Loan arrangement number
Arrangement holder type
What's an arrangement?
Arrangement: a facility, package or offset, for example, a Market Rate Loan
Arrangement Holder Type: the category of the business that owns the arrangement, like a company, partnership or sole trader
Arrangement Number: the number we use to identify an arrangement
How add a market rate loan
Step 1
Log on and go to Admin, then Maintenance Request then Add Arrangement on the left hand side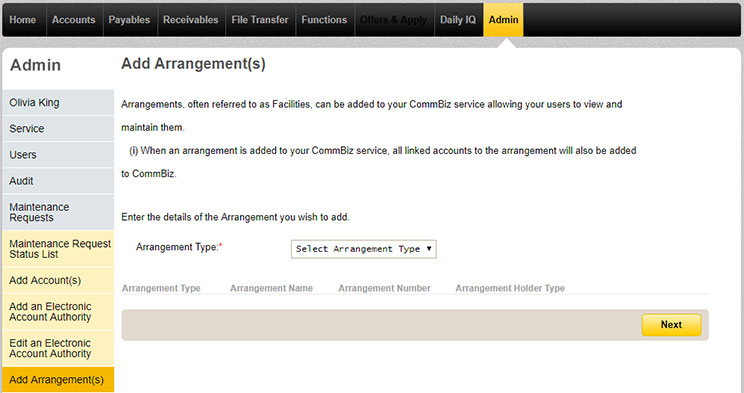 Step 2
Use the drop down to get to Market Rate Loan
Enter your arrangement number and arrangement holder type then select Add
Repeat the steps to link more than one account at a time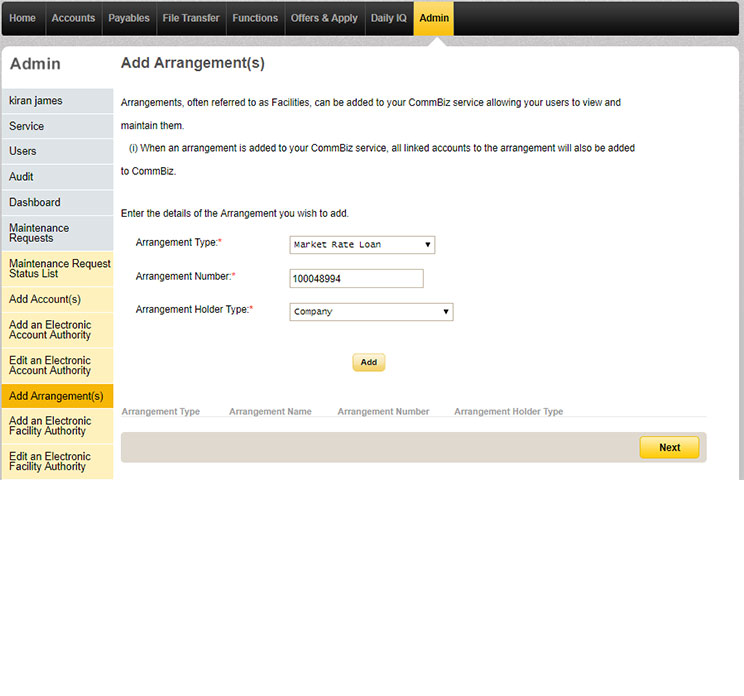 How to give electronic facility authority
What electronic facility authority is
Electronic facility authority provides access to manage and transact in CommBiz rather than just view accounts.
Step 1
Select the accounts you'd like to give electronic account authority to and then Define authority. You can set this up as new or copy it over from an existing authority
If you're creating a new electronic facility authority for more than one arrangement, the arrangement type and arrangement holder type must be the same
If you would like to copy an existing arrangement refer to Setting up Electronic Facility Authority (deep link)
Use Next to skip this step altogether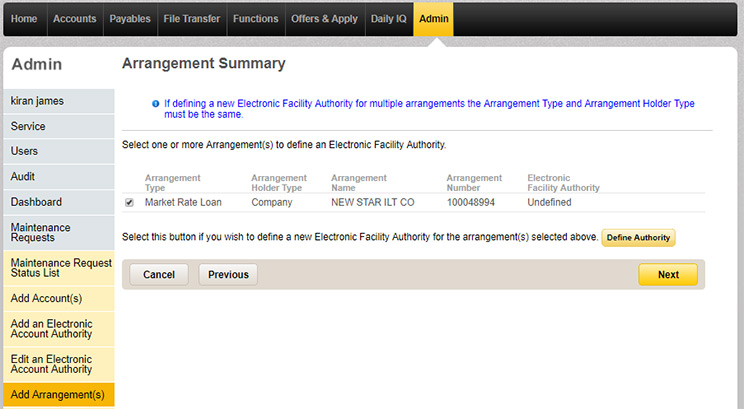 Step 2
Pick an existing user to be an authoriser from the drop down menu and then Apply authority
If the user doesn't have a CommBiz user profile, click Add. Otherwise, choose an existing user from the drop down list then Add
Once you've added all the users to be given authority, select Apply authority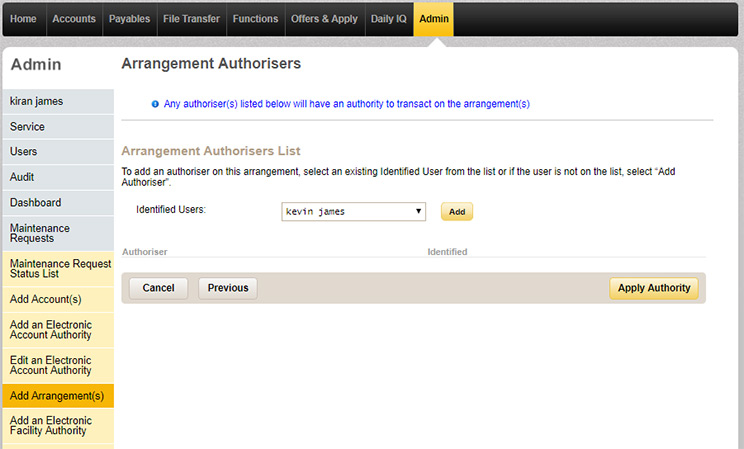 Step 3
Select Next and then Confirm
If the details aren't right, you can modify to return to the previous screen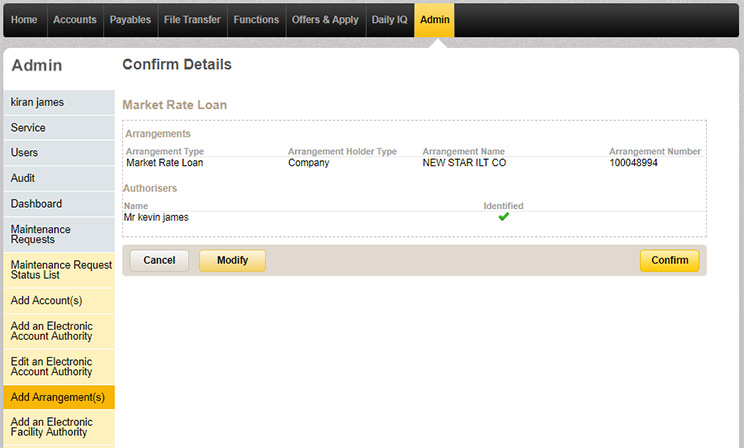 Step 4
Print forms from the confirmation page
Sign them and send to us via email at bankfeed@cba.com.au or post to:
CommBiz Client Maintenance
Level 1, 31 Birnie Avenue
Lidcombe NSW 2148
Confirm that you've saved or printed the Maintenance Request forms and then select OK
How to see Market Rate Loan arrangements
Step 1
Anything scheduled to happen to your arrangement is called an event. You can see all these from the dashboard up to 12 months ahead.
Click the month to see the number of events scheduled. These are also displayed in red circles above the month title.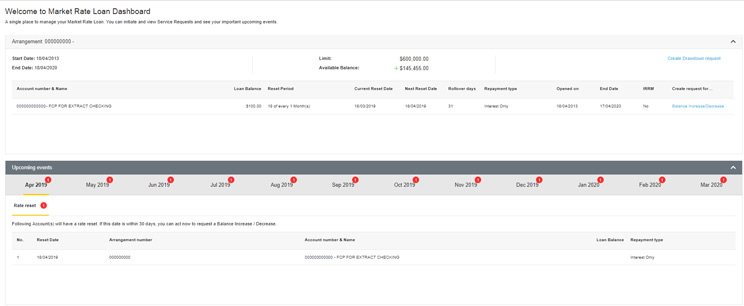 How to see requests
Step 1
Any event that's scheduled for your loan was created with a request. To see all these, go to the dashboard. You can see requests in progress, processed and expired. Click View details to see more info.

Other actions for your Market Rate Loan
Important information
This guide is published solely for information purposes. As this guide has been prepared without considering your objectives, financial situation or needs, you should consider its appropriateness to your circumstances and if necessary seek the appropriate financial advice before acting on information in this guide. Commonwealth Bank of Australia ABN 48 123 123 1234. Call 13 2221 or view our Terms and Conditions.