What this guide's for
Learn how to view account, merchant, corporate card and activity statements and request to stop receiving paper statements.
Why you'd do this
To get your statements online. This means you don't need to worry about and keep track of any paperwork.
What you'll need
Access to view linked accounts.
Viewing your merchant statements online
To view your merchant statements in CommBiz, you'll first need to link your merchant facility. Have your CommBiz Administrator contact the CommBiz Helpdesk on 13 23 39, with your merchant number and terminal ID.
How to see online statements
Step 1
Log on and go to Accounts then Online Statements then to Single statement.
Choose your preferred statement from the Statement Type drop down. Click Search.
Pick the statement year you need. Click Search.
A list of available statements will appear in the drop down menu. Choose the one you need.
Step 2
We'll give you the option to stop receiving paper statements, too. Tick the Stop all paper box and click Agree.
Your statement will download.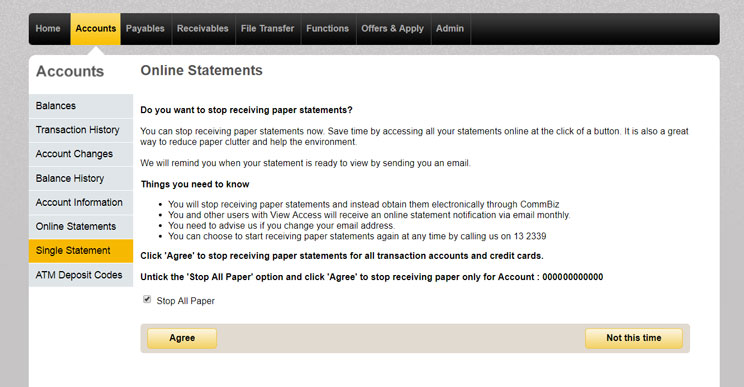 Turning off paper statements
Step 1
You can turn off paper statements any time by going to Functions followed by Service requests.
Click Manage statements.
Step 2
You can turn off paper statements for all types of accounts, credit cards and merchant facilities or pick the ones you'd prefer. Choose the accounts and click Add.
Repeat the steps to add more.
Click Next.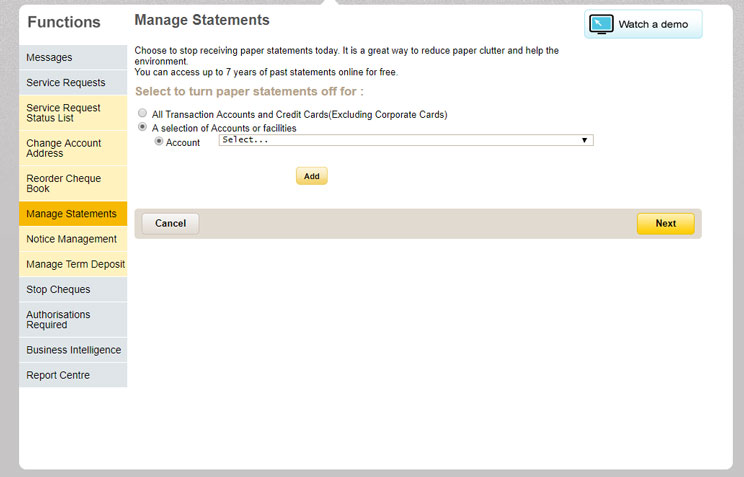 Step 3
Click Confirm. You can change your choices by clicking Modify.
This request will be sent for approval before it's processed.
Paper merchant statements can be turned off without approval.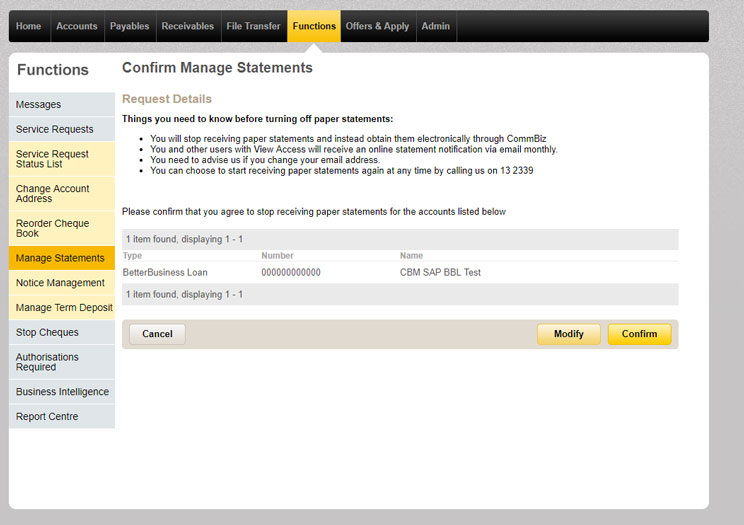 Add permission to view merchant statements
Step 1
You can give permission to users to check merchant statements if you're an administrator. Go to Admin and click Users.
Users on your service will appear. Click Edit to choose who you want to give permission to.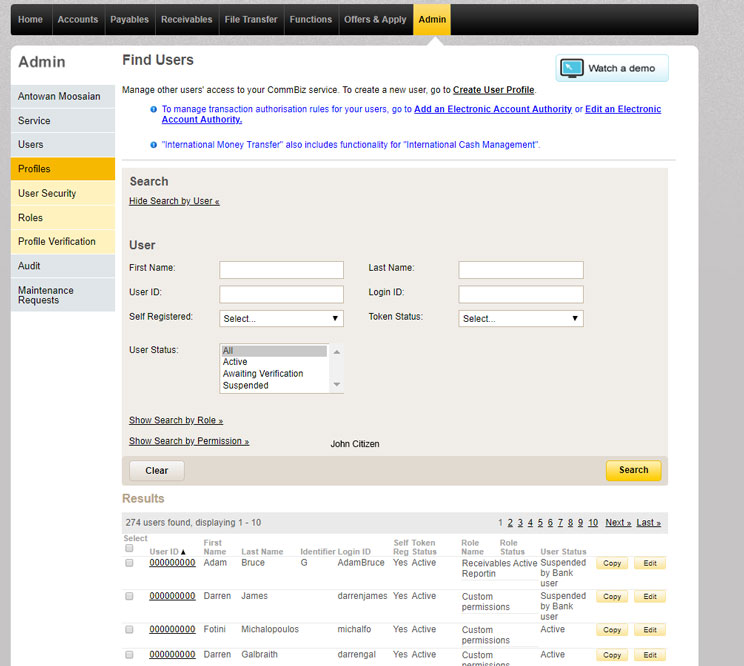 Step 2
From the Update user profile page, go to Permissions mode.
Choose Assign a CommBiz defined role to easily give access to merchant facility statements. If you'd like to define more specific permissions, choose Assign custom permissions. Click Change mode, then Save.
Step 3
If you choose custom permissions, tick View merchant statements from the list. Click Save.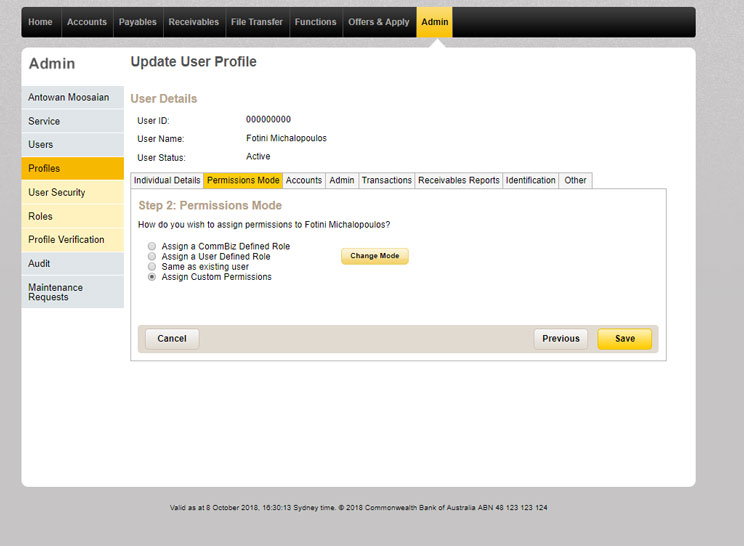 Things you should know
You can see statements for up to seven years in the past.  
You're not able to view statements for accounts you don't have access to
This guide is published solely for information purposes. As this guide has been prepared without considering your objectives, financial situation or needs, you should consider its appropriateness to your circumstances and if necessary seek the appropriate financial advice before acting on information in this guide. Commonwealth Bank of Australia ABN 48 123 123 1234. Call 13 2221 or view our terms and conditions.