What this guide's for
Learn how to redraw on your BetterBusiness Loan to make a payment.
Why you'd do this
To access money that's been paid in addition to your monthly repayments.
What you'll need
Permission to create on the BetterBusiness Loan Account
Details of the payee
How make a BetterBusiness Loan payment
Step 1
Log on and go to Payables then Direct credit
Enter BetterBusiness Loan details or search for it using the dropdown list
Enter a Lodgement reference, which will show up on your statement
You can pay to more than one account. Click Add new row and enter the account details
Enter the details of the Pay to account or choose an account from the drop down list
Enter a Lodgement reference. The dollar amounts in Pay from and Pay to need to match
Before you submit, include a Trace account. If the Direct credit can't be processed, the money will be returned to this account. Check the Australian Payments Clearing Association ID (APCA) and change it if you need. If you don't enter one, we'll give you the bank's one by default
To Send remittance advice, tick the box and Submit.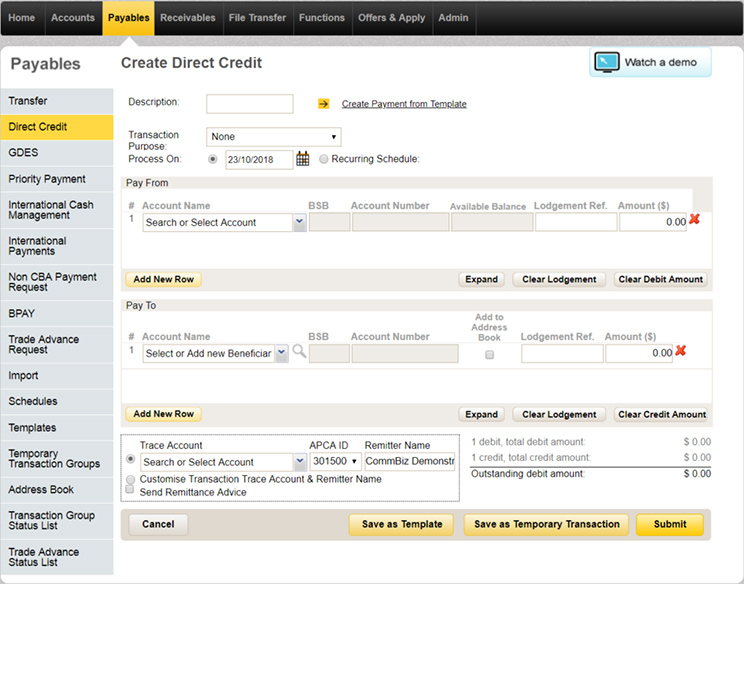 Step 2
When you send remittance advice, add a remittance link on the Beneficiary trace account details page before you click Save and Submit.
Step 3
Check details of the Direct credit payment and tick notification boxes to be sent messages through each stage of the Direct credit payment. Click Confirm
If you can authorise payments, go to My Actions or My Summary to do it.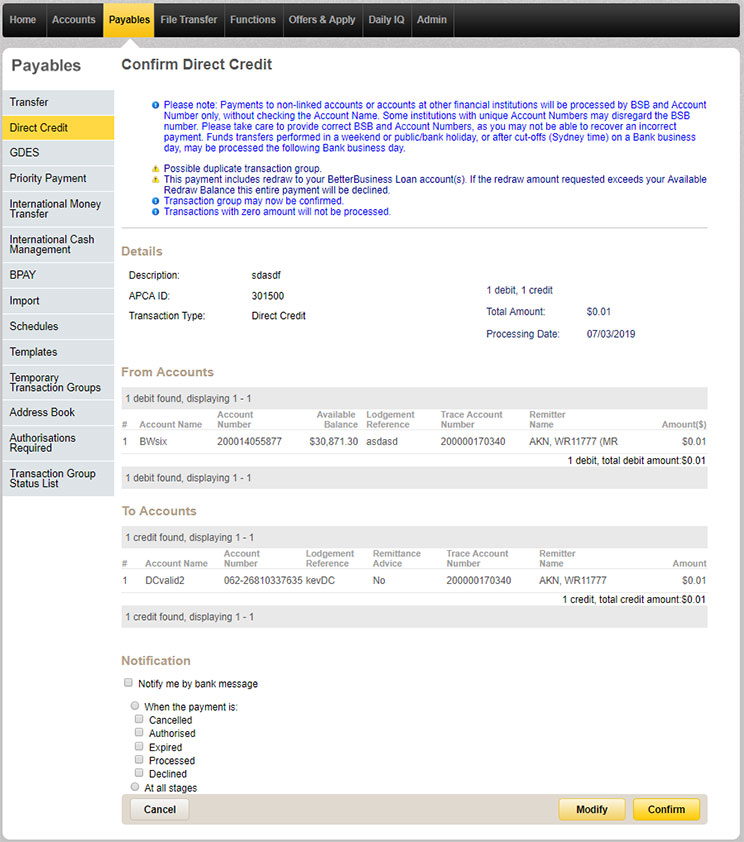 Important information
This guide is published solely for information purposes. As this guide has been prepared without considering your objectives, financial situation or needs, you should consider its appropriateness to your circumstances and if necessary seek the appropriate financial advice before acting on information in this guide. Commonwealth Bank of Australia ABN 48 123 123 1234. Call 13 2221 or view our  Terms and Conditions.