CommBiz Mobile - more convenient than ever before
ComBiz Mobile is more convenient and powerful than ever before, with new features implemented regularly to help you stay in control and keep your business moving, even when you're on the go.
Now you can transfer funds and make or authorise payments, anywhere anytime. CommBiz Markets Foreign Exchange clients can enjoy the convenience of viewing and authorising foreign exchange settlements on the go. You can also install our updated app on both your iPhone and iPad, giving you more freedom to manage your finances when and how you want to.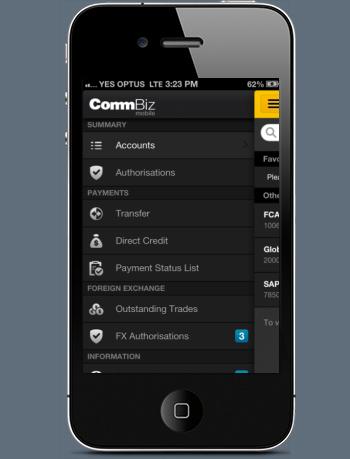 Always evolving.
We're always working to provide a range of exciting new features and provide a new level of service and convenience in mobile business banking.

Look out for future upgrades including enhanced notifications to help you stay on top of every facet of your business finances, no matter where you are.
World class security on your mobile.
CommBiz Mobile features NetLock security built in, giving you the same world-class security as CommBiz on your desktop. Because each session is authenticated by an encrypted digital certificate, you can bank anywhere with complete confidence.
You're also protected by multi-factor authentication and sophisticated user controls. So you can be confident you're using Australia's most secure mobile banking app.
Get a competitive edge.
We're working on new analytical tools to give you a deeper understanding of your customers — including who they are, where they live, how much they spend, and how often they return. But we would also like to hear about the changes you'd like to see.
Perhaps you would like to generate reports on your mobile device, or benchmark against your competitors, so you know how your business compares.