In the last couple of years online retail has been growing slowly in Australia, more recently this growth has slowed. There are a few reasons for this, one of them is to do with maturity especially with the pureplay online retailers where the growth has been realised for now.
Omni-channel retailers have been slow to get online and are now opening up their channels which bumped up the growth figures and is now tapering also.
Australia is lagging behind the US and UK in the market share of online retail and also in growth. In the US 7% of retail spend and 16% of growth is online, in Australia this number is 5.5% of spend. One potential reason for this is the demographic spread of people although this also presents an opportunity.
Books gaming and media will continue to see consistent growth. 'Streaming' media is an area we are expecting to see growth but that hasn't really taken off yet.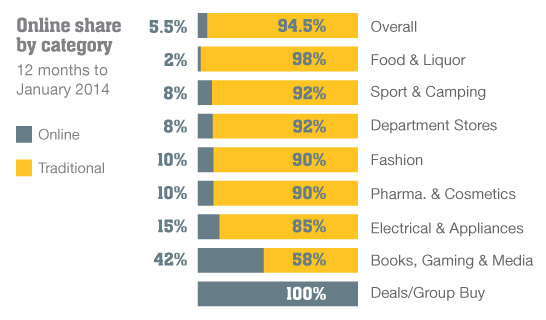 The strongest performing categories are books, gaming and media with the electrical and appliance category also lending itself to the online space. Some of the major players in sport and camping have been very successful in their online launches, and department stores have also performed quite strongly compared with their omni-channel counterparts.
The entertainment and media category shows persistent growth with a 30% increase in 2013.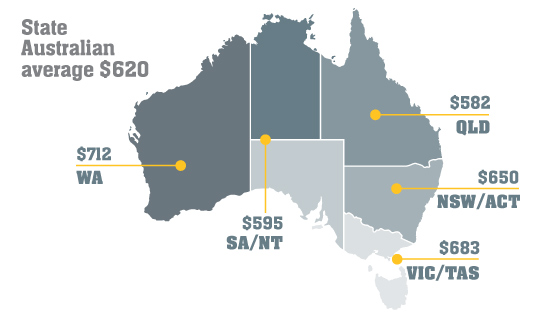 We may associate online retail with a younger demographic but we have found that the key growth group is wealthy women in their 40s and their highest categories of spend are food and liquor and fashion. With the average online spend in Western Australia being the highest.
Disclaimer
Any opinions, conclusions or recommendations in this Report are subject to change without notice and Commonwealth Bank is under no obligation to, and do not, update or keep current the information contained in this Report . The report has been prepared for information purposes only without taking account of the objectives, financial situation or needs of any particular person. For this reason, any person should, before acting on the information in this report, consider the appropriateness of the information, having regard to their objectives, financial situation and needs and, if necessary, seek appropriate professional advice.
This report is not directed to, or intended for distribution to or use by, any person or entity who is a citizen or resident of or located in any locality, state, country or other jurisdiction where such distribution, publication, availability or use would be contrary to law or regulation or which would subject the Commonwealth Bank Group to any registration or licensing requirement within such jurisdiction. All customer data used or represented in this Report is anonymous and aggregated before analysis and is used and disclosed in accordance with the Commonwealth Bank Group's Privacy Policy Statement. Content prepared March 2014.