Logistics
Logistics companies have unique banking needs, which is why the Commonwealth Bank is the only major bank to have an expert group that focuses specifically on the logistics industry.
Manage working capital
Our working capital solutions put you in control of your working capital with secure, integrated, real-time cashflow management. With real-time payments and merchant receipts available the same day, you can keep cash in your business longer.
You can also integrate banking into your website with our award-winning transaction banking solutions, and allow customers to pay you and track their order in the same place.
When it's time to grow your business, our specialist team can help you find the right capital solution for your business.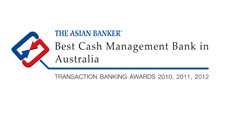 Minimise capital expenses
Logistics is a capital-intensive industry and each major purchase can put a large dent in your bottom line. Our Asset Finance group can help you structure the deal effectively.
Manage risk
Your business is likely to be substantially exposed to price fluctuations for inputs such as fuel, or to the timing of foreign currency payments and receipts. Our solutions can help reduce or eliminate these risks, resulting in more predictable financial performance.
For example, we can help you establish a diesel hedging strategy to give you more control of one of your major expenses. Our specialists can also design a hedging strategy to reduce or eliminate the impact of open currency positions on your business.