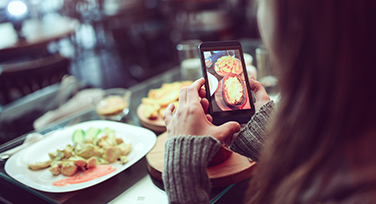 Spent too much during your study breaks this week? Stay in control by making better spending decisions.
Spend Tracker categorises every transaction in your student bank account automatically – from eating out, to shopping, transport, entertainment and more. 
Selling your second-hand textbooks to a friend next semester? Get paid back easily with a PayID. You'll receive your money almost instantly2 and won't need to remember your BSB and account number.
To start, register your PayID in the CommBank App.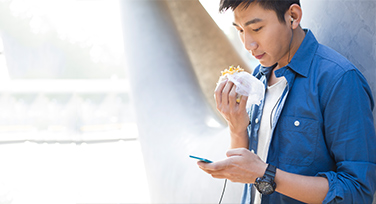 4. Simple Balance, to check your money at a glance
Paying for lunch with the money in your student bank account? Check your balance easily with just one swipe in the CommBank app.

Special banking benefits for students
Don't yet bank with CommBank?
Are you studying at Uni, TAFE or college, or an apprentice at an Australian institution? You can make the most of the CommBank app's features with a handy student bank account. It comes with $03 monthly account fees and access to other optional student banking discounts. 
Already bank with us?

Check out all the student banking discounts4 you can get with CommBank.
Things you should know
1 Limit of $500 in without a card withdrawals per day from over 3,000 CommBank ATMs. CommBank app, NetBank, NetCode and account access required. Full conditions on app. Terms and Conditions apply.
2 For security reasons, a hold may apply on first time payments. The delay allows fraud security checks to take place and gives you time to alert us to unauthorised or suspicious activity on your account. Subsequent payments should be received in under a minute.
3 Student Options discounts apply if you are a student at a tertiary institution in Australia or are undertaking an Australian Apprenticeship. You must present your valid student identification in branch to be eligible for Student Options discounts, available for up to 5 years at a time. If your studies exceed 5 years, you must present your student identification in branch again after 5 years. 
4 Student discounts apply if you are a tertiary student at an educational institution located in Australia or are undertaking an Australian Apprenticeship. You must show us suitable student identification in branch.
Commbank app: Full terms and conditions available on the CommBank app. The CommBank app is free to download however your mobile network provider charges you for accessing data on your phone. Find out about the minimum operating system requirements on the CommBank app page. Terms and conditions are available on the app. NetBank access with NetCode SMS is required.