Commonwealth Bank has been supporting Australian communities for over 100 years. The Commonwealth Bank was the Government's main agent for the financing of the war effort, sadly losing many employees who enlisted.
We're proud to support the Spirit of Anzac Centenary Experience. This engaging, interactive, commemorative showcase will tour nationally to 23 locations across Australia.
Bookings are now open for the final four locations in Geelong, Orange, Newcastle and Sydney.
To book your free tickets, visit spiritofanzac.gov.au
VIC – Geelong Feb – 21 – 27 2017
NSW – Orange Mar – 12 – 17 2017
NSW – Newcastle – Mar 29 – Apr 4 2017
NSW – Sydney – Apr 15 – 27 2017
Commonwealth Bank supporting communities during the First World War
The branch and agency network was expanded in Australia and overseas. Wherever they went, soldiers and other customers could operate accounts, transfer funds and obtain advances
The Commonwealth Bank Staff Community Fund was founded as a Patriotic Club in 1915. Female employees ran a stall to raise funds, despatched comfort parcels to staff serving overseas, and formed the first Sydney Strong Post to cheer and give gifts to departing soldiers as they marched through the city streets; after the war it was re-formed as a Staff Club with a Cot Fund Committee that provided cots for both a children's hospital and a children's home
Commonwealth Bank was the Federal Government's agent for a scheme to finance, build and insure homes for ex-servicemen.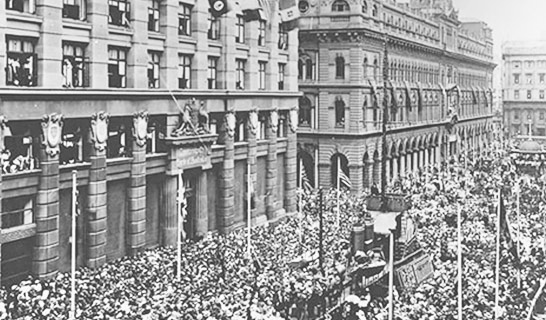 Commonwealth Bank ANZACs
226 employees were given leave to enlist in the Australian Imperial Force (AIF), serving in the Gallipoli campaign and the Western Front
Another 49 employees resigned from Bank employment to join the AIF
26 employees lost their lives
Four future Commonwealth Bank Board Members served in the AIF
Four employees who served in WWI were taken prisoner of war