Our range of bank accounts  
Everyday transaction accounts for your day-to-day spending and banking needs.
Debit Mastercard®  included
No monthly account fee if you're under 25 or deposit $2,000 each month or meet other conditions.1
Get cashback when you spend at popular brands with CommBank Rewards. Accessible via the CommBank app for eligible customers.7
Join over 6 million Australians using the CommBank app, with features like Spend Tracker and Cash Flow View
Pay with your phone or wearable using Apple Pay, Google PayTM6, Samsung Pay or CommBank Tap & Pay
Get help when you need it from our extensive branch network across the country, and our Australian-based call centres
Your account is protected from unauthorised transactions by our 100% Security Guarantee. It's also backed by the Australian Government's guarantee on combined balances of up to $250,000 per account holder.
Savings accounts & Term Deposits
Savings accounts to give you greater peace of mind and help you reach your savings goals.
Bonus interest for regular savings

Easy access to your savings 24/7
Combined balances up to $250,000 per account holder are guaranteed by the Australian Government
Set savings goals in the CommBank app with Goal Tracker2 and make regular, automated transfers from your everyday account
Banking for the stage you're at 
Not sure which account is right for you? 
Compare all of our bank accounts and interest rates to help you decide. 
Securely manage your accounts – when and where it suits you
Our award-winning3 digital technology gives you the freedom and flexibility to access, track and manage your money on a range of devices – securely, wherever you are. 
Bank on-the-go with the CommBank app, from your desktop with NetBank, or pay conveniently with your wearable or digital wallet.4
We take our responsibility to protect your privacy and security seriously, and have a range of security capabilities to keep your information safe.5
Explore our Digital Banking options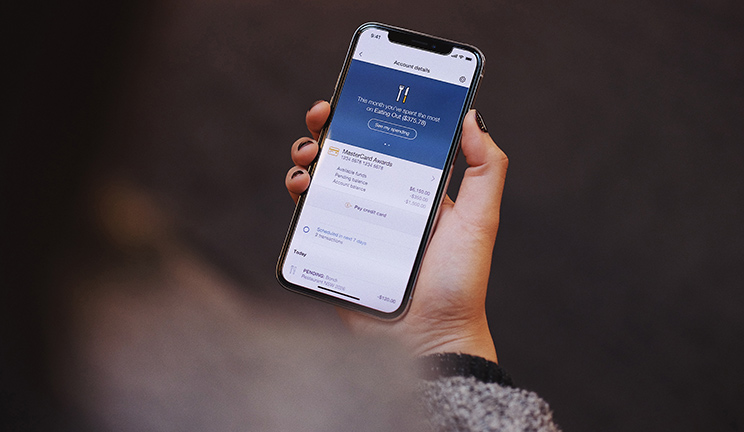 Get help with your account
Things you should know
1 Monthly account fee waived for accounts with at least $2,000 deposited each calendar month (excludes Bank initiated transactions). A monthly account fee waiver will also apply if you're under 25 years of age, or you're a full-time or part-time tertiary student at an Australian educational institution or undertaking an Australian Apprenticeship on Student Options. You may also be eligible for a different monthly account fee exemption if you have an aged, disability or war veterans' pension deposited in your account, have a balance of $50,000 or more in eligible contributing accounts, are reliant on over the counter services because of a disability or have an eligible home loan. Find out more about rates and fees.

2 Requires a GoalSaver or NetBank Saver in your name only.
3 The Canstar 2021 Bank of the Year Award was received in May 2021 for Online and Mobile Banking.
4 Not available on Business Transaction Accounts.
5 We'll cover any loss due to unauthorised transactions on your account, as long as you safeguard your cards, devices, payment documents, client numbers, PINs, passwords and any other access methods, and immediately notify us of their loss, theft or misuse or any suspicious unauthorised activity on your account.
6 Google Pay is a trademark of Google LLC.
7 We'll show you rewards if you have an eligible card, are over 18 and have an Australian home address and are enrolled in CommBank Rewards. You can claim cashback rewards if you activate the reward and spend the required amount using tap or selecting credit using all CommBank cards except Travel Money, Corporate Credit, Business Debit and pre-paid Mastercards. Cashback will be credited to your account within 14 business days. Full terms and conditions are available on the CommBank app.
The advice on this website has been prepared without considering your objectives, financial situation or needs. Because of that, you should, before acting on the advice, consider its appropriateness to your circumstances. View our Financial Services Guide (PDF 60KB). View the full terms and conditions for the transaction and savings accounts mentioned (PDF 660KB) or contact any branch of the Commonwealth Bank.
Full terms and conditions of the CommBank app are available on the app. The CommBank app is free to download however your mobile network provider may charge you for accessing data on your phone. NetBank access with NetCode SMS is required. Find out about the minimum operating system requirements on the CommBank app page.