Features & benefits
Enabling Australian farmers, producers and regional businesses to continuously progress by acquiring new and additional machinery.
Fund purchases cost-effectively with no deposit, no monthly fees or additional collateral
Finance new and used equipment in line with ATO effective life guidelines
No requirement for land ownership
Save money with an energy efficient equipment discount1
Flexibility to choose your own supplier and brand of equipment
From utes to harvesters, tractors to irrigators, we can finance almost any equipment you can put to work on the land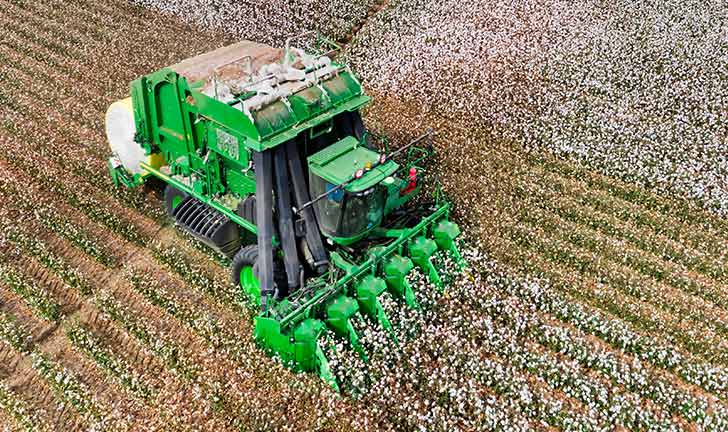 It's simple & straightforward
Apply via your Relationship Manager, online or start the process over the phone by calling 1800 ASSETS (277 387)
Our streamlined application process often does not require full financials to be provided
Conditional approval in as little as 10 minutes online2
We'll aim to get back to you within one business day
Once your application is approved, we'll arrange prompt payment to your supplier after you sign your agreement online.
Operate with peace of mind
Finance up to 100% of the cost, with no upfront deposit or monthly fees
Spread your repayments over the life of the equipment
Get a finance discount on energy efficient equipment1

Be prepared for the future
With a Master Limit, you could be pre-approved to fund new equipment up to a certain amount, whenever you need
Our end of finance term upgrade process is fast and simple
You might be able to get a tax deduction as it's income generating equipment
Fund equipment in stages with an Equipment Construction Facility
See your agreements online through CommBiz
Finance we can offer
Equipment loan (chattel mortgage)
Our most popular finance option. You own the equipment and pay it off over time.
For businesses that regularly buy machinery
Get pre-approved for a Master Limit (from $100,000) helping you to buy as soon as you're ready
Send us the invoice, we'll pay the supplier on approval and your repayments will commence 
Get a finance discount when you choose to finance energy efficient models1
Currently, there are 7 categories of equipment and over 700 cars that qualify
Save money on both energy and finance costs
Who can apply?
You can apply if your business:
Has a current ABN
Has been trading for more than 12 months
Has a good credit rating
Isn't going through the process of bankruptcy
You can apply as an individual if you're:
Aged 18 years or over
Eligible to work in Australia
An individual, sole trader, sole owner of your company or someone authorised to apply for finance and credit for a business
Financing equipment that will be used by a business (mostly or entirely for business purposes)
Things you should know
This information is current as at 1 July 2021 and is for general information purposes only. It has been prepared without considering your objectives, financial situation or needs. You should consider the appropriateness of this information to your circumstances before acting on it.
Credit provided by the Commonwealth Bank of Australia. These products are only available to approved business customers and for business purposes only. Applications for finance are subject to the Bank's eligibility and suitability criteria and normal credit approval processes. You should view our current Terms and Conditions for Asset Finance and consider them before making any decision about these products. Rates are subject to change. Fees, charges, terms, conditions and lending criteria apply.
1The discount is for qualifying energy efficient vehicles and equipment, and applies to the rate you would normally have paid for the equipment you wish to finance.
2 You can apply for conditional approval in NetBank if you're an existing CommBank business customer who is a sole trader or the single director of a company that has been operating for at least 12 months. Fees, charges, terms, conditions and lending criteria apply.