What's a Market Rate Loan?
It's for businesses that want to have the flexibility to have multiple loans within one facility that has an overall limit starting from $500,000
It has a transparent interest rate linked to the Bank Bill Swap Bid rate (BBSY - published daily in the newspaper)

Choose a rollover period between 1 and 6 months. At the end of each rollover period, your interest rate will update based on the current BBSY
Set different repayment schedules for each loan within the facility to suit your business cash flow
Get expert advice from our Global Markets specialists to help you minimise your exposure to market interest rate fluctuations

Case study
Marco owns a chain of seven restaurants and wants to borrow money to renovate three of them.
Marco speaks to his banker and decides to take out a Market Rate Loan which gives him a single facility structured into three separate accounts for each restaurant renovation.
He saves on set up fees and time spent managing three individual loans by taking out one Market Rate loan. 
He plans to sell the restaurants in the next few years so he opts for an interest only repayment so that he can maximise cash flow for the refurbishments. When he sells the restaurants, he can use the proceeds to pay back the principal part of the loan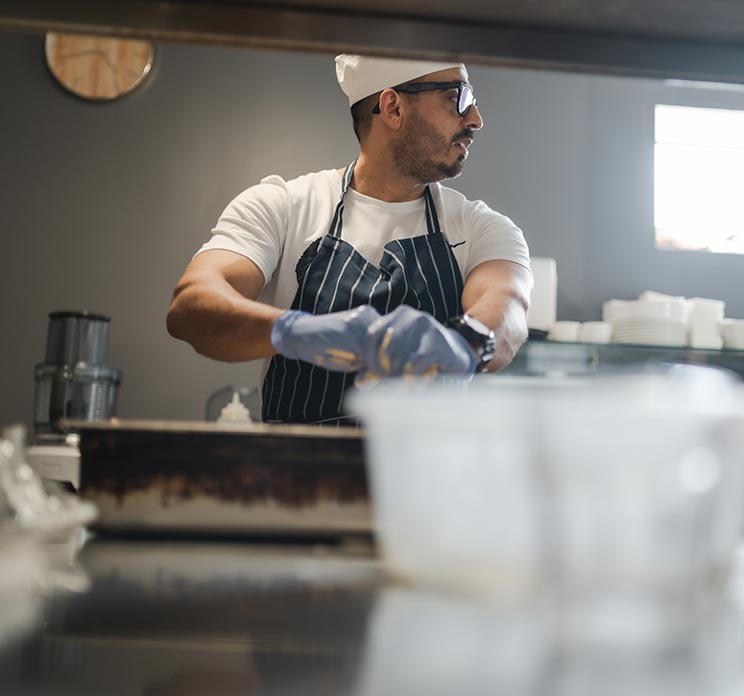 Could your business benefit?
Flexibly structure your loan 
The Market Rate Loan facility supports up to 25 participating entities

You can allow your entities to manage their individual cash flow requirements
Protect against rate rises
Structure your loan to flexibly manage your exposure to market rate changes
For example, one of your loan accounts may have a 6 month reset period which lets you lock in a low interest rate, while another may have a 1 month reset period that lets you benefit from interest rates dropping again
Choose to pay a fixed interest rate, by exploring a range of Interest Rate Risk Management (IRRM) options offered by our Global Markets team
Our Global Markets specialists can give you expert advice
Customise your repayments and security
Make interest only or principal plus interest repayments based on your business needs, and the type of investment you're making
Loans can be fully secured, partially secured or unsecured
Secure your loan with residential property, commercial property or other business assets
Manage in CommBiz
View all your accounts in one place with CommBiz, keeping your banking and administration fast and straightforward
Are you eligible? 
Eligible businesses include:
Medium to large sized Australian businesses and not-for-profit organisations
You must use the loan for business purposes only
You must meet the Bank's lending policies and credit risk requirements
You're more likely to be approved if:
You haven't been overdrawn or had your account in arrears anytime in the past 3 months
You haven't been declared bankrupt in the last 5 years
You haven't had any accounts in collections in the past 6 months
You have a minimum 30% deposit as well as cash reserves to demonstrate that you can operate the business for at least the first 3 months
Rates & fees
How is the interest rate decided?
The Market Rate Loan sets the interest rate based on the BBSY – an Australian benchmark interest rate which is published daily on Thomson Reuters and on Bloomberg LLP.
About your rates and fees
Rates and fees differ based on the type of security you provide for your loan, your loan amount and other factors. We'll confirm what they are in your Letter of Offer. Fees include:
Loan Establishment Fee
Facility Fees – Line and Usage Fees (for funded and used amounts)
Other fees apply *
Next Steps
Applicable fees vary, e.g. IRRM charges – please speak with your Relationship Manager for rates and terms to suit your needs. 
How to apply
See what documents you'll need. We'll ask you for different documents to better understand your current situation. These could include financial statements, proof of individual income, bank statements and ID if you're new to CommBank
Give us a call. You can speak to your Relationship Manager, or call 13 1998 to speak to a Business Banker 
Supply your ID documents and application forms
Once your loan is approved, you'll receive the funding in your linked CommBank account. Your Business Banker will let you know how long this will take
Is a Market Rate Loan right for you?
Here are some other products that might meet your business needs:
Things you should know
* Applications for finance are subject to the Bank's normal credit approval. Full terms and conditions and applicable fees are included in the Loan Offer. Bank fees and charges may apply.

As this advice has been prepared without considering your objectives, financial situation or needs, you should, before acting on the advice, consider its appropriateness to your circumstances. View our Current Terms and Conditions for Business Finance and Financial Services Guide (PDF 59kb) and consider them before making any decision about this product.
Credit provided by the Commonwealth Bank of Australia. These products are only available to approved business customers and for business purposes only.  Applications for finance are subject to the Bank's eligibility and suitability criteria and normal credit approval processes. View our current Terms and Conditions for Business Finance and consider them before making any decision about these products. For current interest rates, visit Business banking rates and fees. Rates are subject to change. Fees, charges and Terms & Conditions apply.
Terms and conditions issued by Commonwealth Bank of Australia ABN 48 123 123 124 for CommBiz and NetBank are available online, or can be requested at any of our branches or by phoning us on 13 1998. Terms and conditions should be considered before making any decision about these products. See current interest rates.