The Future Business Index is a wide-ranging quarterly survey providing a unique snapshot of mid-market businesses around Australia.
Covering 11 industry sectors in every state and territory, the Index measures business confidence, growth opportunities, and the key threats and opportunities facing mid-market corporate Australia. It also examines businesses' readiness to navigate volatile conditions, including balance sheet strength and risk planning capabilities.
The Index offers a valuable insight into the strategic issues likely to affect mid-market organisations over the months ahead, helping decision-makers position their businesses to capitalise on emerging opportunities.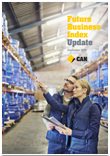 The Future Business Index during the quarter period ending December 2014 revealed businesses remain resilient despite volatile conditions, with a continued focus on growth - a positive sign for 2015.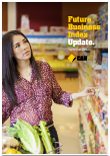 Future Business Index Update September 2014 - Confidence remains steady (PDF 2.0MB)
The Future Business Index remains at long term average with one in two businesses focused on growth over cost management. The Index recorded its smallest quarterly movement since its inception in 2011, falling 0.2 from the June quarter to 10.2.
Future Business Index Update June 2014 - Investing for growth (PDF 1.1MB)
Future Business Index Update March 2014 - A focus on the future (PDF 1.7MB)
Future Business Index Update December 2013 - A year of opportunity (PDF 1.5MB)

Future Business Index Update October 2013 - Confidence rebounds (PDF 2MB)

Talk to us

Contact your Relationship Executive or call us on 1800 019 910.

See our blog articles for more insights from our industry experts.
Important information
This report is published solely for information purposes. As this report has been prepared without considering your objectives, financial situation or needs, you should, before acting on the information in this report, consider its appropriateness to your circumstances and if necessary seek the appropriate professional advice. The information in this report is based on a survey of 441 financial decision makers and any opinions, conclusions or recommendations are reasonably held or made, based on the information available between 10 November and 1 December 2014, but no representation or warranty, either expressed or implied, is made or provided as to the accuracy, reliability or completeness of any statement made in this report. Commonwealth Bank of Australia ABN 48 123 123 124.