The accommodation sector, though, is responding to increasing demand at a time when occupancy rates in some parts of Australia are reaching record highs.
Over 1,000 purpose-built student accommodation rooms in central Sydney are set to be made available for hotel use over the busy summer months; a time when students are typically away and the facilities empty.
Last summer, hotel occupancy rates reached 95% in January and 90% in February in Sydney. With just one new hotel due for completion in central Sydney before next summer, the city looks set for another accommodation squeeze. (Source: JLL)
Short-term visitor arrivals to Australia increased at over 7.0% per annum in the 12 months to July 2017. Asian countries are leading the way, with visitors from China increasing 18.0% to now be the single largest source of short term visitors to Australia. Over the same period, visitors from India increased 14.6%, Hong Kong 13.2% and the USA, 12.1%. (Source: ABS)
The move to open student accommodation for hotel use is part of a much larger effort to increase and improve tourist accommodation underway right across Australia.
We are presently monitoring 75 new hotel and serviced apartment complexes currently under construction in Australian city and country areas, which will add almost 14,000 new rooms over the next three years. While most of these rooms (87%) are naturally in the large capital cities of Sydney, Melbourne, Brisbane and Perth, over 1,000 rooms are also under construction in the smaller capitals of Adelaide, Canberra and Hobart and another 1,000 in tourist and regional centres.
As inbound flights, particularly from Asia, start to fly for the first time directly into Australia's smaller capital cities, as well as increasing flights into tourist centres, the uptick in demand for tourist accommodation is spreading to destinations previously dominated by domestic travel. Over time, this will support local economic growth and the development of new tourism-related business.
Another 234 projects are in the development pipeline, either approved or proposed for future development, and will add a further 43,000 rooms well into the future. 29% of these proposed rooms are in the smaller capital cities, the regional or tourist centres, compared to 13% of what's currently under construction now, adding support to the theory of an industry whose benefits are set to be spread more widely in the future.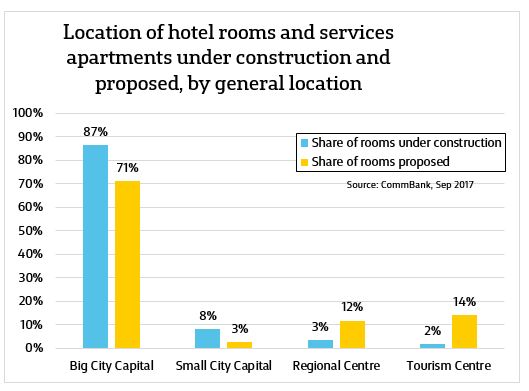 So whether it's showing agility in response to short-term pressure in high occupancy markets or longer term shifts in demand, the tourism sector will be well supported by a larger selection of new, improved facilities throughout Australia.