The figures show that office property remained the dominant trading sector, accounting for 58% of all sales ($19.2 billion) compared with 50% in 2016. Office property's rise came at the expense of other sectors, particularly retail.
Despite the challenges facing the retail sector, $9.8 billion of property was traded in 2017, accounting for 30% of all commercial sales. Industrial sales accounted for 12% of the total, with $4 billion traded, as commercial property yields tightened to record lows.
New South Wales experienced the highest activity, accounting for 42% of commercial property sold last year. Victoria and Queensland together accounted for 43% of all sales (24% and 19% respectively).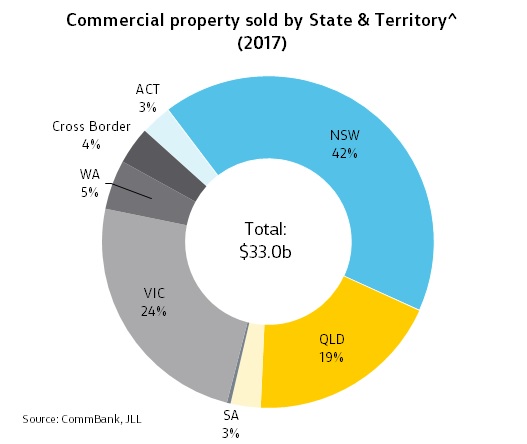 Unlisted property trusts and syndicates were the most active buyers, accounting for 26% of all transactions. Not far behind were listed property trusts at 24%, followed by private companies and investors at 21%.
Offshore activity remained healthy as overseas investors spent almost $11.5 billion on commercial property, up 9% on 2016. As a proportion of total sales, however, offshore investment fell from 39% of transactions in 2016 to 35% last year.
Asia was the main source of offshore buying, driven by Singaporean investors who bought a third of all of Australian property sold abroad ($3.8 billion). Investor interest from the United States was also considerable, accounting for 19% of offshore commercial property sold ($2.2 billion).
From a global investor's perspective, Australian property remains a popular asset among a large number of countries.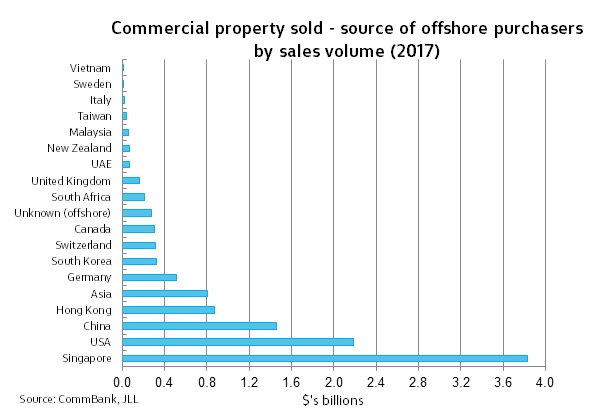 Sales are typically slower at the start of a new year, however, last year trading was healthy in the first quarter and with $10 billion of commercial property still on the market, the same is expected in 2018.
As the year progresses the levels of commercial property sales are likely to decline as cap rate compression stabilises and potentially softens as bond yields rise.