Despite strong prices being paid for commercial property, its popularity with investors remains high. Trading activity in Australia has been at record levels in recent years. The only constraint to this trend going forward may be a smaller number of properties reaching the market for sale, as more owners decide to hold strong performing assets.
Over the past five years, apart from 2016, commercial property sales have been close to, or above, a significant $30 billion per annum. All five years have been well above the c$23 billion average per annum of the last 10 years. Relatively high yield and strong underlying fundamentals continue to attract investors to commercial property.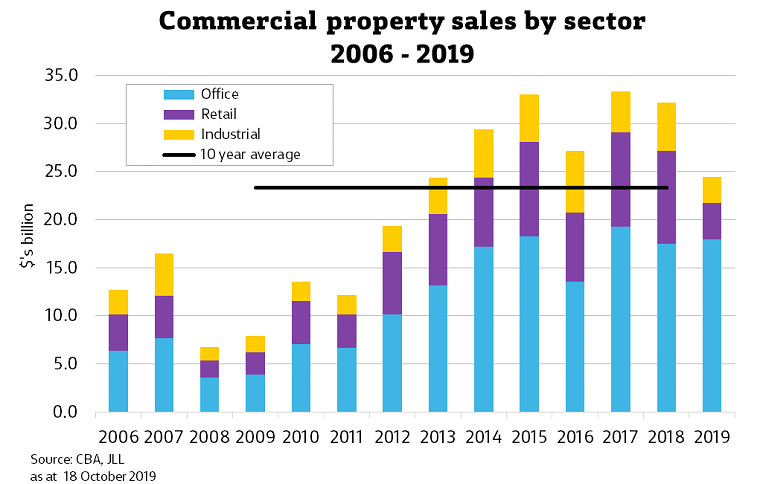 Most trading has been in the office sector, where falling vacancies and growing rental income provides a positive outlook. Since 2015, office property sales have accounted for 58% per annum of core commercial property asset trading.
Despite challenges with retail property, 27% of sales through this period of strong trading (since 2015) have been retail property assets. Interest in the sector, however, has slowed considerably this calendar year, with retail accounting for just 15% of all property sales.
Since 2015, industrial property sales have accounted for 15% of the total, which is in line with longer term average levels in this tightly-held sector.
New South Wales continues to dominate trading activity, accounting for 43% of commercial property sold (by sales price volume) in this cycle. The depth of this market and its strong performance continues to attract attention, despite the high entry price. Victoria and Queensland combined accounted for 42% of sales (25% and 17% respectively) over the same five year period.
Trading volumes are being driven more now by domestic buyers, with offshore purchasers accounting for 32% of the total volume last financial year, down from a high of 44% in 2015/2016. The source of offshore purchasers has also recently shifted from Asia and more toward North America, while Australian REIT's have also been more active in the past year.
By buyer type, the single most active buyers since 2015 have been Unlisted Property Trusts and Syndicates, purchasing 31% of total commercial property sold, followed by A-REITs (22%) and Private Companies and Investors (21%).
There's still stock coming onto the market, although at levels lower than the same time last year and the year before. This relative scarcity of stock on the market, combined with high levels of investor demand, may actually drive prices up further through this cycle. We expect a solid volume of sales through to the end of calendar 2019 and intense competition for available properties.
Author's note: this property analysis is based upon the office, retail and industrial sectors, which are the commonly monitored sectors for commercial property in the industry.