Your guide to home loan statements
If you have an owner-occupied or investment home loan with one or two borrowers, you can switch to online statements.
Manage your finances easily and reduce clutter by going paper free.
Easily access, view and download your statements instantly and securely in NetBank anywhere, any time.
We'll send you an email when a new statement is available in NetBank.
Frequently asked questions
Log on to NetBank
Go to the View accounts tab
Select Statements, choose your home loan account and follow the steps
If you're not registered for NetBank and would like to view your statements online register for NetBank now.

Home Loan statements are provided twice a year, in January and July. If there are specific changes to your loan, such as an interest rate change, or if you switch your loan type, or increase repayments, you'll receive a confirmation of the change within your 'Transactions' listing and the date it occurred.
Here is an example of what your statement looks like and how to understand it.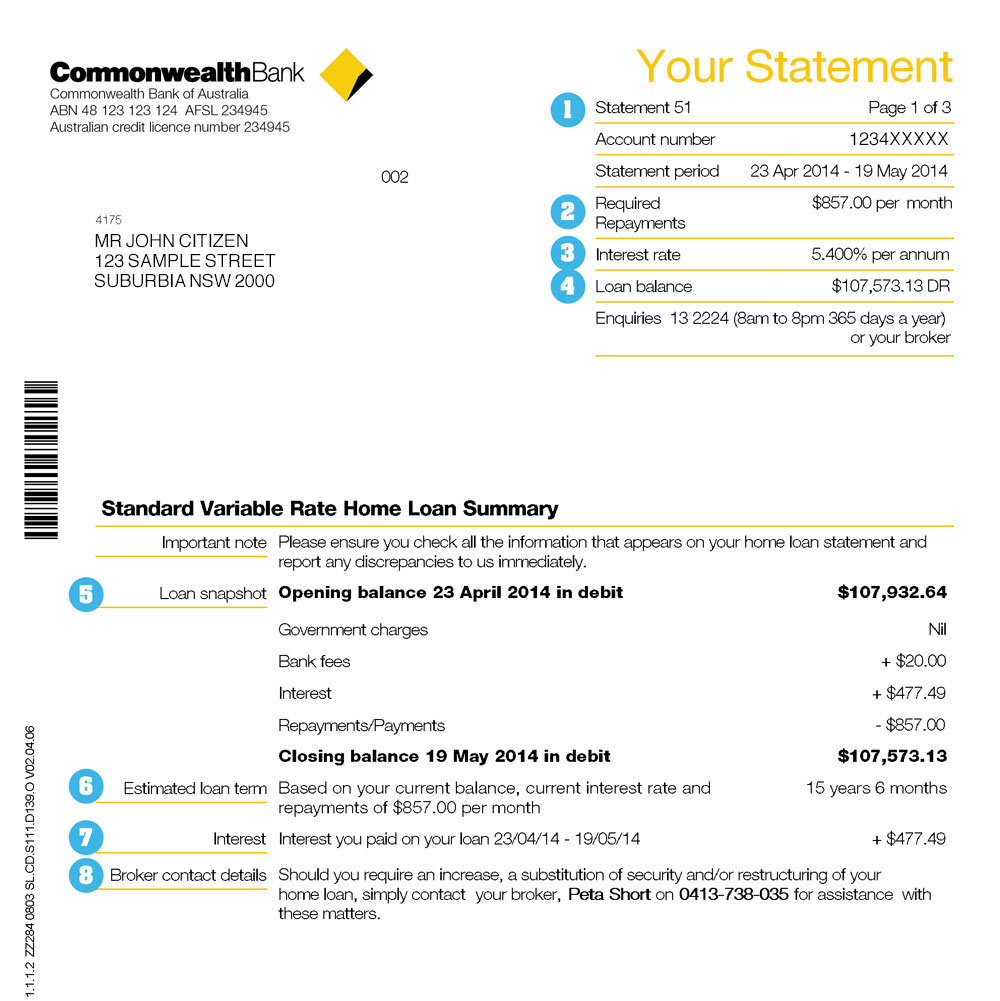 Statement number - The number of statements issued to you from your home loan start date.

Required repayment amount - The minimum amount you have to pay to ensure your loan is paid off within the agreed term. If you've chosen to make interest only payments, then 'Interest only' will be shown here.

Interest rate - This shows your current interest rate. If there were any changes during the statement period, they will be shown on the 'Transaction' page.

Loan balance - This is the balance owing on your loan at 'statements end' date. Please note this is not a 'Payout' figure.

Loan snapshot - A summary of the total debt and credit transactions processed during the statement period.

Estimated loan term - This indicates the estimated remaining loan term based on the monthly repayments being made and assuming the interest rate and repayment amount doesn't change. If interest only payments are being made, the estimated loan term will not be shown.

Interest - Shows the total interest charge for this financial year.

Additional repayments (not shown in diagram) - This shows the amount you're ahead on your loan, which increases as you make additional repayments. This includes repayments made towards your next monthly minimum repayment. If you have an eligible home loan, you have the option to redraw your additional repayments. You can check your available redraw balance in NetBank, the CommBank App or by contacting us. Find out more about redraw.

Repayment changes (not shown in diagram) - You will only see this message if we need to inform you that your repayments need to increase, so you can still pay off your loan within the agreed term. If you see this message, please remember to check your statement for a letter explaining what you need to do.

If joint borrowers have not nominated one borrower to receive statements and notices on their behalf, separate statements and notices are issued to each borrower even if you live at the same address. You can nominate one borrower to receive statements and notices by completing Sections C and D of the Contract Authority and Nomination to Receive Notices form.
We can tailor a home loan that's right for you, and provide the tools and insights to meet your needs.
We can help
Ready to apply or want to discuss your home loan needs?
Did you find what you were looking for?