Putting money in
Who pays my super?

Your employer has to regularly put aside a specific amount of money for your super. This amount is equal to a minimum 9.5% of your pre-tax salary and is paid at least once every quarter into your super account.
Your employer's super contributions are known as Super Guarantee or 'SG' payments. Your employer makes these payments straight into your super account, separate to the salary they pay you.
Even if you move to a new job, you can take the same super account with you. This makes it easier to keep track of your super, and also means you can potentially avoid paying fees on more than one account.
Can I help my super grow?
Your super is a long-term investment – and the more money that goes into it, the more that can be invested to grow over time.
A popular way to boost your super is by salary sacrificing1. As of 1 January 2020, this means you set up an arrangement for your employer to pay a bit extra from your pre-tax salary into your super, on top of the Super Guarantee contributions they're legally required to make.  
Did you know?
If you make a personal contribution and are a low income earner, you may be eligible for the government superannuation co-contribution amount. For those eligible, the government may contribute 50 cents for every dollar of your personal superannuation contribution, up to $500 a year. For eligibility check out the ATO website
Any amount you salary sacrifice into super is generally taxed at the rate of 15%. For some people, this will be lower than your marginal tax rate, which could be up to 47%2.  For people on a high tax rate this is of benefit because you pay less tax while you boost your retirement savings
Low income earners who are earning $37,000 or less may also receive the 'low income superannuation tax offset' – which effectively means the Government refunds your 15% contributions tax by making a government contribution to your fund, up to $500 a year
See how a small amount each pay could potentially make a big difference to your super balance at retirement in the chart below.
Salary sacrifice per week
Even if you don't have extra cash on hand to boost your super, don't worry. Every little bit helps, and can potentially end up making a big difference by the time you retire.
Assumptions: Projection starts at 1 July 2020 assuming an initial superannuation balance of Nil; member is aged 30 and retirement age is 65; annual salary is $45,000; 15% contributions tax applies to salary sacrifice contributions; salary and salary sacrifice contributions increase each year by salary growth of 3.2% pa; the investment rate of return based on a balanced earning rate of 3.46% pa compound weekly net of tax and fees; results in today's dollars discounted by CPI inflation of 3.2% pa. Source: Colonial First State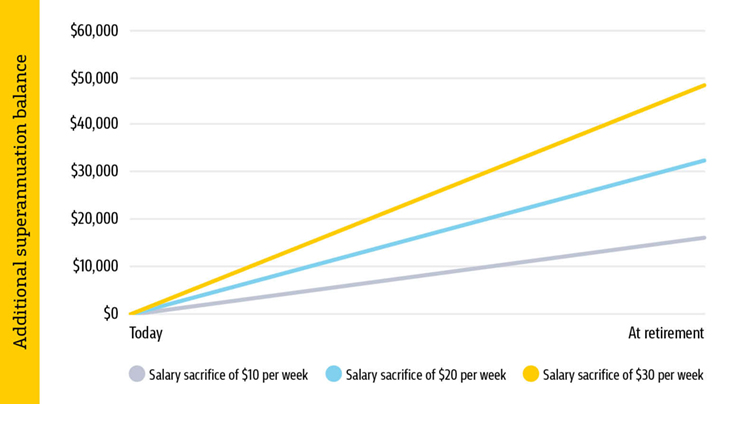 Taking money out
When can I access my super?
Your super is designed to fund your retirement. That's why you can't touch it for most of your working life, so it has the chance to grow as much as possible over the long term.
After you reach your 'preservation age', you can start accessing your super either when you retire, or as part of a transition-to-retirement strategy. Once you turn 65, you can access your super regardless of your work status.
Your preservation age is the age you're generally allowed to access your super. It depends on your date of birth.
From 1 July 1960 to 30 June 1961
From 1 July 1961 to 30 June 1962
From 1 July 1962 to 30 June 1963
From 1 July 1963 to 30 June 1964
There are other special circumstances when you may be able to access some or all of your super – for instance, on compassionate grounds or if you're experiencing hardship eg financial difficulties caused due to the Coronavirus pandemic. 
If you're a temporary resident leaving Australia, you can also withdraw your super via a Departing Australia superannuation payment.
How do I withdraw my super?
Once you're allowed full access to your super, you can choose to receive it either as a lump sum or a regular income stream – or a combination of both. The option you choose may affect your financial circumstances and tax position, so it may be worth getting financial advice before making a decision. 
Fees and insurance
Does my super fund charge any fees?
Your super fund charges fees to cover the costs of managing your account and your investments. These typically include an investment fee and administration fee, although there may be other fees as well – say, if you switch investment options.
Fees are generally deducted automatically from your account on a regular basis, such as monthly or annually. They may either be flat fees or they could be calculated as a percentage of your account balance, which means they'll increase as your balance grows.
If you have more than one account, you will be paying for fees on each account. You may choose to consider consolidating your accounts into one to save on multiple account fees. Before you make a decision, remember to compare the costs, risks and benefits of your other super fund against Essential Super, including any insurance you may hold elsewhere as it will end if you choose to leave those super funds.3 You can search for all the super accounts you have at MyGov.
It's a good idea to check your statement and review whether the features you're paying for are right for you and the total amount in fees and costs you're paying.
Your statement is available in the CommBank app or NetBank.
Can I get insurance through my super?
More than 70%4 of Australians who have life insurance hold it through their super. Many super funds offer insurance cover typically, Death and Total and Permanent Disability (TPD) Cover. Insurance cover is optional but with Essential Super, you receive an automatic level of cover if you meet certain criteria like being 25 years old and having an account balance of at least $6,000.
With Essential Super, the amount of cover you receive is based on your age, and is automatically adjusted throughout your life.
The cost of your insurance usually depends on the types and amounts of cover you have, as well as factors like your age and gender. Your insurance premiums are automatically deducted from your super balance on a regular basis, just like your other fees eg admin, investment etc
You should make sure you know what you're covered for and whether this insurance suits your needs. If you need to, you can review, change or cancel the insurance in your Essential Super anytime via NetBank > Accounts > Essential Super > Insurance
To find out more, visit MoneySmart's guide on Insurance through super.
How is my super invested?
What does my super fund do with my money?
For most people, super will be one of their largest asset outside of the family home. Your super fund invests your money on your behalf so it will grow over time, ready for you when you retire. Super funds typically invest in a combination of assets like shares, property and cash.
With Essential Super, your money is automatically invested in our Lifestage option, which is based on your age. Over 90%5 of our members are in this option. Our Lifestage option has been designed to give more exposure to growth at a younger age and more defensive as members get older. Best of all, we do the hard work for you, by automatically choosing the option for your age group, then adjusting your investment mix as you grow older.
To see how your super is invested log into NetBank > select Essential Super > Investments
Our Investment Fund Fact sheets will show you a short summary of the Lifestage options, the strategy and performance over time.
Which investment option is right for me?
Everyone's financial situation is different, which is why one investment option may suit you better than another. Typically, if you have longer to retirement, it's more suitable to have a greater exposure to growth assets like shares. With Essential Super, we change your investment mix to more defensive as you get older, so you don't need to do this yourself.
Before making any major decisions around your investment options, it's a good idea to seek professional advice. A financial adviser can review your finances and create a personalised super strategy to help you reach your retirement goals. 
What happens when investment markets change?
It's important to remember that super is a long-term investment. Your super balance will fluctuate up and down depending on the performance of the assets your super is invested in (e.g. shares, property, fixed interest). While investment market returns can be unpredictable in the shorter-term, historically over the long-term they typically grow over time. Before you react and change your investment options, it's important to consider your age, long term goals and risk appetite. Also consider speaking to a financial adviser before you make any decisions.
If you have an Essential Super account, you can view your super balance anytime in NetBank or the CommBank app. You can also check your super's asset allocation in NetBank (NetBank > select Essential Super > Investments).
What else should I know about my super?
What should I do if I have more than one super account?
If you've changed jobs you may have multiple super accounts with different funds.
In this case, you're probably paying multiple sets of fees, which can make a dent in your retirement savings in the long run. Having more than one account can make it harder to keep track of your super.
It's a good idea to find any other super accounts you may have and consider bringing them together into one account to avoid paying more fees than you need to. Before you make a decision, remember to compare the costs, risks and benefits of your other super fund against Essential Super including any insurance you may hold elsewhere as it will end if you choose to leave those super funds.3
You can search for your other super and bring your super together via the Australian Tax Office at MyGov.
How do I know if my super is being paid into the right account?
You can check your transactions in your Essential Super account via NetBank > Select Essential Super > Transactions.
Your employer is legally required to pay your super at least every 3 months. If you want to check when your super is paid, check with your employer and ensure they are paying your super into the account of your choice.
For most jobs in Australia, you can choose which account you want your employer to pay your super into. To do this, you will need to download a Superannuation standard choice form from your preferred super fund and provide the completed form to your employer.
How often should I check and review my super?
You can see your super balance alongside your banking via the CommBank and NetBank anytime. When you receive your Essential Super statement every 6 months, it's a good time to check some other features of your account:
Insurance: If you have insurance, make sure you know what you're covered for and consider if it still suits your needs. If you don't need insurance, you can cancel it
Investment strategy: Your investment mix can have a big impact on your retirement savings over the long term, so it's important to understand which investment option you've chosen – or which option your fund has chosen for you
Can I switch my investment option?
As an Essential Super member, you may be invested in the Lifestage option like over 90%5 of our members. This means that not all your super is invested in shares. If you have invested in a LifeStage option, your super is invested in a portfolio of assets including growth assets like shares and conservative assets like cash and fixed interest. This option is invested in a variety of assets, designed to diversify risk. There are other options to consider, such as a Balanced Australian Share or Cash Deposit option. If you would like to know more about these options, give us a call on 13 4074. 
My super balance has gone down – what should I do?
It's important not to panic, super is a long-term investment. Although financial markets may fall in the short term, historically over the long-term they typically recover. It is important to take a long-term perspective with your super. If you are unsure about what action to take, a financial adviser may be able to help you.
Things you should know
1 Contributions caps apply.
2 The highest marginal tax rate is 45% plus 2% Medicare levy. Concessional contributions such as salary sacrifice are generally taxed at just 15% when received by your fund. However, a higher rate of tax may be payable on part or all of these contributions if your income and before-tax contributions are more than $250,000 in a financial year.
3 Before you make a decision on consolidating your super, you should compare the costs, fees, risks and benefits of your other super funds against Essential Super. It makes sense to consider whether you can replace any insurance cover you may lose upon rolling over, potential costs for withdrawing from other super funds as well as any investment or tax implications. You should also decide which super fund you want your employer to pay your future employer contributions to and complete a Super Choice form if necessary.
4 Source: moneysmart.gov.au: Insurance through super, September 2020.
5 As at 31 March 2020.