Program Overview

CBA is Australia's leading financial services institution, with operations across the world. To make this global operation run smoothly, the Bank has a complex and diverse supply chain – with approximately 5,000 suppliers.
Our purpose is to improve the financial wellbeing of our customers and communities. To achieve this we aim to grow the breadth and depth of projects awarded to diverse suppliers.
We also look to support inclusion and diversity initiatives in all our suppliers. We work with over 20 major suppliers, representing over $1.5B procurement spend annually, to identify and create opportunities across our supply chain. This not only multiplies the impact of our program, it ensures diverse suppliers are not locked out of CBA's supply chain due to pre-existing supplier relationships.
CBA has a target to achieve parity in Indigenous procurement – with 3% of our annual domestic contestable supplier spend to go to Indigenous owned businesses by 2024.
Diverse suppliers are those that are over 50% diverse owned and controlled, are profit-for-purpose or are certified with a relevant not-for-profit organisation.
Business Council of Australia's Raising the Bar Program
CBA is one of 16 Business Council members that have signed up to achieve parity in Indigenous procurement by 2024 – with the participating organisations committing to collectively spend $3B with Indigenous suppliers under the program.
Our program is structured to develop, attract and retain diverse suppliers – with a goal to achieving 3% of contestable spend with Indigenous owned suppliers by 2024.
CBA has calculated 'contestable spend' by analysing which of its approximately 150 procurement spend categories have Indigenous businesses competing in them. If there is an Indigenous business competing in a spend category, then the spend in that category becomes contestable. Contestable spend is recalculated annually to capture new suppliers and capability development in the Indigenous business sector. 
Supply Nation partnership
CBA is proud to be a Supply Nation Red Ochre Partner, the highest possible level. As part of the partnership we are:
Platinum sponsors of the Supply Nation Gala Awards Dinner, celebrating success in the Indigenous business sector
Principal sponsor of the JumpStart platform, connecting skilled volunteers to task-based needs of Indigenous businesses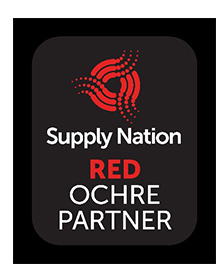 Are you interested in working with CBA?
Our supplier diversity program looks to work with Indigenous owned businesses, women owned businesses, social enterprises and disability enterprises.
We define Indigenous businesses as those that are registered with Supply Nation.
Additional reading:
How we support diverse businesses at CBA?