What we do
The Customer Advocate is here to be a voice for you, our customers — to make sure you're heard, understood and treated fairly throughout the Commonwealth Bank.
While not independent of the Bank, the Customer Advocate is independent within the Bank, with a focus on:
Identifying opportunities to improve the Bank's products, services, systems and processes
Helping the Bank make better decisions through the use of data, insights and different perspectives
How to get help if you have a complaint
Contact the Bank's complaints team. This gives the Bank the chance to investigate the situation and put things right. You can contact the team on 1800 805 605 (8am - 6pm Sydney/Melbourne time) or through the Bank's complaints and compliments form.

If you're not happy with the outcome from the complaints team, you can contact the Australian Financial Complaints Authority (AFCA) for an external review. AFCA provides independent financial services complaint resolution that's free for customers.
The Bank will take your concerns seriously, work with you to address your complaint quickly and aim to find a resolution that's fair and reasonable. In doing so, you can expect that the Bank will uphold its complaint handling principles each and every time.
How to contact your Customer Advocate
Resources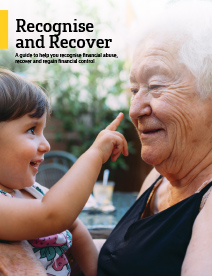 Addressing Financial Abuse
What is financial abuse?
Financial abuse happens when money is used as a means to gain power and control over another person. Financial abuse can trap people in an abusive relationship, and may also impact on their ability to stay safe if they decide to leave.
For an overview of financial abuse, and how to recognise the signs, download the summary below:
If your language isn't listed above, contact us on 1800 832 806 and we'll arrange for an interpreter to help.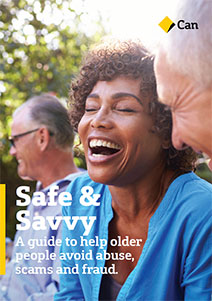 Safe & Savvy guide
The Commonwealth Bank launched the Safe and Savvy awareness program to help Australian seniors protect themselves from financial abuse. 
Safe and Savvy is designed to help safeguard Australian seniors and their families from elder abuse, fraud and online scams. It was developed in collaboration and consultation with seniors' rights advocates, subject matter experts and elder abuse support service organisations.