Why use a spending cap?
A spending cap allows you to stay in control all the time. It's fast and easy to set up and applies to all CommBank cards and additional cardholders on the account.
Want to restrict your day-to-day spending, or perhaps just for a night out or while you're travelling? A spending cap lets you cap a portion of your limit at a click of a button without having to permanently decrease your limit. You can change or remove a spending cap at any time.
Recurring payments such as direct debits, scheduled transfers and bill payments (including BPAY®) will go through, even if they go over your cap. Transfers in NetBank or the CommBank app, bill payments and recurring payments like direct debits won't be declined even if they exceed your spending cap. In-store and online purchases will be declined.
If you need to make a purchase that exceeds your spending cap, you can turn the spending cap off in NetBank or the CommBank app.
To find out more, see our full Terms and Conditions in NetBank or the CommBank app.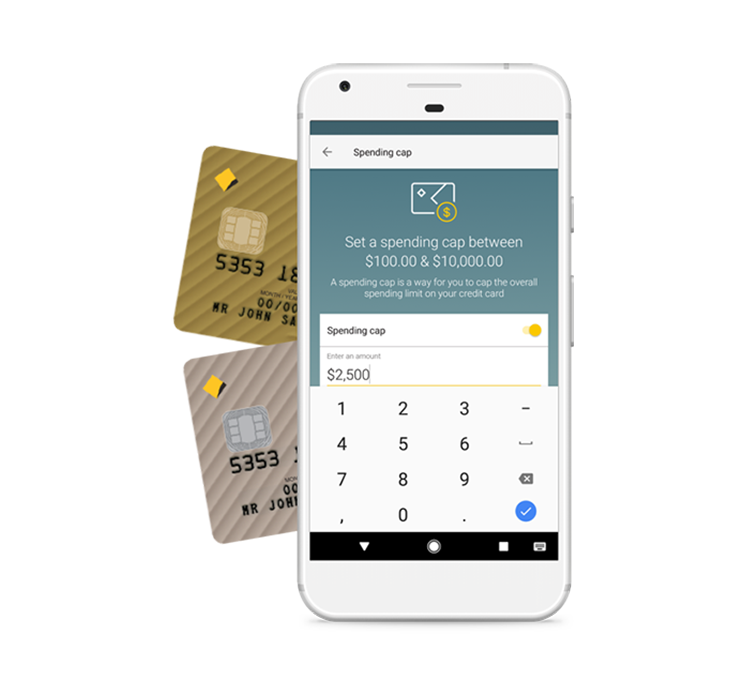 How a spending cap can help you
A spending cap can assist you in planning ahead to stay within your budget. You can cap your spending to limit yourself to the amount you know you can repay, which can help you resist temptation to spend once you reach your limit.
Even just a little bit of overspending can hold back your savings. Setting a spending cap can help you avoid having to dip into your savings to make any credit card repayments that are bigger than anticipated.
One of the hardest parts of reaching your financial goals can be knowing where to set your limits. By defining your limits with a spending cap you can set a clear path to achieving what it is you want.
How to get set up in the CommBank app
Setting your spending cap is quick and easy. (Please note: Only the primary cardholder can set up or change the cap)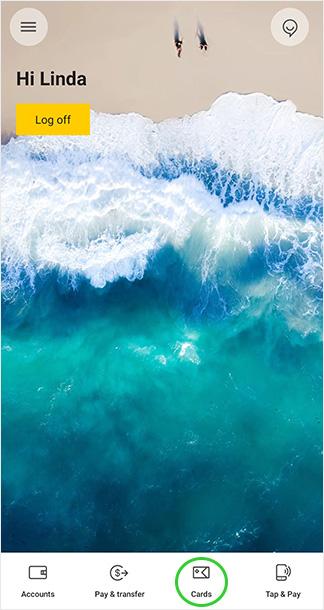 1. Log on
In the CommBank app, tap Cards, then Credit card.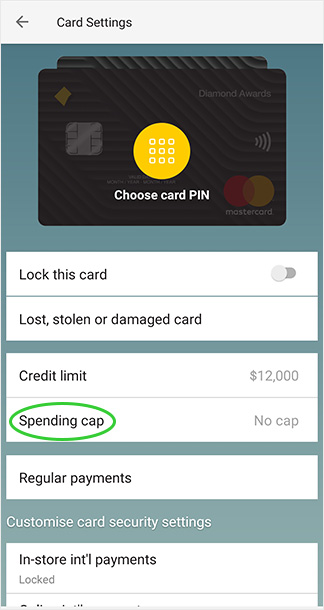 2. Activate
Go to card settings and turn on your spending cap.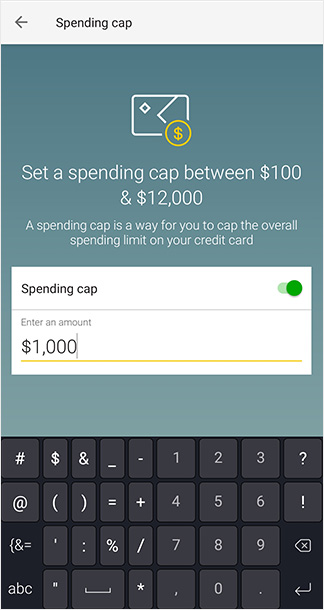 3. Set amount
Enter an amount to cap your card's overall spending limit.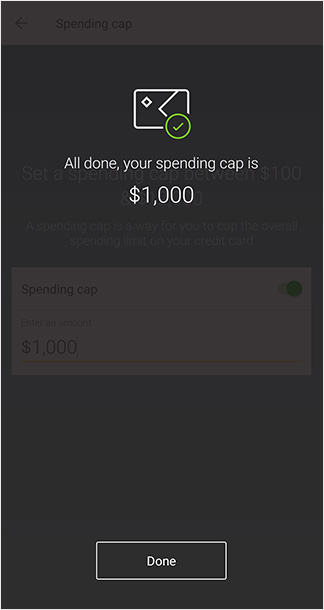 4. Done
You've set your spending cap. You can change anytime.
How to set a spending cap in NetBank
Logon to NetBank and click on Settings in the top menu
Choose Card settings (under 'Card security & limits')
Under 'Spending cap', click on Change to set or remove your cap.
Learn more about our credit card control features
Things you should know
A spending cap will also apply to any companion CommBank cards held by any additional cardholders on the same account. Note that some types of transactions made via CommBank branches, telephone, online or mobile banking such as transfers to other accounts, bill payments, assisted cash withdrawals and transactions flagged as recurring (for example, direct debits) or that are not sent to us for authorisation won't be declined. For full terms and conditions of the spending cap, visit NetBank or the CommBank App. Other conditions apply.
Apple and the Apple logo are trademarks of Apple Inc., registered in the U.S. and other countries. App Store is a service mark of Apple Inc. Android and Google Play are trademarks of Google Inc. Mastercard and the Mastercard brand mark are registered trademarks of Mastercard International Incorporated.
The CommBank app is free to download however your mobile network provider charges you for accessing data on your phone. Find out about the minimum operating system requirements on the CommBank app page. Terms and conditions are available on the app. NetBank access with NetCode SMS is required.