Your Equity Building Options
It's a satisfying feeling seeing your loan balance gradually go down, moving you closer to owning your own home outright. Equity is the difference between the market value of your property and the amount you still owe on your loan.
Your equity building options include:
One way to build equity in your home is through renovations or extensions to increase its market value. You can find more information in the Renovators and Builders section of our website. You can also find information on financing renovations, with the best option depending on the size and scope of the project you're considering.
You can contact our lenders for market analysis to help understand property values in your area and to make a more informed decision about how much to invest in renovations.
Find out more about financing your renovations
We can tailor a home loan that's right for you, and provide the tools and insights to meet your needs.
You can save by making fortnightly or weekly repayments instead of monthly. If you choose fortnightly repayments you'll pay half of your monthly repayments each fortnight.
Because there are 26 fortnights every year, this is equivalent to making an extra month's payment each year. This means you'll build equity in your home more quickly, pay off your loan sooner and save in interest.
Jill's required monthly repayment amount is $1,617 on a $250,000 loan with a loan term of 25 years. Paying monthly, Jill will pay a total of $19,404 in one year ($1,617 x 12).
She decides to pay fortnightly instead, so her repayments become $808.50 a fortnight ($1,617 / 2). After 26 fortnights in that year Jill has paid a total of $21,021 ($808.50 x 26), which is equivalent to an extra month's repayment. With these additional repayments each year, she'll be able to pay off her loan approximately four years sooner and save $43,000 in interest.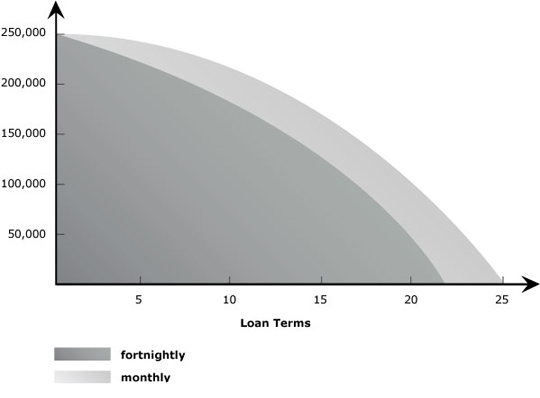 You also have the choice of paying more than your required monthly repayment amount to build your equity. This way you could also reduce your loan term and save on interest. To do this you can make additional lump sum repayments when you have extra cash. Or, schedule your Direct Debit or Automatic Funds Transfer to be higher than your required repayment amount.
Download a Direct Debit Request form
Jack's required monthly repayment amount is $1,941 on a $300,000 loan with a loan term of 25 years. Over the term of the loan he'll pay a total of $23,292 in one year ($1,941 x 12), and over 25 years he'll pay $582,300.
Jack decides to set up a Direct Debit of $2,300 instead. If he maintains this over the years he'll end up paying off his loan seven years early, saving over $90,000 in interest. Or, if he pays $1,150 fortnightly instead, he'll pay off his loan nine years early and save over $115,000 in interest.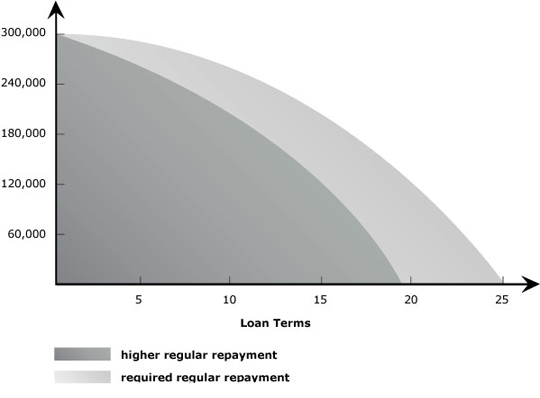 Jenny's Required Monthly Repayment Amount is $1,868 on a $300,000 loan with a loan term of 25 years. Over the term of the loan she'll pay a total of $22,416 in one year ($1,868 X 12), and over 25 years, Jenny will pay $560,400.
After five years, Jenny receives an inheritance of $50,000. Dividing the money, she puts $30,000 into her home loan and $20,000 into her Everyday Account, to use for an overseas holiday. Making the lump sum repayment of $30,000 means that instead of paying off her loan after 25 years, she's reduced the loan term to almost 21 and a half years - if her repayments remain the same over the years.
Making a lump sum payment of $30,000 after five years reduces the loan term by approximately three and a half years. Jenny will also save over $53,000 in interest.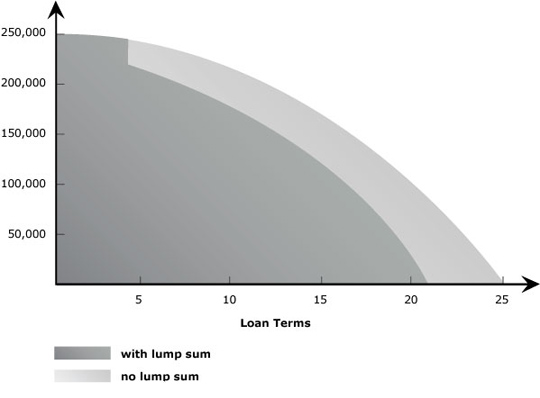 You could save thousands of dollars in interest and pay off your home loan faster with our Mortgage Interest Saver Account (MISA) or our Everyday Offset.
MISA is a special savings account linked to your home loan. The savings held in the account are offset on a daily basis against the balance of your loan, which means every cent you deposit helps to build your equity.
Everyday Offset is a feature of the Complete Access account which provides full transactional capability, real time banking with NetBank and the CommBank app, while offsetting 100% of the credit balance against the balance of an eligible home loan.
Find out more about an Interest Offset Account
The Viridian Line of Credit combines your home loan with your daily spending. It's a great way to reduce your loan balance and build your equity at the same time. With this option you pay your salary or other income directly into your loan account. You can also make lump sum payments whenever you want to. You'll get an approved limit that you can draw against or make payments to, at any point in time. You can draw as little or as much as you like, just like a transaction account and your money can be accessed whenever you want it.
Find out more about Viridian Line of Credit
Another option for building equity and, in the long term, your personal wealth is investing in property.
In the Property Investors section of our website you can find out more about the advantages of investing directly in property. There's also information on the risks vs. return involved, managing your property, plus your options for borrowing to invest if a good opportunity comes up.
Find out more about building equity with an investment property
Once you've built up equity in your home, you can begin to consider how to use it. Whether you want to increase your personal wealth, or just take that holiday you've been dreaming of for years, we have compiled some helpful hints and tips on making the most of your equity.
Find out more about using the equity in your home
Benefit from significant savings on borrowing, everyday banking and insurance services, as a reward for banking with us.
Learn more
Offset the funds in your linked accounts against the balance of your home loan, to potentially save thousands of dollars in interest.
Learn more
Talk to us
Ready to apply or you would like to discuss your home loan needs?
Did you find what you were looking for?
Important information
The above examples are illustrative only, do not include any fees and are based on a Standard Variable Rate of 6.04% p.a. Interest rates may vary from time to time.
Extra repayments on Fixed Rate Home/Investment Home Loans can only be made to a maximum of $10,000 per annum without penalty. Payments above $10,000 per annum will incur an Administrative Fee and may also incur an Early Repayment Adjustment.