Your guide to statements

Here is an example of what your statement looks like, how to understand it, and information about online statements.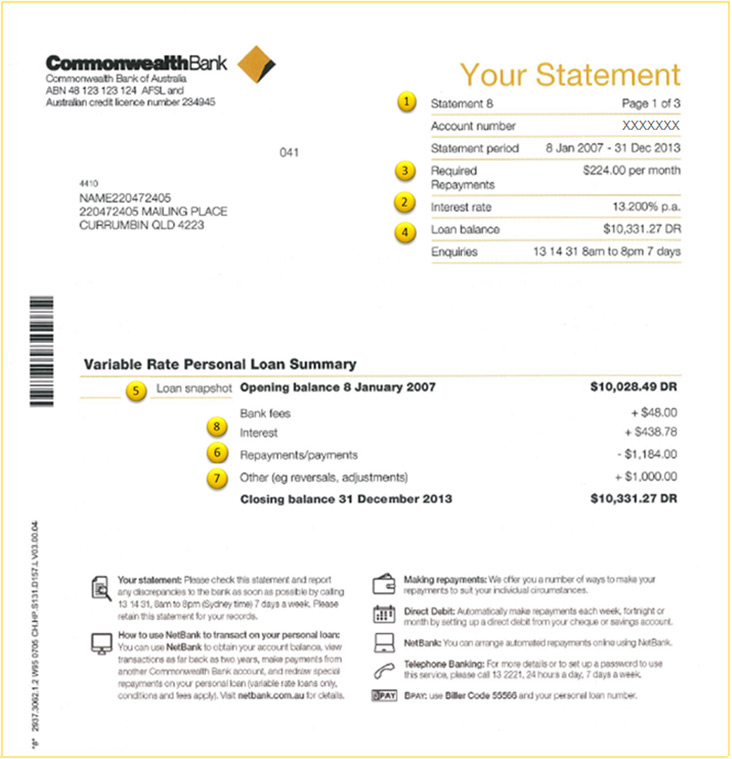 Statement number - The number of statements issued to you from the date your personal loan started.
Interest rate - This shows your current interest rate. If there were any changes during the statement period, they will be shown on the 'transaction' page.
Required repayment amount - The minimum amount you have to pay each month to ensure your loan is paid off within the agreed term.
Loan balance - Details the balance owing on your loan at the 'statements end' date. Please note that this is not a 'payout' figure.
Loan snapshot - A summary of the total debt and credit transactions processed during the statement.
Repayments - This is the sum of loan repayments processed during the statement period. This will also include any additional repayments over the required amount that you may have made in this period. If you have a variable rate loan, you may be able to redraw these funds.
Other - This includes the total of any redraws that you may have made in this period as well as any reversals or adjustments processed on your account.
Interest - Shows the total interest charged for this financial year.


Other things you need to know about your statement

You may also find messages from us on your statement to tell you about important changes to your loan and keep you up to date with anything else that may be of interest.
When you receive your statements

You will receive a statement twice a year, in January and July. If there are any specific changes to your loan, such as an interest rate change, or if you switch your loan type, we'll send you a confirmation statement specifying the change within your 'Transactions' listing and the date it occurred. You will also receive a statement if we need to advise you that your repayments need to increase if you have a variable rate loan.
Once your loan is repaid, you'll receive a final statement.
Remember you can order additional copies of statements at any time, however there's a $7 fee per copy.
Switch to online statements

Online statements offer a convenient way to manage your finances, help reduce paper clutter and ease the strain on the environment
View, download and print up to seven years of past statements and up to two years of transactions for your Personal Loan
See your statements instantly
Receive an email when a new statement is available
Use printed online statements as legitimate documents for Centrelink and the Australian Taxation Office as evidence of account transactions or balances (not acceptable as proof of identity)
Statements are securely stored in NetBank
How to switch to and view statements online

Log on to NetBank
Go to the 'View accounts' tab
Select 'Statements' and follow the steps
If you're not registered for NetBank and would like to view your statements online, register now
Statement Queries

Contact us on 13 1431 if you have any concerns about your statement.
Sharing statements

If you have a joint personal loan we're obliged, unless you advise otherwise, to send both people on the loan a statement or other notice, even if you live at the same address.
However, you can nominate one borrower to receive paper statements and legal notices. To do this you need to complete Sections C and D of the Contract Authority and Nomination to Receive Notices form.
How to view your transactions online

Choosing to view your transactions online is simple and totally secure.
Follow these simple steps to start using the service:
Log on to NetBank
Go to the 'View accounts' tab
Click on 'transactions'


Register with NetBank

If you'd like to start viewing your personal loan transactions online and you are not yet registered with NetBank, register here or download our simple NetBank registration form today.
Important information:
Terms and Conditions for NetBank are available by calling 13 2221, from commbank.com.au or from any branch of the Bank. As this advice has been prepared without considering your objectives, financial situation or needs, you should, before acting on the advice, consider its appropriateness to your circumstances. If you have a complaint, the Bank's dispute resolution process can be accessed on 13 2221.