Why isn't the NetBank app working on my iPhone/iPad?
Last updated 28 February 2014
---
To use the NetBank app on your iPhone or iPad, you might need to first adjust some settings on your device. These settings include Cookies and JavaScript.
To enable these settings:
Tap the 'Settings' icon
Tap 'Safari'
Ensure the 'JavaScript', and 'Accept Cookies options' are set to 'on', as shown here: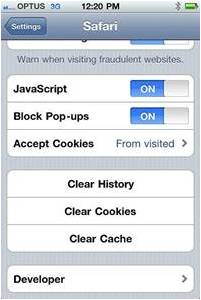 Helpful Tips:
If you are still having problems accessing the NetBank app, try clearing your History, Cookies and Cache in your device settings.
Try re-starting your phone.
Ensure that you are registered for NetCode SMS or NetCode Token.
If you are logging on to NetBank for the first time, you will need to use a computer to change your password before you can use the NetBank app.
The above settings should be used for all devices. If you are having trouble with your settings, speak to your service provider.
If you would like information about how to stay safe online, visit our Security Centre.

View more information on Mobile Banking.