Do I need to download statements for my accounts each month?
Last updated 13 February 2015
---
Myth: I need to view my account statements every month in order to see transaction details.
Myth Buster: Many customers believe that downloading and viewing their account statement is the best way to:
See their account activity for a given time period.
Find out the amount and due date for their next credit card payment.
Find out the interest rate on the account.
Whilst downloading an online statement is one way to find this information, it is not the quickest or most effective way to get it.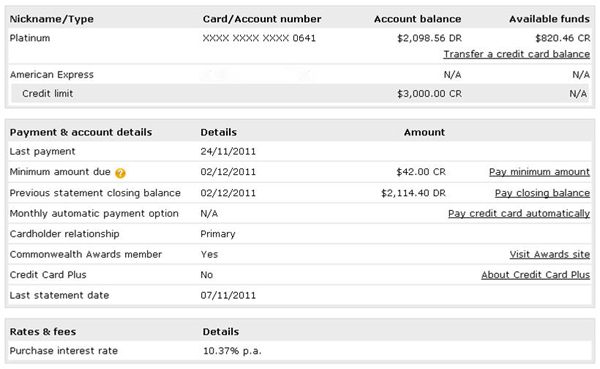 All of this information is available in NetBank, on the Account information page (an example of this is seen above).This page provides you with your exact interest rate as well as the date and minimum amount due for payment of your credit card,
Additionally, the Transactions page in NetBank offers you a chronological list of all your account activity in real time. As soon as you make a purchase or payment it appears on this page and your available balance is instantaneously updated. You can find this page by:
Going to the View Accounts tab > Transactions
Select the relevant account
Or by clicking on the account name on your home page.
With all of this information readily available at any time in NetBank, it is not crucial to download a statement or wait to receive one in the mail each month in order to check your transaction details. You should still review your statements when they arrive as they may contain important information messages such as terms and conditions changes.
If you do ever need to find a statement for your account, they are available for you to view 24/7 online, through NetBank for up to seven years. You can also use this service to view statements for accounts that you have closed, such as a credit card that you have lost and replaced.
Also, some people rely on their statements as a reminder to make their minimum payment each month. By taking one of the following three measures, you won't need to wait for your statement to arrive again:
Set up a Scheduled transfer to coincide with your pay day.
Set up an Auto payment for your minimum or total balance on your due date.
Set up a free payment reminder alert by SMS or email. This can be done in NetBank, by hovering over More and selecting Message preferences then the Account alerts tab.