What do I need to know about NetCode Token?
Last updated 16 November 2016
---
NetCode Token is a free service we offer to our customers who may not be suited to NetCode SMS or CommBank app NetCode Notifications. A NetCode Token is great for customers who live in an area with poor mobile phone reception or don't use a mobile phone.
The Token is a small electronic device about the size of a key ring. You'll need to use it when you log on to NetBank and when verifying some credit card and Debit MasterCard purchases when shopping online.
Only one token is available per NetBank account and you're unable to use it with any other online platforms (like CommBiz).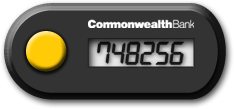 Using the Token:
Once you receive your token, you'll be asked to enter a NetCode each time you log on to NetBank and when making certain credit card and Debit MasterCard transactions online
Press the yellow button on your Token and a six digit NetCode will be displayed
Enter this NetCode and submit, then the NetCode will be checked against our system
The Token doesn't rely on a signal and its battery lasts around five years.
Ordering a NetCode Token:
You can order a token by calling us on 13 2221 - we'll post it to you anywhere in the world.
Activating a NetCode Token:
To activate your token, log on to NetBank, go to Settings and select NetCode. You'll be asked to either answer two of your security questions or enter a NetCode SMS.
NetCode Token help:
If you experience any issues with your NetCode Token, or if it's been lost or stolen, give us a call on 13 2221.
Helpful tips:
Keep your NetCode Token separate from your NetBank Client Number and Password.
What do I need to know about NetCode SMS?
What are CommBank app notifications?