What are SWIFT and BIC codes?
Last updated 25 August 2016
---
A SWIFT code is an international bank code that identifies particular banks worldwide. It's also known as a Bank Identifier Code (BIC). CommBank uses SWIFT codes to send money to overseas banks.
A SWIFT code consists of 8 or 11 characters.
CommBank's SWIFT code is CTBAAU2S. You'll need to give this code to anyone sending money to you from overseas. The code is made up of letters and numbers as follows: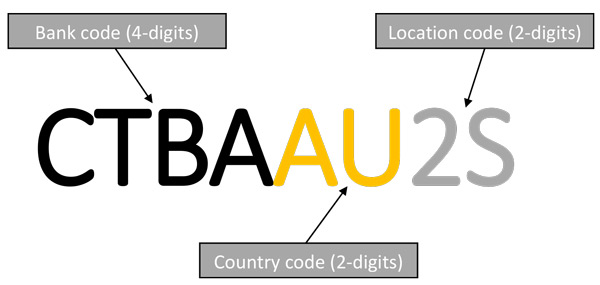 SWIFT codes and BIC codes are the same thing and the terms are interchangeable. Other terms used by banks overseas include:
CHIPS (Clearing House Inter-Bank Payment System) – US and Canada only
NCC (National Clearing Code)
BSC (Bank Sort Code)
IFSC (Indian Financial System Code).
If you're sending money to someone overseas, you'll need to get the recipients SWIFT in order to do the transfer.
Please note: when entering a SWIFT in NetBank do not enter spaces, hyphens or special characters.