Applications for our 2019/2020 Summer Intern Programs, Global Markets Summer Analyst Program and remaining 2020 Graduate Programs are now open.
Markets Internship Program
Markets Program overview
IB&M's client-centric purpose is to 'enhance our clients' success through market-leading capabilities and unique insights.
Global Markets is responsible for the Trading and Sales activities in financial markets encompassing all Foreign Exchange, Commodities, Fixed Income and Interest Rate products. Our vision is to be the aspiration within Global Financial Markets.
We have teams that work across our core capabilities such as:
Global Fixed Income & Rates - comprises of specialised sales and trading teams focusing on bonds, interest rates and credit.
Global Foreign Exchange - focuses on all foreign exchange trading and sales activities in all financial markets
Global Commodities - Sales and trading across the full spectrum of commodities, including agriculture, energy and metals
Client Risk & Compliance- responsible for the processes and values surrounding sales and trading activities
Quantitative Solutions - focussing on the pricing and risk analytics and technology of the trading floor
Research- Providing research on the general macro environment as well as specific macro trading insights
Global Markets Chief Operating Office - an enablement function that manages strategic projects, the investment portfolio, change management and business management function for the Global Markets business
Global Markets Conduct - ensures fair client outcomes and market integrity and that Global Markets remains within risk appetite, operates within legal and regulatory requirements

Our leaders come from a wide variety of backgrounds – Arts, Computer Science, Economics, Mathematics, French History and Mechanical Engineering. We are not looking for specific degree disciplines rather, we are seeking capabilities that are highly transferable into the work we do on a day to day basis.
We're looking for high achieving candidates who are performance-driven, proactive, ambitious, insightful, comfortable with the change and risk that comes with a dynamic environment and have a demonstrable passion for Markets.
Markets are diverse, as is our client base. As such, we need a range of talent from a broad range of study backgrounds – not just the traditional Accounting and Finance degrees.
The Global Markets Summer Analyst Program is open to students who are already passionate about working in the Global Financial Markets and are open to roles in Trading, Quantitative Analysis, Conduct/Regulation, Sales or Research across core markets products the full range of institutional and corporate clients serviced by CommBank.
In this 10 week program, starting in late November, you will be provided with meaningful and tangible work, giving you exposure across the diverse and dynamic Global Markets business. You'll receive training, networking opportunities, be supported by a buddy and your team to ensure your success throughout the program.
This will provide the perfect platform for your future role in Market Sales, Trading or Research upon completion of your studies.
Please note that this program may result in a direct hire role into Global Markets at the completion of your degree and will not form part of the Graduate Program. Should you be successful during the intern program, you may also be eligible for a part time opportunity for the duration of your final year of studies, to keep you connected with the Global Markets team.
This opportunity is open to those students who are:
Currently in their penultimate year of combined university degree or postgraduate studies (MBA excluded)
An Australian / New Zealand citizen OR Australian permanent resident at the time of applying
Our application process is as follows:
Complete our application form and attach all required documents from here
Complete Online Testing (you will not be required to complete a Digital Interview)
Two rounds of interviews in Sydney
Successful applicants will be looking to commence the Global Markets Summer Analyst program in late November and finish in end January/early February.
Awards and recognition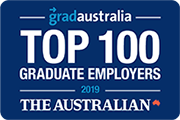 The Australian Top 100
Graduate Employer 2019
#1 Banking and Finance sector


Australian Financial Review and GradConnection Top 100
Graduate Employer 2019
#1 Banking, Finance and Insurance Sector
#8 Most popular Employer

Top Graduate Employers 2019
Our Graduate & Summer Intern Programs