What's a Bank Guarantee? 
It's a facility that gives your customers and suppliers the security of a guaranteed payment

It could help your business secure a lease, project or property

Your third party is known as a Favouree and usually provides goods, services or real estate
The reason for your Bank Guarantee is called a Purpose. Each Bank Guarantee must have one
You'll secure your Guarantee with cash, residential or commercial property
The Bank will use your security to pay the Favouree the agreed amount in your Guarantee if your business is unable to
The Guarantee will have an end date that you and the Favouree agree to - often when a service has been provided, or your lease has expired
Case study
Kelly's PR company has outgrown its current office space, so she's about to purchase a larger one to accommodate her growing staff numbers.
Rather than pay a cash deposit for the new office space, she takes out a Bank Guarantee secured against her company's current offices. This allows her company to make the move and also maintain their cash flow.
This Bank Guarantee secures the purchase and once Kelly's company sells their old office space, she uses the funds from the sale to pay out the balance.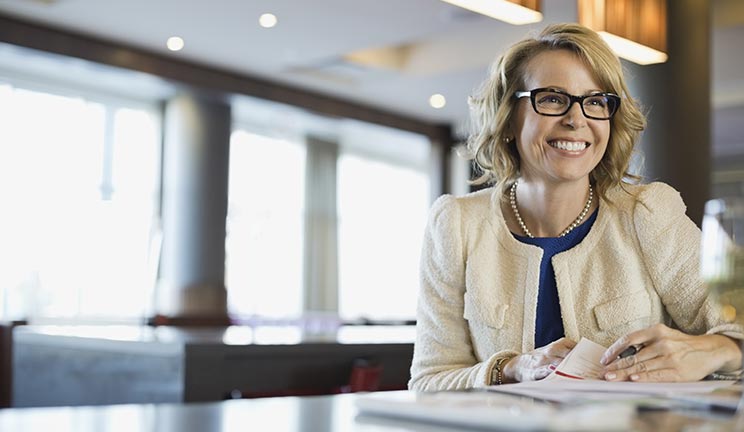 Could your business benefit? 
Reduce your upfront costs
Your business could avoid paying the full amount of an upfront deposit if you secure your Bank Guarantee, such as: 
Security deposits: For rental bonds to landlords, or real estate agents, for the leasing of premises
Off-the-plan purchases: To pay a deposit when you buy an off-the-plan property
Contract performance guarantees: For the manufacture and/or supply of goods, and property development
Improve your cash flow
Customise a Guarantee that meets your requirements with no maximum amount
Negotiate better terms with your Favouree by giving them confidence of a secure payment
Keep your cash to use for other purposes to run and grow your business
Utilise flexible security
Secure your bank Guarantee with a wide range of assets:

Cash kept in a CommBank Term Deposit account so you can earn interest on it until your Bank Guarantee expires
Commercial property
Residential property
There are ongoing fees while the Guarantee is active. You'll get your security back when your Guarantee expires unless we've had to use it to pay a claim to your Favouree. Your final ongoing fee will be pro-rated
Keep in mind
You're unable to cancel a Bank Guarantee
You'll need your Favouree's written consent to cancel a Bank Guarantee
Once it's issued, the Bank must uphold the Guarantee and its irrevocable commitment to pay the Favouree if claimed upon
A Bank Guarantee is automatically cancelled if the full amount is paid out to the Favouree
You'll need a Favouree
Your Favouree is the third party you pay the Bank Guarantee to. Your Favouree must:
Be a legal entity
Have a valid ABN or ACN
Not be a Superannuation fund, standalone trust (unless the trustee is also named), partnership (unless each of the partners are named) or unincorporated entity
Info you need from your Favouree
You'll need to collect the following information from your Favouree before applying:
The name of the favouree
Their ABN or ACN (if they're not an individual)
The Purpose of the guarantee
The Expiry date of the guarantee
The amount being guaranteed (minimum $5,000)
Rates & fees
Fees differ based on the type of security provided for your Bank Guarantee.
Security: Cash covered up to $1m
$250 or 0.25% of Bank Guarantee amount, whichever is greater
Ongoing Guarantee Fee with expiry date
2.50% p.a. of the Bank Guarantee amount charged half-yearly in advance (minimum of $250 p.a.)
Ongoing Guarantee Fee with no expiry date
3.00% p.a. of the Bank Guarantee amount charged half-yearly in advance (minimum of $250 p.a.)
For Bank Guarantees covered by other assets or over $1 million
Customised pricing will apply
Your Relationship Manager will help
Rates will be calculated and advised at establishment and confirmed in your letter of offer
Is your business eligible?
You can apply for a Bank Guarantee if you're a:
Business customer
Government entity
Individual
Not-for-profit organisation
If you're a trust, partnership or unincorporated entity, you're unable to apply. 
You're more likely to be approved if:

You haven't been overdrawn or had your account in arrears anytime in the past 3 months
You haven't been declared bankrupt in the last 5 years
You haven't had any accounts in collections in the past 6 months
You have a minimum 30% deposit as well as cash reserves to demonstrate that you can operate the business for at least the first 3 months
How to apply
Collect the required documentation from your Favouree. It will cost money if you need to resubmit
Call your Relationship Manager, visit your local branch, or call 13 1998 to speak to one of our business bankers
Provide the required information and documentation
Sign the security documents and accept the Bank Guarantee3  
You can execute and accept your Bank Guarantee documents online securely using SmartSign. This applies to cash covered Bank Guarantees under $250,000. Other conditions apply.
Must-have information
It's important you supply the correct information as you'll pay a fee if your application needs to be reworked. 
Is a Bank Guarantee right for you?
Here are some other products that might meet your business needs:
Things you should know
1You can choose to accept the Bank Guarantee via your Small Business Specialist, Relationship Manager or in your local branch. Alternatively, you can elect to have the Bank Guarantee emailed directly to your customer or supplier.
This information is current as at 30 July 2020 and is for general information purposes only. It has been prepared without considering your objectives, financial situation or needs. You should consider the appropriateness of this information to your circumstances before acting on it.
Credit provided by the Commonwealth Bank of Australia. These products are only available to approved business customers and for business purposes only. This offer cannot be used to refinance existing debt or purchase an asset. Applications for finance are subject to the Bank's eligibility and suitability criteria and normal credit approval processes. View our current Terms and Conditions for Business Finance, Financial Services Guide and Business Transaction Account Terms and Conditions and consider them before making any decision about these products. For current interest rates, visit Business banking rates and fees. Rates are subject to change. Fees, charges and Terms & Conditions apply.
Terms and conditions issued by Commonwealth Bank of Australia ABN 48 123 123 124 for CommBiz and NetBank are available online, or can be requested at any of our branches or by phoning us on 13 1998. Terms and conditions should be considered before making any decision about these products.