Smarter management of your home loan & property
Our award-winning1 CommBank My Property experience in NetBank and the CommBank app provides personalised property insights that change dynamically over time, allowing you to track and manage your property portfolio, explore your options and plan for the future.
Monitor your home loan and property's market performance
Understand your equity position and how it's determined based on your property's value and home loan balance
Know the steps you'll need to take to achieve your future property goals
Work out what you can afford with our home loan calculators
Search for properties and discover our unique CommBank market  estimates and affordability calculations for them
Get direct access to your dedicated Home Lending Specialist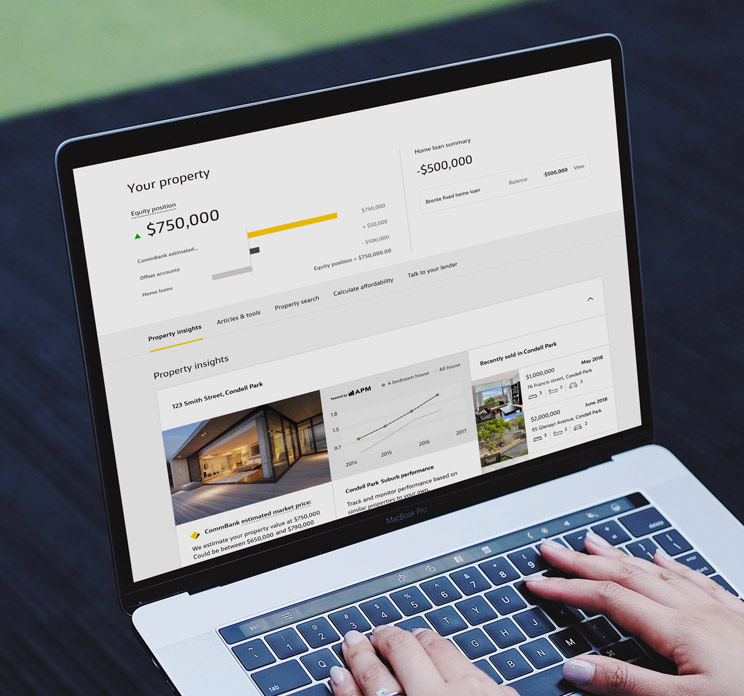 Features & benefits
Personalised property experience
CommBank My Property provides personalised guidance of your property's performance in the market.
Manage your loan
Easily manage your home loan online whenever suits you, whether it's changing your repayments, switching to another home loan or applying for a home loan top-up.
Market insights
Suburb and property insights provide the information you need to make informed decisions as well as track your property's performance over time.
Equity snapshot
Check how much equity you have in your property in real time.
Home for calculators
CommBank My Property is a one-stop shop for our popular home loan calculators and tools. 
Unique CommBank market estimates
Drawing on multiple sources, we use our expertise to offer you helpful and accurate market price range estimates2. 
Property search
With real-time property search listings (powered by Domain) you can find and save your favourite properties, see inspection dates and add them to your calendar. 
Easy lender contact
Getting in touch with your dedicated Home Lending Specialist is easy – just click on the lender panel and select the reason for your enquiry. 
How to access CommBank My Property
Log on to NetBank and click on 'Home Loan' under the Accounts tab
Select the 'Your property' tab

Things you should know
1 2019 ABA Winner for New Product Innovation in The Australian Brand Awards 2019.
2 Estimated market price is an estimate of a property's potential market price based on external property data and CommBank's own data. It is a guide only and does not take into account all factors that may affect a property's value. It is not a Bank valuation for credit assessment purposes.